4 Things Parents Should Know about Addams Family 2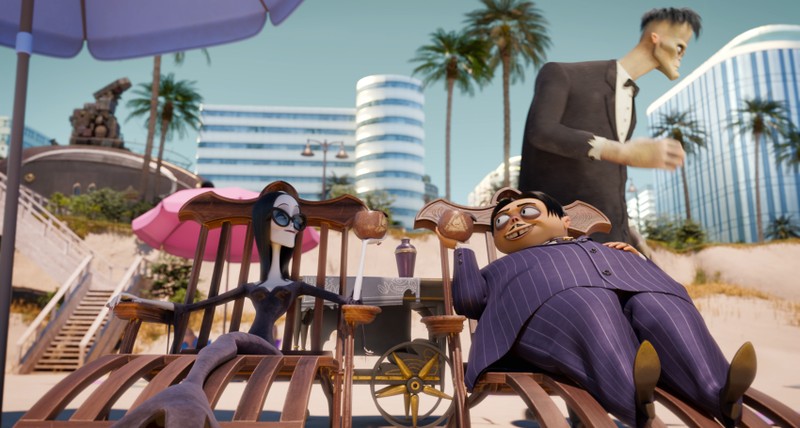 Gomez Addams is a loving father with a common problem: his teenage daughter, Wednesday, is growing up -- and growing apart from the rest of the family.
She skips family dinners. She keeps to herself. And when he tries to hug her? She never hugs back.
Gomez, though, has a solution: a family road trip across the U.S. They'll see Niagara Falls. They'll experience the Grand Canyon. They'll even visit some of their favorite sites -- like Death Valley and Sleepy Hollow.
"You've always wanted to see more of this great country," he tells his wife, Morticia.
So Gomez loads everyone in the haunted camper, including Uncle Fester (he's part-octopus), Lurch (he looks like Frankenstein) and their son, Pugsley
"This trip will bring the Addams family closer than ever before," Gomez says.
Will it work?
The new animated film Addams Family 2 (PG) tells the story of Gomez and his unique family, who care for one another but practice it in the most unusual ways. It stars Oscar Isaac as Gomez, Chloe Grace Moretz as Wednesday, Charlize Theron as Morticia and Snoop Dogg as It.
It's based on the 1960s television series, which itself was based on a newspaper cartoon.
Here are four things parents should know:
It's Macabre, from Beginning to End
Like its 2019 predecessor, Addams Family 2 is a dark comedy filled with jokes about death and evil spirits. Yes, it's all played for cartoonish-style laughs, yet the subject matter can be jarring at times.
Needing money for a tip, Gomez Addams instead gives a visitor to the house a severed finger. Frustrated with her brother Pugsley, Wednesday uses a voodoo doll to send him plunging over Niagara Falls, where he nearly drowns. Uncomfortable in a "Miss Jalapeno Pepper" pageant, Wednesday spooks a girl by reading her mind. (Wednesday's eyes turn white in what likely is the film's most frightening scene.) Wanting to give her daughter a gift, Morticia Addams places a necklace in a tiny present-like coffin. (The necklace, incidentally, is filled with drops of blood from family members.) Throwing a party, 102-year-old Grandma announces that she decapitated the heads of a barbershop quartet to form a new band: the "Talking Heads."
Some of the humor is truly funny. (Pugsley falls for a girl who turns out to be a squealing pig.) Much of it, though, can be… disturbing.
It's All about Family
Despite their macabre appearances and behavior, Gomez and Morticia Addams are a dad and mom who love their children. The film aims at the heart of parents -- pardon the pun -- with its emphasis on a simple fact of life: Time flies. One day, your children are learning to walk. The next day, they're seemingly graduating from high school.
"You're both growing up so fast. Soon you'll move out," Morticia tells Wednesday, emphasizing the need to build memories "no matter how terrible."
Gomez wants to bond with Wednesday, but he doesn't know how to do it. He is outgoing and playful. Wednesday is … not. His attempts at hugs are met with stares and a cold demeanor. (Not to mention she twists her dad's finger until he stops hugging -- similar to the old "peanuckle" game.)
The road trip is Gomez's solution to this lack of family bonding.
It Has a Pro-Adoption Message
Addams Family 2 never mentions the word "adoption," yet it's implicit in the plot's focus on babies being switched at birth.
(Warning: spoilers ahead!)
A man claiming to be an attorney shows up at the Addams' home alleging that his client -- a California couple -- has evidence that Wednesday is, in fact, their daughter. Supposedly, Wednesday and another baby were switched at birth.
This allegation leads to Wednesday questioning everything she believes and has been taught. As she says, "I have been misplaced in my infancy [and] grown up with a delusion that I am one person when in fact I am someone completely different."
This then leads to Wednesday running away to live with her "real" father, who in reality is an evil genius with a twisted plan. This man even fakes a DNA test to convince Wednesday they are biologically related.
For a few minutes, Wednesday stops referring to her parents as "mom" and "dad" and calls them by their first names. Eventually, though, she sees the error of her ways.
"Even though you are biologically my father, these people are still my family -- the Addams family," she tells the villain before realizing the DNA test was bogus.
It's a plot that will spark various emotions from adoptive families, especially for children who have questions about their identity.
It's PG… but Not a Normal PG Film
On one level, Addams Family 2 is an entertaining PG-rated film filled with creative humor. I laughed out loud a few times, leading my 13-year-old son to give me a stare of embarrassment.
On another level, though, Addams Family 2 is not a normal PG children's flick -- especially when compared to 2021's other PG-rated films in that genre. Tom & Jerry was PG, but it didn't make light of a dark spirit world that Scripture commands us to "wrestle against" and oppose. Peter Rabbit 2: The Runaway -- like Addams Family 2 -- had plenty of slapstick violence, but it didn't involve severed fingers, decapitated heads and references to "ghouls gone wild" or Stephen King's The Shining (the latter is read by one of the characters before bedtime).
More than likely, moviegoers' reaction to Addams Family 2 will mirror their stance on the Hotel Transylvania series and perhaps even Halloween itself.
There's no sexuality or sensuality (minus women in bikinis on the beach). There's no language. It even has positive messages about families and adoption. Even so, families will reach different conclusions about Addams Family 2.
Entertainment rating: 3.5 out of 5 stars
Family-friendly rating: 3.5 out of 5 stars
Addams Family 2 is rated PG for macabre and rude humor, violence and language. (Note: Minus a character literally saying "OMG," no coarse language was heard during Crosswalk's review of the film.)
Image Credit: © 2021 Metro-Goldwyn-Mayer Pictures Inc. All Rights Reserved.
---
Michael Foust has covered the intersection of faith and news for 20 years. His stories have appeared in Baptist Press, Christianity Today, The Christian Post, the Leaf-Chronicle, the Toronto Star and the Knoxville News-Sentinel.