The American Underdog True Story 'Really Grabbed Our Soul,' Director Says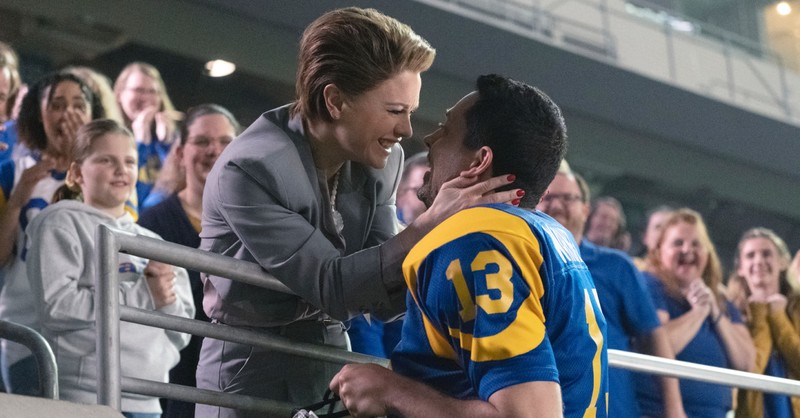 Filmmaker Andrew Erwin calls Christmas Day the "Super Bowl" of movie release dates: Families have time off from work and school, and they often have the extra cash for entertainment, too.
That's one reason Erwin is thrilled that his latest movie, American Underdog, will release in theaters on December 25. It's the first major faith-based film to get a Christmas release in recent years. It's also the first theatrical drama for Andrew and his co-director, his brother Jon, since March 2020, when I Still Believe hit the box office shortly before the COVID-19 pandemic closed theaters.
American Underdog (PG), a romantic sports drama, tells the inspiring story of quarterback Kurt Warner and his wife, Brenda. She was a single mother raising two children when Warner – then a no-name college quarterback at Northern Iowa – asked her out on a date. Warner went on to win a Super Bowl with the St. Louis Rams. Both Warners are outspoken about their Christian faith.
It was filmed during the pandemic.
"We didn't think we could get it done in the pandemic, but we jumped through all the hoops to make sure that we were able to comply with everything – and we get it done," Erwin told Crosswalk. "And the movie just turned out spectacular."
Kingdom Story Company produced it, and Lionsgate will release it.
"The test audience went so well that Lionsgate felt very confident, and they gave the movie a Christmas Day release," Erwin said. "For a story that has to do with faith to get a Christmas Day release speaks to the real potential crossover for it because that's an extremely coveted slot. The Super Bowl for film is Christmas Day and July 4 – those are the two big event days. It is a huge opportunity for stories like this. So we're grateful.
"And it's a story that will catch people off guard in the size and scope of the football story, but also the size and scope of the love story," Erwin said.
Zachary Levi (Shazam!) plays Kurt, while Oscar winner Anna Paquin (X-Men series, The Piano) plays Brenda. Dennis Quaid (I Can Only Imagine) plays Dick Vermeil, Kurt Warner's coach with the Rams.
"Jon and I love underdog stories," Andrew told Crosswalk, referencing their other films, including I Can Only Imagineand Woodlawn. "I remember being a cameraman for ESPN on the sidelines of Super Bowl 35 in New Orleans in 2001. And Kurt Warner was playing Tom Brady.
I'd watch [Kurt] run up to this young, spiky-haired woman in the stands, and they had this moment together. It was his wife, Brenda. I just scratched my head, saying, 'I would love to know more about those two.' It was that story behind the scenes and their struggle as a couple – and her special needs son as a single mom, and the story of Kurt learning to fight for that family that just really, really grabbed our soul."
American Underdog is rated PG for some language and thematic elements.
Photo courtesy: ©Michael Kubeisy/Lionsgate
---
Michael Foust has covered the intersection of faith and news for 20 years. His stories have appeared in Baptist Press, Christianity Today, The Christian Post, the Leaf-Chronicle, the Toronto Star and the Knoxville News-Sentinel.