5 Things Parents Should Know about Aladdin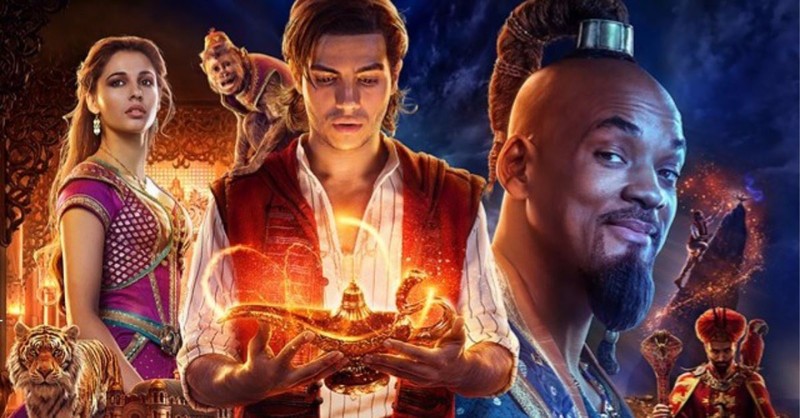 Jasmine is a princess living in a world where women can't become leaders.
Her home is Agrabah, a kingdom ruled by her father, the Sultan. She wants to make a difference in the world. He simply wants her to get married.
"We must find you a husband," he says.
But so far, they've failed. It seems she doesn't like the selection, which consists of quirky princes from other kingdoms.
Then she meets someone she loves. His name is Aladdin. He's witty. He's outgoing. He's charming. He loves her for who she is, and not for the title she holds.
Oh yeah, he's also a street urchin who makes a living by stealing, but she doesn't care. She's in love.
Disney's live-action movie Aladdin (PG) opens this weekend, starring Naomi Scott as Jasmine, Mena Massoud as Aladdin, and Will Smith as Genie.
Just like the 1992 Oscar-winning animated film, the new version follows the forbidden romance between Aladdin and Jasmine -- two people who are told they cannot marry because of their differences in wealth, power and status. Aladdin's fortune changes when he encounters a Genie who grants him three wishes.
Here are five things parents should know:
Photo courtesy: Disney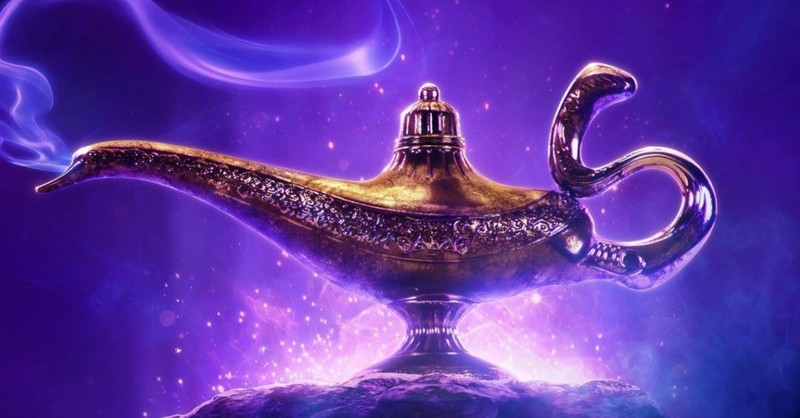 1. It's a Family-Friendly Romance
It's the center of the plot. 
Jasmine's father wants her to marry a powerful rule of another kingdom -- such an arrangement could lead to a powerful alliance -- but she wants to marry someone she loves. She finds that person in Aladdin. 
Genie, too, falls in love with someone: Jasmine's assistant, Dalia. (Yes, genies can date and even marry humans. You'll have to watch to see how that works.)   
Thankfully, the filmmakers gave Jasmine's character more clothes for the 2019 remake. (The 1992 Jasmine looked like she had just walked out of an MTV music video.) She has a few low-cut outfits, but it's a drastic improvement.  
If you're curious, we see Aladdin and Jasmine kiss twice.
Photo courtesy: Disney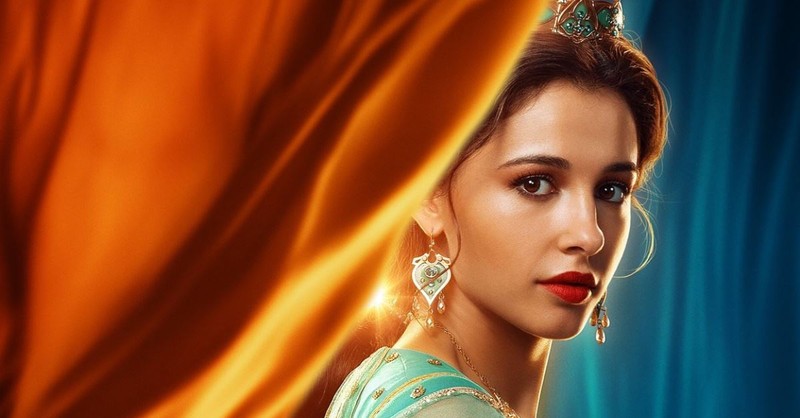 2. It's a Musical with an Updated Soundtrack
Fans of the 1992 film likely will say the 2019 soundtrack falls short, but I suspect opinions will differ based on the generation. Yes, Robin Williams' version of "Friend Like Me" was great, but I enjoyed Will Smith's version, too. Williams' has a Broadway sound. Smith's tune has a hip-hop flavor. I'm guessing the 2019 musical score won't win an Oscar like the 1992 score did, but that doesn't mean it's not enjoyable.  
Yes, it's actually Will Smith singing. We hear the voices of Naomi Scott and Mena Massoud, too. 
Aladdin has plenty of dancing and choreography, too. Lots of dancing and choreography. The dancing even extends into the credits. It stays within family-friendly boundaries. I liked it.
Photo courtesy: Disney
3. It's Entertaining and Funny
It's never easy following a classic like the 1992 animated version, but the 2019 film is just fine in its own right. It's fast-paced. It's colorful. It's funny. (The scene where Genie introduces Aladdin/Prince Ali Ababwa to Jasmine had my entire theater laughing.)
The Aladdin/Jasmine magic carpet ride is just as enchanting as it was in 1992 (maybe more so), and the 2019 rendition of "A Whole New World" just as powerful. 
Disney also made a few welcome changes. Yes, Jasmine is wanting to marry for love (like the 1992 movie) but she's also want to become Sultan (unlike the '92 film). Jasmine sees unmet needs among her people. She wants to help them.  
"I was born to do more than marry some useless prince," she says.
Photo courtesy: Disney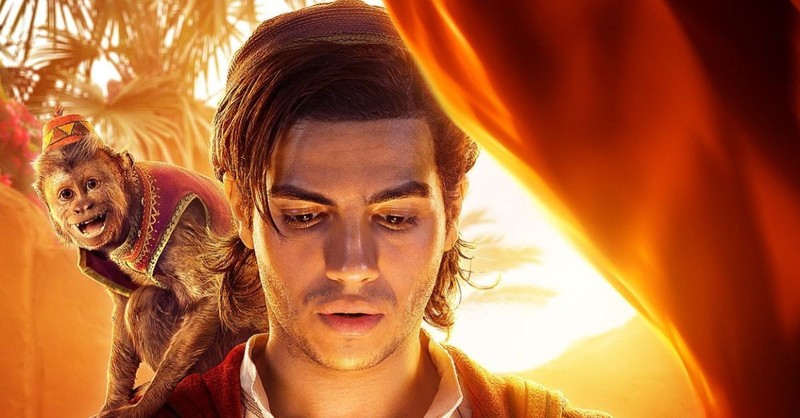 4. It's OK for Most Kids
Sensitive children may be troubled by the few violent and disturbing scenes, but most kids will be OK. 
We watch Aladdin enter a spooky, talking cave to retrieve the lamp. The cave collapses and nearly kills Aladdin and his monkey, Abu. Later, the sinister Jafar binds Aladdin to a chair and pushes him into the ocean. He nearly drowns but is rescued. Jafar performs what he calls "sorcery" and uses a staff shaped like a snake to yield his power. (Its red eyes occasionally light up.)   
Aladdincontains no language or sexuality. Kudos to Disney for keeping this one in the family-friendly realm.
Photo courtesy: Disney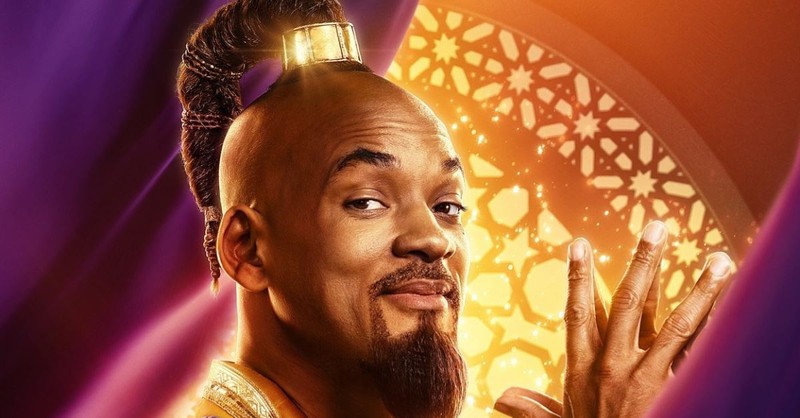 5. It Has a Few Good Messages (and a Couple of Bad Ones)
Aladdin and Jasmine live in a world where the Genie is the "most powerful being" in the universe. And Aladdin makes a living by stealing ("Gotta steal to eat," he says.) But beyond those two bumps in the road – which are worthy of a post-movie discussion for Christian parents – the film has a few positive lessons for children.
First, money and power don't bring happiness. Genie warns Aladdin not to wish for either: "Do not drink from that cup. I promise there is not enough money and power on Earth for you to be satisfied." 
Second, true love is more than skin deep. Genie encourages Aladdin to show Jasmine what's "on the inside." 
Third, people can overcome bad situations. They can conquer their past. Early in the film Aladdin is told: "You were born worthless and you will die worthless." But by the end of the movie he is living in the palace. 
Perhaps Aladdin isn't an instant classic. But it's still very good. 
Entertainment rating:3 out of 5 stars. 
Family-friendly rating:4 out of 5 stars.
Aladdin is rated PG for some action/peril. 
Michael Foust is a freelance writer. Visit his blog, MichaelFoust.com.
Photo courtesy: Disney
---