4 Things Parents Should Know about Disney's The One and Only Ivan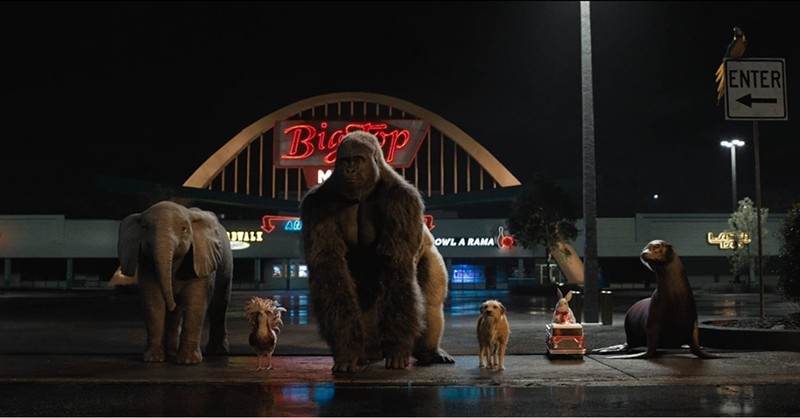 Ivan is a tough but soft-spoken silverback gorilla who lives at the Big Top Mall and Video Arcade, performing regularly for circus goers who watch him beat his chest and roar – just like his relatives in Africa can do.
His name is on billboards. It's on promotional flyers.
He's lived at the mall for 20 years, and he's very good at his job.
"I'm never really angry, but I can pretend," he says.
But things aren't as glorious as they seem on the outside. The crowds aren't as large as they once were. Stores are fleeing the mall. And Ivan is tired of being stuck in a cage, never seeing the green grass or the blue skies. He senses something is missing.
And then his life changes. The circus' owner, Mack, buys a baby elephant, Ruby, with the hopes she will attract the fans he needs to stay in business. Ruby soon becomes the "child" Ivan never had. She also helps change his direction in life.
It's all part of The Only and Only Ivan (PG), a live-action/CGI movie originally scheduled for theaters that was sent straight to Disney Plus due to the pandemic. It stars Sam Rockwell as Ivan, Bryan Cranston as Mack, Danny DeVito as Bob the dog and Angelina Jolie as Stella the elephant.
Here are four things parents should know:
Photo courtesy: ©Disney
1. It's Inspired by a True Story
As crazy as it may sound, this entertaining story about talking animals drew its inspiration from a real-life event. That event then inspired a popular book, also called The One and Only Ivan, which won the 2013 Newbery Medal for best children's book.
Ivan was a gorilla born in Central Africa in 1962 who was brought to America and – like the gorilla in the movie – raised by a human family who loved and cared for him. At the age of 3, he became an attraction at a shopping mall in Tacoma, Wash., and lived in a cage, unable for 27 years to go outside, although he did learn to paint.
In 1994, following protests, Ivan was moved to Zoo Atlanta, which gave him a more natural habitat and multiple acres to explore. He died at age 50 in 2012.
Photo courtesy: ©Disney
2. It's a Fun, Animal-Themed Movie
The slower pace may bore the youngest ones – it's on par with 2019's Dumbo – but most children and family members will enjoy it, drawn to the funny, talking animals. There's a baseball-playing chicken, a firetruck-riding rabbit, a ball-balancing seal, and a dog and elephant that form a duet. Of course, there's also Ivan, who intentionally frightens circus goers with his chest-beating antics but then learns to draw with crayons.
"Prepare yourself for the most marvelously majestic animal show – the likes of which you have never seen!" Mack tells the crowd.
Although we see the animals perform a few times, most of the movie focuses on the behind-the-scenes stuff: Mack wondering how he can attract crowds, Ivan and Ruby discussing the wonders of the great outdoors, and a little girl, Julia, showing Ivan her latest crayon artwork. (Her father works for Mack.)
Photo courtesy: ©Disney
3. It Delivers Messages about Friendship, Empathy … and Zoos
No, the movie isn't preaching an "animals should never be held in captivity" message. After all, Disney – which produced it – owns a zoological theme park in Florida, Disney's Animal Kingdom. Instead, the movie is telling us how they should be held. Although Ivan and his friends are fed well, they're nevertheless stuck inside a small, gloomy space surrounded by bars – not much different than a crate of boxes stuck in a warehouse, out of the sun. They never experience the blessings of nature and God's creation. They want to see grass and trees and blue skies. They crave what their animal relatives enjoy each day.
"What is the wild like?" an innocent Ruby asks.
The film also delivers solid lessons about how we humans relate to one another. It teaches kindness and empathy and love. It urges us to embrace those who look and act differently from us.
"We're family," one of the animals says.
It has a positive message about jealousy: Ivan could have rejected Ruby after she took his spot in the show as the top attraction. Instead, he protected her.
Finally, the movie also encourages creativity and artwork – a message our screen-driven culture needs to hear. ("I can draw things the way I want it to be," Julia says.)
Photo courtesy: ©Disney
4. It's Kid-Friendly, Beginning to End
It's rated PG for "mild thematic elements," but easily could have been rated G if not for two or three scenes. We hear Ivan's father get shot in a flashback scene; we learn Stella has died; and we see Mack train Ruby when she is tired and wants to quit. Eventually, though, Mack changes and sees his errors. The film also deals with themes of death and overcoming grief and loneliness.
The One and Only Ivan has no coarse language (not even a "gosh"), no sexuality and no violence. It's the type of movie that conveys great messages in a kid-friendly format. Yes, it has a happy ending.
I watched it with my 5-year-old son. He loved it.
Well done, Disney.
The One and Only Ivan is rated PG for mild thematic elements.
Entertainment rating: 4 out of 5 stars.
Family-friendly rating: 5 out of 5 stars.
Photo courtesy: ©Disney
---
Michael Foust has covered the intersection of faith and news for 20 years. His stories have appeared in Baptist Press, Christianity Today, The Christian Post, the Leaf-Chronicle, the Toronto Star and the Knoxville News-Sentinel.