4 Things Parents Should Know about Hotel Transylvania 4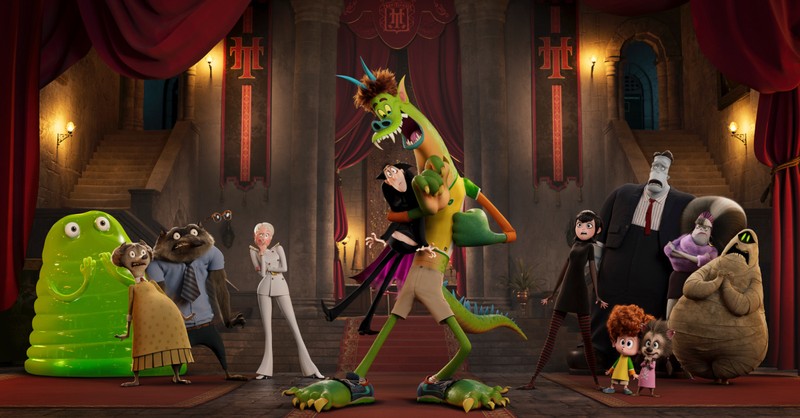 Mavis is a talented young woman with an adoring husband named Johnny and a cute, red-headed son named Dennis.
Unfortunately, though, Mavis' father – Dracula – doesn't share her positive attitude about his son-in-law. The way Dracula sees it, Johnny is too outgoing, too optimistic and too clumsy. Besides, Johnny also is a … human!
This family friction boils to the surface when Dracula nears retirement and begins considering passing his 125-year-old hotel to Mavis and Johnny.
As Dracula puts it, Johnny "ruins everything."
Johnny, though, has an idea to win the support of his father-in-law: He will use a secretive machine to transform into a monster. Unfortunately, it doesn't go as planned.
Johnny is transformed into a dragon-like creature that won't stop growing. And – in an accident – Dracula is turned into a human.
Can they find a way to reverse this insane metamorphosis?
The new film Hotel Transylvania: Transformania (PG) tells the latest chapter in the story of Dracula, Mavis and Johnny. It stars Brian Hull, Selena Gomez, Adam Samberg, Keegan-Michael Key and Jim Gaffigan, among others.
Here are four things parents should know:
Photo courtesy: ©Sony Pictures Animation
1. It's Still Focused on the Family
Don't let the cartoonish monsters fool you: Transylvania 4 – like each of its predecessors – has a family-centric theme. In 2012's Hotel Transylvania, Mavis meets and falls in love with Johnny. In Hotel Transylvania 2 (2015), Mavis and her husband are married and have their first child. In Hotel Transylvania 3: Summer Vacation (2018), Dracula and his family take a family vacation on a cruise ship – and he falls in love with a cruise ship employee, Ericka. (Dracula – if you didn't know – is a widower.)
Hotel Transylvania 4 continues this family theme in two ways: 1) Dracula and Erick get married, and 2) Dracula confronts retirement and considers passing the hotel ownership to his family. (Although he does so only while kicking and screaming.) We see Dracula and Mavis reminisce about her childhood. (Mavis looks fondly at a picture of the two of them when she was little.) We also hear Dracula discuss how he protected and provided for her. (The hotel was his way of making ends meet.)
"I love the fact that they're all about family," film producer Alice Dewey Goldstone told Crosswalk. Every Hotel Transylvania film, she added, "has taken it a little further."
Photo courtesy: ©Sony Pictures Animation
2. It Teaches Us to See the Good in Life
In Hotel Transylvania 4, Dracula's doom-and-gloom outlook on life runs smack-dab into his son-in-law's optimistic, easy-going attitude.
Drac's skeptical attitude about Johnny gets the Freaky Friday-type treatment when he is turned into a human while Johnny – in turn – becomes a dragon.
Dracula is distraught. Johnny, though, remains positive. Each one learns what it's like to live in the other's shoes – especially when they journey together to the jungles of South America to search for a gem needed to reverse the transformation.
They build a campfire together where Johnny teaches Dracula that even a burnt marshmallow contains something delicious. It's a parallel to how Johnny views life.
"If you only see the worst in things, you'll miss the best part," Johnny says, revealing the gooey center.
Eventually, Drac comes around and accepts Johnny into the family. He also apologizes for his pessimism – as only Drac can. ("My life was like a burnt marshmallow. … But you cracked it open and became the ooey-gooey center of all of our lives.")
The Bible doesn't say a lot about optimism or pessimism – at least not in the modern sense. But it certainly speaks of hope, joy and peace. It promises grace, mercy and love. It tells us that God wins in the end – and it guarantees us an eternity with Him if we trust Him. That, alone, is a reason to be optimistic.
Johnny tells Drac that if he "only saw the worst things," he will "miss the best parts." That's a good word for kids and adults, even if it is from a children's film.
Photo courtesy: ©Sony Pictures Animation
3. It Was Made … From Home?
Production of Hotel Transylvania 4 began in 2019 – pre-pandemic – and continued during lockdowns. Incredibly, much of the voicing took place in the homes of actors and actresses. This means a lot of the voices were recorded in Kathryn Hahn's closet and Selena Gomez's kitchen, Goldstone said. (Hahn plays Ericka, while Gomez voices Mavis.)
"Fran Drescher has a lot of [scenes] where she yells, [where] she's screaming. And every time she would yell, her dogs would come running in to save her," Goldstone said, laughing. (Drescher plays Eunice.)
"It was crazy," she added. "... For the most part, we would send our own equipment to their homes and help them set it up, so [that] we had some consistency in terms of the mics."
It's another example of human ingenuity and creativity finding a workaround amidst a pandemic.
Photo courtesy: ©Sony Pictures Animation
4. It Has Monsters and Skeletons … but No Sorcery
The Hotel Transylvania series is one of two animated film franchises – the other being the Addams Family – that spotlights Halloween-style themes. (Because of this, they're often released in September or October.)
But despite their similarities, the Hotel Transylvania series remains the more family-friendly of the two. Unlike in the Addams Family series, there are no spells, ouija boards, voodoo dolls or possessed characters in the Hotel Transylvania franchise. And while there are indeed monsters – Dracula and Frankenstein among them – they're friendly and funny, not frightening.
Hotel Transylvania 4 has no coarse language (we hear three instances of "oh my gosh") and no sexuality (although we do see the rear end of Griffin, the invisible man, when he becomes human).
Still, some families will have qualms. We (briefly) see cartoonish zombies and a witch. Dracula sleeps in a casket. Bats are prominent.
For fans of the series, though, Hotel Transylvania 4 is a solid addition to the franchise.
Hotel Transylvania 4 is rated PG for some action and rude humor, including cartoon nudity.
Entertainment rating: 4 out of 5 stars.
Family-friendly rating: 3.5 out of 5 stars.
Photo courtesy: ©Sony Pictures Animation
---
Michael Foust has covered the intersection of faith and news for 20 years. His stories have appeared in Baptist Press, Christianity Today, The Christian Post, the Leaf-Chronicle, the Toronto Star and the Knoxville News-Sentinel.