4 Things Parents Should Know about Mitchells vs. The Machines, Netflix's New Family Film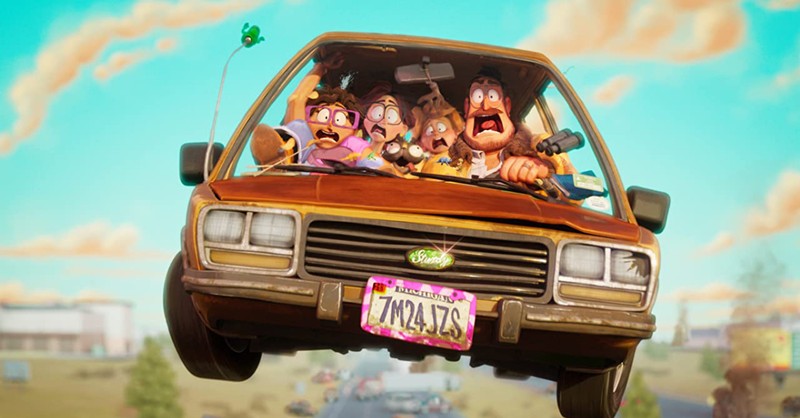 Katie Mitchell is an eccentric, artistic teenager who has two goals in life: move out of her parents' home and become a filmmaker.
Fortunately for Katie, she's days away from her first day of classes as a freshman in college, where she finally will meet art-centric teens like her.
Unfortunately, though, her dad has canceled her airplane tickets so the family can embark on one last cross-country family road trip, which will be capped by her being dropped off at school. Her mom and brother will be going, too.
"I thought it would be cool to hang out one last time," her brother says.
Katie is furious, yet she has no choice. Thus, the Mitchells head off on a family bonding trip that will take them to waterfalls, forests and even the St. Louis Arch.
But then disaster strikes – not only for the Mitchells but for Earth itself. An army of "AI" robots revolts against humanity and begins corralling every single person on the planet. It's a robot-human war, and only the Mitchells – who elude capture – stand in the way.
Netflix's new animated family film, The Mitchells vs. The Machines (PG), tells the story of Katie and her family as they unite to save humanity from an apocalypse. It initially was scheduled for a nationwide theatrical release but was bought by Netflix.
Here are four things parents should know:
Photo courtesy: ©Netflix
1. It's Quirky and Hilarious
The Mitchells vs. The Machines is a mixture between The Croods and The Incredibles. Rick Mitchell and his family are a bit quirky and strange, like the Croods. Unfortunately, though, Earth's very existence depends on their cooperation and success – a la, the Incredibles.
Dad often overreacts and looks a lot like – in Katie's words – a gibbon monkey. Her brother, Aaron, phones random strangers, hoping they'll talk to him about dinosaurs. Mom seems a bit more normal, but nevertheless makes "Katie face" cupcakes and tells her, "I'm going to bake you and eat you."
"I've never fit in," Katie tells us as she recounts her childhood desire to be a filmmaker.
At times, Katie thinks her parents and brother comprise the "worst family of all time." But that's just a moody teenager talking. In truth, the Mitchells are not much different from other American families, warts and all.
Mitchells vs. The Machines periodically turns into a film that was directed and narrated by Katie herself, which means we get colorful graphics and sound effects that seem as if they were created by an awkward, art-centric high schooler. It's a unique addition to the movie that only adds to the humor.
The comedy stays in the family-friendly realm and can be enjoyed by children and parents alike.
Photo courtesy: ©Netflix
2. It Aims for Your Heart
"Time flies," we often hear. That's true throughout adulthood, but especially when raising children. One day, they're learning the alphabet. The next day, they're learning algebra – and then graduating from high school.
In Mitchells vs. The Machines, we see a father who is living with regret. Yes, he was close with Katie when she was young, but they gradually drifted apart.
"You two are always arguing," the mom says, admonishing both. When dad and daughter engage in one last argument, and he accidentally breaks her computer, Katie tells him, "This is exactly why I'm excited to leave."
The Bible describes life as a "morning fog" that's "here a little while, then it's gone."
Fortunately, dad and Katie reconcile before the credits roll, but not before teaching parents in the audience several lessons: Love more. Forgive more. Savor each moment. Embrace your child's talents. Don't waste a day. And for those who have made mistakes, it shouts: It's never too late to reconcile.
Photo courtesy: ©Netflix
3. It Has a Message about Tech for Today
Mitchells vs. The Machines criticizes our internet-addicted world with humor. When the female-voiced leader of the robots is told humans will never surrender, she responds, "Watch what happens when I turn off the Wi-Fi." Within seconds, apocalyptic chaos ensues in the streets. "There's no signal!" shouts one frantic man, holding a laptop. Fires are started. Windows are broken.
Then, like pigs being corralled for slaughter, the desperate earthlings sprint to signs screaming "Free Wi-Fi" – yet these signs are attached to a booby trap. The humans are then shoved into rocket-like vessels on "Foolish Human Air" airlines and told they will be sent into space and never return. But, hey, Foolish Human Air has "free Wi-Fi." Hearing that, a captured woman smiles and says, "That's pretty good."
It's a hilarious science fiction scene with a solid, down-to-earth point: Too often, our smartphone and social media addictions crowd out what's most important in life.
Photo courtesy: ©Netflix
4. It's Mostly Family-Friendly
Mitchells vs. The Machines contains no language (minus four instances of "oh my gosh") and no violence (except for Looney Tunes-like robot destruction).
But it does have one scene – after Katie is dropped off at school – that will trouble some viewers. In the film's final 90 seconds, we see Katie and her parents happily chatting on a video call when mom asks, "Are you and Jade official and will you be bringing her home for Thanksgiving?" To that, Katie replies, "Easy, mom. It's only been a few weeks." Katie is dating a girl. It's a brief scene that most children probably won't understand – mine didn't catch the point – yet it's still drawing comments of praise from GLAAD and other LGBT groups. (Katie also wears a small rainbow-colored pin.)
What's a Christian parent to do? Simple: Teach the Bible. Love God. And love people.
Mitchells vs. The Machines is a fun movie with solid, positive lessons. That one scene, though, will cause different families to reach different conclusions about whether to watch.
Rated PG for action and some language.
Entertainment rating: 4 out of 5 stars.
Family-friendly rating: 4 out of 5 stars.
Photo courtesy: ©Netflix
---
Michael Foust has covered the intersection of faith and news for 20 years. His stories have appeared in Baptist Press, Christianity Today, The Christian Post, the Leaf-Chronicle, the Toronto Star and the Knoxville News-Sentinel.