4 Things Parents Should Know about The Addams Family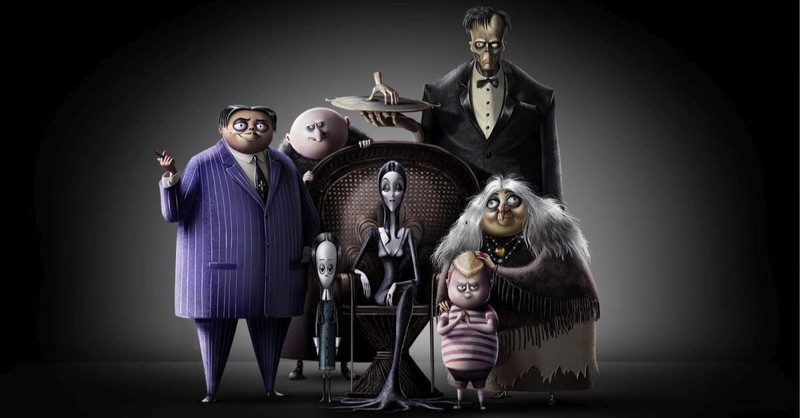 Wednesday Addams is a teenage girl who has lived a sheltered life – but not in the way you might think. 
She knows nothing of red balloons, blue skies and joyful birthday parties. All her life, she's lived in a spooky, bat-filled mansion underneath a gray cloud, wearing dark and dreary clothes. Her parents – Gomez and Morticia Addams – never let her leave the property. 
"What's beyond the gate?" she asks. "... We never go anywhere."
Then a balloon lands in her yard. It's bright red – a color Wednesday has never seen. And then she and her family learn about a new town that is being constructed at the bottom of the hill. You know, a normal town with normal people. And then the Addams hear about a bubbly television personality, Margaux Needler, who is recording a home-improvement show in that very town. Soon, Needler is wanting to spruce up the Addams' spooky home.
Can their way of life survive this assault from the outside world?   
It's all part of the animated film The Addams Family (PG), which stars Chloë Grace Moretz (The 5th Wave) as Wednesday, Oscar Isaac (The Force Awakens, Operation Finale) as Gomez, and Charlize Theron (Snow White and the Huntsman) as Morticia.
Here are four things parents should know: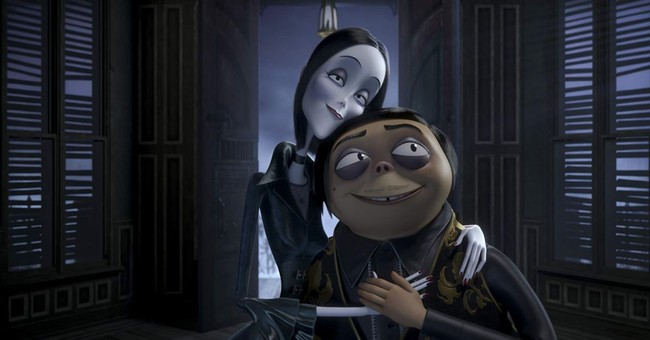 1. It's Quite Macabre
That's a big word meaning it dwells on death and gruesome things. The Addams Family is darker than the Hotel Transylvania film series (another story that spotlights monsters), even if everything is played for laughs. Morticia invites Wednesday to a "tea and seance" in the cemetery, where the mom proceeds to talk to her deceased parents. (She also uses a ouija board.) We learn the Addams have received gifts from dead relatives. Morticia's son, Pugsley, seems to be a normal kid, although we also see him climbing the walls, with possessed-like white pupils. The disembodied hand known as "Thing" crawls around the house as if it's a small dog. Wednesday wonders why her mirror can hold only "14 souls at a time" but smartphones can house many more. The family thinks raspberry preserves smell like scented embalming fluid. Of course, the Addams' house is full of gruesome and spooky stuff: bats and spiders, a "living" polar bear fur rug, and even a picture of a two-headed pig.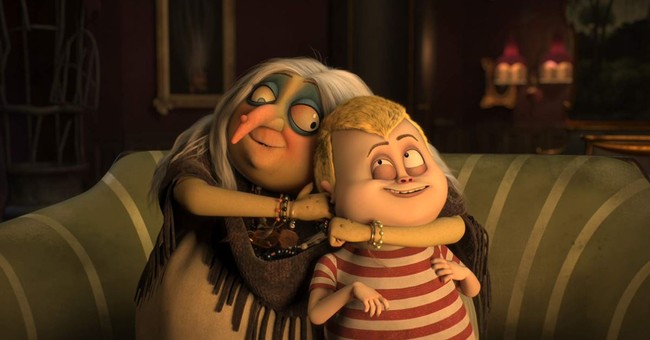 2. It's Somewhat Violent 
The film has a moderate amount of Looney Tunes-style violence: There are plenty of explosions and violent actions, although no one ever dies. During target practice, Pugsley shoots arrows and small bombs at his uncle, who applauds the boy's aim. Wednesday digs a grave in the front yard and then buries her brother, but the mom quickly tells her to dig him up. (He claws through the dirt by himself.) A bat lands on Morticia's neck (she doesn't flinch), and we hear a sucking sound – identical to someone slurping soda. The film's final scenes include plenty of explosions, but everyone survives. The film has only minor language (one or two OMGs that are barely heard).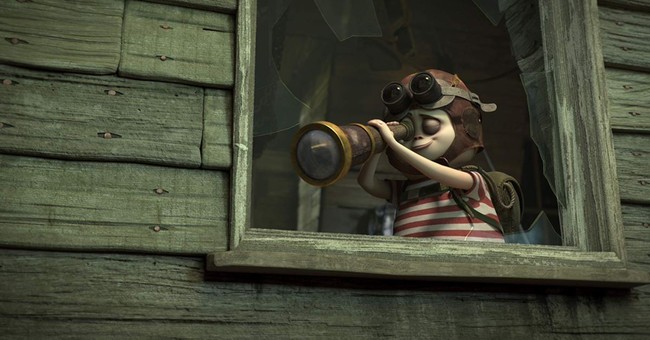 3. It's Funny, Too
Despite the film's macabre nature, it has plenty of humorous moments. Morticia greets a stormy day by opening a window and proclaiming, "What a lovely morning." The butler, Lurch, is told to "dust" the house and proceeds to release dust throughout the rooms, which apparently weren't dirty enough. Wednesday finds a red balloon and enjoys playing with it, but doesn't know how to describe her emotions. ("What's the opposite of sad?" she asks.) A group of normal children from town sing a goofy tune apparently written by Margaux Needler herself: "Life is really perfect," they sing. "... It's easy to be happy when you have no choice." The Addams Family has plenty of macabre humor that made me uncomfortable, but it has quite a bit of kid-friendly jokes, too.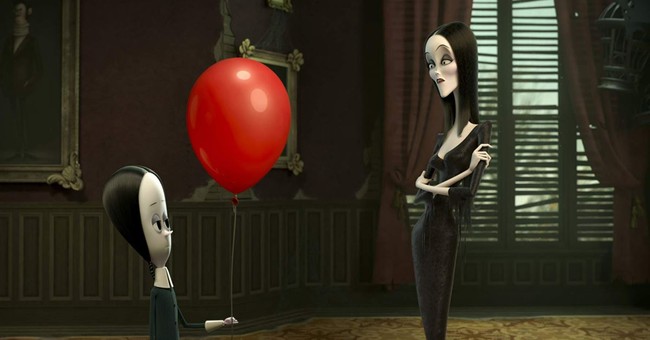 4. Despite the Darkness, It Has a Good Message 
I can't endorse a movie that trivializes the dark world and makes jokes about communicating with the dead, but The Addams Family does carry a solid message: Don't judge people based on their appearance. Margaux Needler wants to change the Addams family – and when that doesn't work, she spreads rumors about them. Eventually, she pits the townspeople against the Addams, in hopes the latter will be destroyed. But Needler's daughter, Parker, steps in.  
"It is true, they are odd," she says. "But we shouldn't judge them just because they're different." 
The film also carries a lesson for parents: Don't live vicariously through your children. And don't force them to be exactly like you. Gomez and Morticia fail to recognize the uniqueness of their children, although they correct their faults before the credits roll. Margaux Needler makes just the opposite mistake: She ignores her daughter, placing work over family. Fortunately, she sees her faults before it's too late.
The Addams Family is rated PG for macabre and suggestive humor, and some action. 
Entertainment rating: 2.5 out of 5 stars. 
Family-friendly rating: 3 out of 5 stars.
Michael Foust is a freelance writer. Visit his blog, MichaelFoust.com.
Photos courtesy: MGM