4 Things Parents Should Know about the Call of the Wild Remake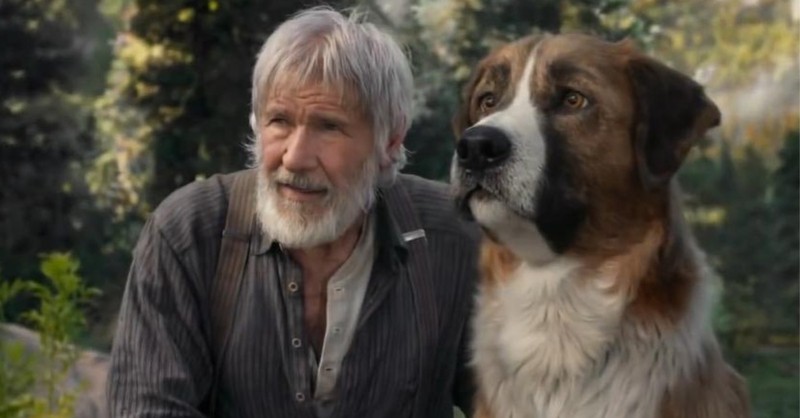 John Thornton is a rugged-but-aging man who hasn't been the same since his son died.
It troubled him so much that he and his wife separated.
Soon thereafter, he moved to Alaska – the same location of the Klondike Gold Rush.
"I'm not looking for gold," he says.
He's only looking for peace.
Perhaps an encounter with a friendly dog will help. That's exactly what happens when a large, lovable canine – specifically, a St. Bernard-Scotch Collie mixed breed – enters his life. Named "Buck," this dog pulled mail carrier sleds before it was bought by a cruel gold prospector.
Thornton saved Buck from a likely death. But can Buck save Thornton before it's too late?
The new film Call of the Wild (PG), based on the classic novel, tells the story of Thornton and Buck as they get back to nature to discover what they're missing in life. It stars Harrison Ford as Thornton and Dan Stevens (Downton Abbey TV series) as an evil gold prospector.
Here are four things parents should know:
Photo courtesy: ©20th Century Fox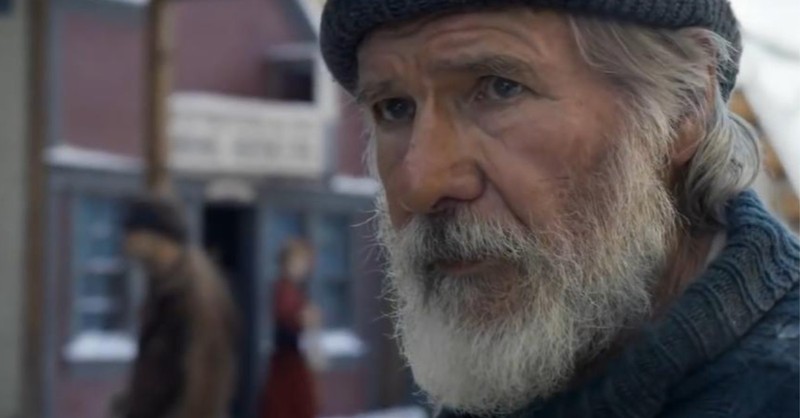 1. It Follows the Book's Outline
The movie opens with Buck living the good life on a plush California estate under the ownership of Judge Miller. He then is stolen, sold for cash and shipped to Alaska, where dogs are needed to pull sleds in the snow.
Having been pampered his entire life, Buck must learn the ways of the wild and how to fend for himself. Eventually, he is bought by two kind mail carriers (Perrault and Françoise) and supplants a rival named Spitz as the lead dog. From there, he is sold to a group of cruel gold prospectors, and from there, he is saved by Thornton.
Of course, many minor details are changed, but the film largely stays true to the spirit of the book.
The film also offers moviegoers several valuable life lessons. Thornton heals emotionally and rediscovers joy in life thanks to two of God's great gifts: untamed nature and companionship with a pet. (It's worth remembering that David often worshipped while enjoying God's creation.) Buck, too, discovers his many talents – including his previously untapped instincts – in the wild. The film's lessons on overcoming adversity and dealing with life's trials also are worth exploring. (Thornton says he and his wife "grew apart" following his son's death.)
Photo courtesy: ©20th Century Fox
2. It's an Educational Trip Back in Time
The Call of the Wild can open the door for digging deeper into a few history subjects spotlighted in the film.
Like the Klondike Gold Rush. ("Men searching in the arctic had found a yellow metal: gold," Thornton tells us.)
And the Alaskan dog sled mail carrier service. (Buck is a member of such a dog sled, helping deliver hundreds of letters to remote locations during an often dark and dreary winter.)
And the telegraph. (In the movie, the telegraph signaled the end of the dog sled mail service, forcing Buck and the other dogs to be sold.)
Much of the film involves the mail service.
We see hundreds of men excitedly waiting in downtown Klondike for the mail to arrive, hoping to hear from family back home. ("We don't carry mail," the mail carrier says. "... We carry hope. We carry love.") We also watch Thornton pen an apologetic letter to his estranged wife and then run into town, hoping he catches the dog sled before it departs. (Missing it could mean days or weeks without another chance to mail a letter.)
Photo courtesy: ©20th Century Fox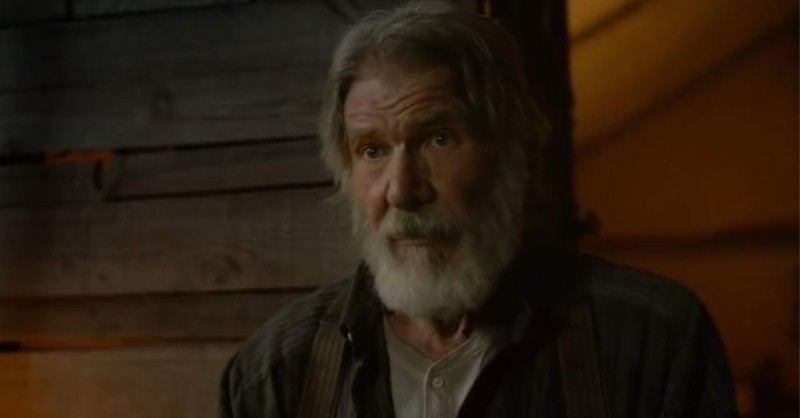 3. It's Fun … But Might Be Slow (and Too Violent) for Small Kids
The first two-thirds of the film is fast-paced and entertaining. (The mail carriers survive a fall down a hill and then a too-close-for-comfort avalanche.) The last third is also fun, but it might be too slow for young children. (For what it's worth, my kid loved it.)
The violence and disturbing content stay firmly in the PG realm yet could be excessive for sensitive children. Buck is beaten by a club. (We only see shadow action of the encounter.) Buck and Spitz fight and bite one another at night; the latter loses and walks away. The film's most troubling encounters involve a gold prospector-turned-bad guy who whips and beats the dogs, then punches Thornton in a saloon (Buck comes to the rescue), and then shoots someone at point-blank range. The film includes no sexuality and only mild language. (See details below.)
Photo courtesy: ©20th Century Fox
4. It Stars a CGI Dog
Unlike the 1972 version starring Charlton Heston, or the 1997 one with Richard Dreyfuss, the 2020 Call of the Wild features a computer-generated dog – specifically, a St. Bernard-Scotch Collie mixed breed. It was a controversial move among some fans of the story, yet this "fake dog" looks surprisingly realistic for most of the film. In fact, there were a few scenes where I assumed filmmakers were using a real-life sit-in. (They weren't.)
The biggest clue that it's a CGI dog? Real dogs don't behave like Buck does in the movie – at least, not on command. This Buck has human-like facial expressions. He also saves a drowning dog from a river and whips a mean dog in a vicious fight. (That would never be allowed on a movie set.)
"We wanted to overcome the limitations of using a real dog," director Chris Sanders told Indie Wire. "We could only do this with a CG dog. I do think there is a controversial part to that (with how expressive he is). You get used to it really fast. But we had to judge the performance moment to moment: Is he too cartoony? Does the audience get what he's thinking?"
My 12-year-old watched the entire movie and didn't realize it was a computer-generated dog. I suspect most children will fall in that camp.
The Call of the Wild is rated PG for some violence, peril, thematic elements and mild language. Language: h-ll (1), d--nit (1) and an unfinished "Son of a."
Entertainment rating: 2.5 out of 5 stars
Family-friendly rating: 4 out of 5 stars
Photo courtesy: ©20th Century Fox
---