4 Things to Know about American Underdog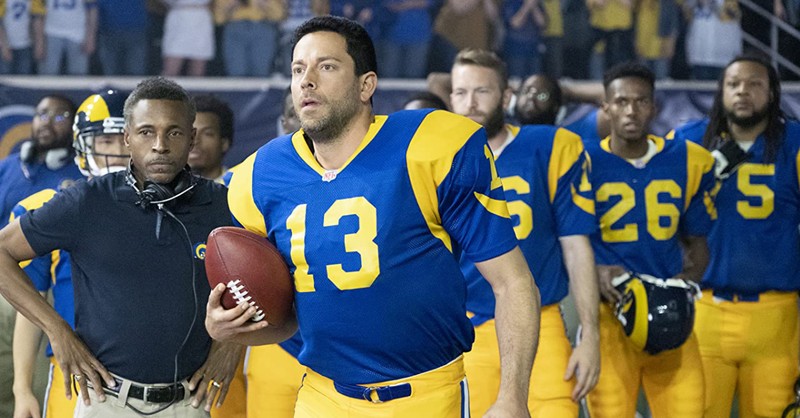 Kurt is a young man with big dreams, a passion for football, and an eye for a woman named Brenda.
Sure, they met only a few minutes ago at the local bar, but Brenda seems different from the college women he knows.
Brenda, though, is unfazed.
"I'm divorced, and I have two kids, so if I never see you again, I totally understand," she says before escaping and driving home.
But just like his dreams about playing quarterback in the NFL, Kurt's dreams about Brenda won't go away. So, he discovers her address and knocks on her door the next morning, where he is introduced to Brenda's two children and her mom. Kurt hits it off with all three – the kids and the mom, that is.
Now, if he can only get Brenda to like him, too.
The new faith-based movie American Underdog (PG) tells the story of this unlikely romance and the unlikely rise to stardom of Kurt – better known as NFL Hall of Fame quarterback Kurt Warner. Warner won a Super Bowl for the St. Louis Rams after going undrafted and working at a grocery store to make financial ends meet. His romance to Brenda was, seemingly, just as unlikely.
The movie stars Zachary Levi (Shazam!), Anna Paquin (X-Men series) and Dennis Quaid (I Can Only Imagine).
Here are four things you should know about the film:
Photo courtesy: ©Lionsgate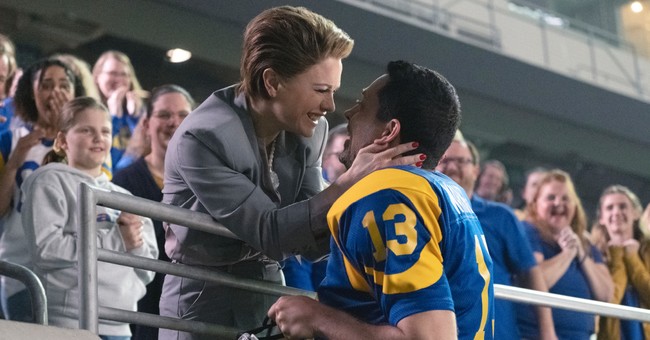 1. It's the Backstory to a Well-Known, Implausible Sports Story
You likely know about Kurt Warner and his football success. (He won a Super Bowl and appeared in two others.) You may even know about his rags-to-riches story. (Unable to land on an NFL roster out of college, he worked the night shift at a Hy-Vee grocery store before getting another shot at pro football thanks to the underappreciated Arena Football League, which served as a stepping stone to the NFL's St. Louis Rams.)
American Underdog tells that story – but so much more. It shows how Warner, as a college student with party-hearty friends, continued to pursue Brenda even when he learned she was a divorced mom with two children. It shows how Brenda's strong Christian faith inspired Kurt to take his own faith more seriously. ("It defines me," she says.) It also shows how the Warners overcome poverty (they were on food stamps) and tragedy (her parents died in a tornado) with their love for one another and their solid faith.
In American Underdog, you think you know how the story ends, but you nevertheless enjoy the ride along the way.
Photo courtesy: ©Michael Kubeisy/Lionsgate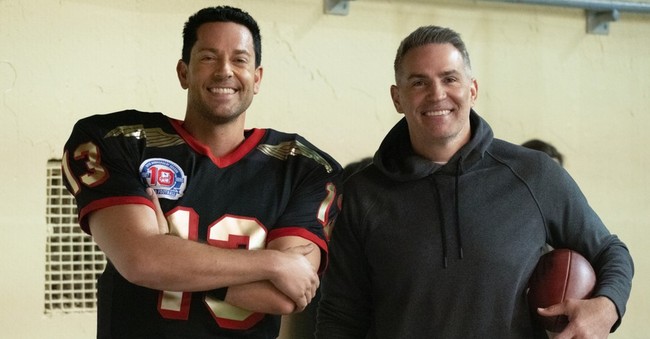 2. The Filmmakers Behind 'I Can Only Imagine' Directed it
American Underdog was made by Jon and Andrew Erwin, the Christian filmmaking tandem who also directed Jesus Music, I Still Believe, I Can Only Imagine and Woodlawn. They have a history of success: I Still Believe was the No. 1 movie in America on opening night in March 2020, while I Can Only Imagine was No. 3 its opening weekend in March 2018 and grossed $83 million during its run – a total that remains the highest gross in the history of its distributor, Roadside Attractions.
It was filmed during the pandemic. Lionsgate is distributing it.
"We didn't think we could get it done in the pandemic, but we jumped through all the hoops to make sure that we were able to comply with everything and get it done," Andrew Erwin told Crosswalk. "And the movie just turned out spectacular. The test audience went so well that Lionsgate felt very confident, and they gave the movie a Christmas Day release."
Erwin says the movie has a "four-quadrant appeal," – meaning it will be enjoyed by men and women, both young and old. During one test screening, he said that half of the audience called the movie a great sports film, while the other half said it was a great love story.
"It's a story that will catch people off guard in the size and scope of the football [story], but also the size and scope of the love story," he said.
Photo courtesy: ©Michael Kubeisy/Lionsgate
3. It's a Powerful Story about Love, Sacrifice and Devotion
American Underdog is part-romance, part-sports drama. It's a film that will appeal to Hallmark-style movie fans … and football fanatics alike.
It's also a film with multiple underdogs. Kurt Warner gets top billing as the story's primary underdog – "there is no way this guy makes the team," a Rams' coach says – but Warner's adopted son, Zach, is an underdog, too. Legally blind, Zach refuses to slow down in life even if he has a disability. (At one point, he even drives a riding mower in circles in the yard as Kurt monitors.)
The filmmakers smartly tell their stories in tandem -- a plot that culminates with Kurt listening as Brenda reads an inspirational letter from Zach to his new daddy. Kurt hears it immediately before his first NFL start. ("He's proven everyone wrong, and so will you," Brenda tells Kurt.)
The love in American Underdog mirrors the love of Scripture – selfless, sacrificial and devoted. It's a love that puts others first and yourself last.
Kurt Warner was a college student and single man when he met Brenda and her two sons. Many men would have dumped her after learning of her family history. Kurt didn't.
Brenda sacrificed for her two sons and then for Kurt, letting him chase his dream while she took care of the home life.
"Love comes with sacrifice," Kurt Warner told Crosswalk. "Whenever you love, there's going to be sacrifice involved in it."
Photo courtesy: ©Michael Kubeisy/Lionsgate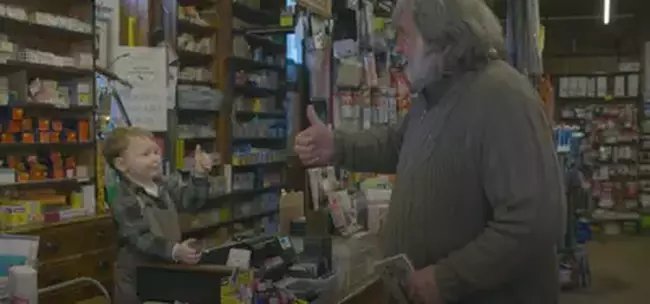 4. It Has Major Crossover Appeal
American Underdog is a film geared toward both faith-based and mainstream audiences. It's packed with the spiritual content the church audience wants (more on that in a moment), yet it spotlights a popular quarterback and an NFL Hall of Famer in Warner – with three big-name Hollywood stars in the film's lineup
The movie doesn't come without speedbumps for the family-friendly audience. It includes some language (details below). It also has a brief makeout scene that's played for laughs but probably should have been left on the editing floor. ("How does it feel to make out with a future professional athlete?" Kurt asks Brenda as they kiss passionately on a couch before they're married.) We also learn that Brenda, as a single woman, won a "tight-fitting jeans" contest. They live together before marriage – although we never see them in bed.
Still, the film is filled with faith and inspirational content. Brenda talks openly about her Christian faith. We see Kurt praying in a hotel room, broken spiritually and crying out to God. Kurt, when he proposes, tells Brenda, "I love you, and I want what you have. I want your faith." Toward the end of the movie, we see old footage of the real Kurt Warner celebrating the Super Bowl win and saying, "I got to give the praise and glory to my Lord and Savior up above."
To borrow a metaphor from a different sport, American Underdog is a Triple Crown winner. It's a faith-based movie, a sports movie and a romantic movie all rolled into one. It's one of the year's best films.
Rated PG for some language and thematic elements. Language: H-ll (2) OMG (4) d-n (4), unfinished "song of a" (1).
Entertainment rating: 4 out of 5 stars
Family-friendly rating: 4 out of 5 stars
Photo courtesy: ©Michael Kubeisy/Lionsgate
---
Michael Foust has covered the intersection of faith and news for 20 years. His stories have appeared in Baptist Press, Christianity Today, The Christian Post, the Leaf-Chronicle, the Toronto Star and the Knoxville News-Sentinel.