4 Things to Know about Dear Evan Hansen, the Uplifting Movie Based on the Popular Musical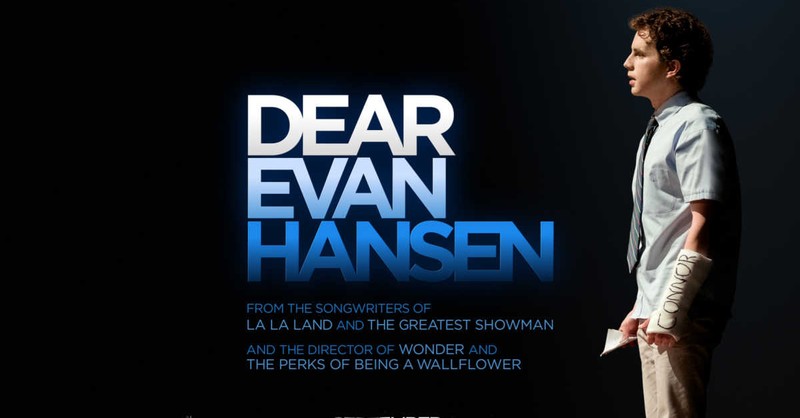 Evan is an awkward high school student who has a scarcity of confidence and friends. He struggles when he talks to strangers. He even struggles when he walks down the hall.
But Evan wants to grow in his social skills. So he follows the advice of his therapist and writes himself a letter at the beginning of each day, describing his dreams and his goals for the next 24 years. Each one begins with "Dear Evan Hansen." And each one is signed, "Me."
Tragically, though, one of those letters falls in the hands of a fellow classmate, Connor, who reads it and refuses to give it back. Connor even takes it home.
Three days later, Evan learns that Connor committed suicide.
And that letter? Connor's parents believe it was a suicide note written from Connor to his best friend, Evan.
The two boys didn't even know one another. But Evan – not wanting to trouble a grieving mom and dad – decides to cover up the truth.
The new musical Dear Evan Hansen (PG-13) tells the story of Evan as he weaves a tale that has a dramatic impact on a family and a community. It stars Ben Platt as Evan, Amy Adams as Connor's mom, and Danny Pino as Connor's step-father.
Here are four things you should know:
1. It's Based on a Popular Musical
The film is based on an award-winning Broadway musical of the same name that starred the same actor (Platt) in the lead role. The musical was nominated for nine Tony Awards and won six, including Best Actor in a Musical (Platt), Best Actress in a Musical (Rachel Bay Jones), Best Musical and Best Original Musical Score.
Similar to the comparisons of live-action Disney films to their originals, much of the criticism of the film has involved the (few) changes from the Broadway show. That's unfortunate (and silly) because each has its strengths and can stand on its own. The plot had no major tweaks.
Director Stephen Chbosky (Wonder) told Crosswalk that four songs from the musical were dropped, while two new ones were added. The musical's most powerful tunes remain, including For Forever, Waving Through a Window and You Will Be Found. (The film renditions for all three are excellent.)
The big screen, he said, has its benefits.
"Because of the power of cinema and the power of the close-up, there are things that we could shine a light on and develop characters in a way with an efficiency that you literally cannot do on stage."
That led to a "more intimate, more textured story," he said.
2. It's a Gripping Ethical Tale
The plot of Dear Evan Hansen is as gut-wrenching as it is entertaining. It's an ethical dilemma with no easy answer: A grieving family uncovers a letter Evan had written to himself but that Connor had stolen. They falsely believe Connor had penned it shortly before committing suicide. Evan's initial reaction is to tell the truth, yet he has second thoughts when Connor's mother and step-father explain how the letter brought them comfort. After all, they didn't even realize Connor had friends. (And Evan, they believe, was Connor's best friend.)
This ethical tale grows more complicated when Evan pays his friend/computer whiz Jared to create fake emails between Connor and Evan, and even more complex when their tragic friendship is used as the basis of fundraisers for a mental health support group and a memorial named after Connor.
Of course, Evan has ulterior motives, too. He has a crush on Connor's sister, Zoe. He enjoys the camaraderie and love of Zoe's family.
You empathize with Evan at the very same time you question his decisions. The film forces you to ask: What would you do?
3. It Gives Hope to Today's Teens
Long ago, the popular ban R.E.M. released a song with a true-but-catchy lyric: "Everybody hurts ... sometimes." That 1992 song encouraged the listener to "hold on" – meaning, don't give up – and to "take comfort in your friends." It's a message with a foundation in Scripture, which tells us to "bear one another's burdens" (Galatians 6:2) and to "encourage one another and build one another up" (1 Thessalonians 5:11).
Dear Evan Hansen is the latest iteration of that powerful message. In the movie's most emotion-laden moment, an awkward Evan is giving a speech on stage when he drops his notecards and trips over the microphone stand. Mortified, he recovers and begins singing, "Have you ever felt like nobody was there? Have you ever felt forgotten in the middle of nowhere?" Soon, the students join him in the chorus, "Lift your head and look around. You will be found."
Researchers tell us that today's teens are lonelier than past generations due largely to a social media-obsessed culture that turns young people into validation-seeking machines. Dear Evan Hansen reminds teens that everyone has problems – even the school's class president – and everyone needs help.
Christians can take that positive message to the next level: There's a God who created you, loves you and has a plan for your life. He will never leave you.
From a faith perspective, the message in Dear Evan Hansen may be incomplete, but it's a good start.
4. It's PG-13, but not Over the Top
Dear Evan Hansen is rated PG-13 for thematic elements (including discussion of suicide), brief strong language (including an f-bomb – details below), and some suggestive references.
Evan's friend Jared, who is gay, makes several suggestive comments, and at one point, mentions how he "hooked up" with a Brazilian male model. (Evan is not gay, and although Connor wears black nail polish, the film doesn't explicitly say he's gay.) The hallways at Evan's school also have multiple LGBT-themed posters.
The film doesn't reveal why Connor committed suicide, although it does acknowledge he had issues with anger.
Both Evan and Connor are bullied. The film forces viewers to ask: How would the story have been different if they had friends all along?
It's a troubling-yet-inspiring film that can make a positive difference in the world.
Chbosky said he wants parents to realize that teens in today's world "are navigating" a world that "is so drastically different than what we were raised in."
He wants teens to feel encouraged after watching the movie.
"I want people," he said, "to walk away with a sense of hope and a sense of being seen and understood."
Dear Evan Hansen is rated PG-13 for thematic material involving suicide, brief strong language and some suggestive references. Language details: s—t (5), d—n (1), h-ll (3), f-word (1), misuse of "God" (1), OMG (4).
Entertainment rating: 4 out of 5 stars.
Family-friendly rating: 3 out of 5 stars.
Photo courtesy ©Universal Studios
---
Michael Foust has covered the intersection of faith and news for 20 years. His stories have appeared in Baptist Press, Christianity Today, The Christian Post, the Leaf-Chronicle, the Toronto Star and the Knoxville News-Sentinel.