3 Things to Know about The Most Reluctant Convert: The Untold Story of C.S. Lewis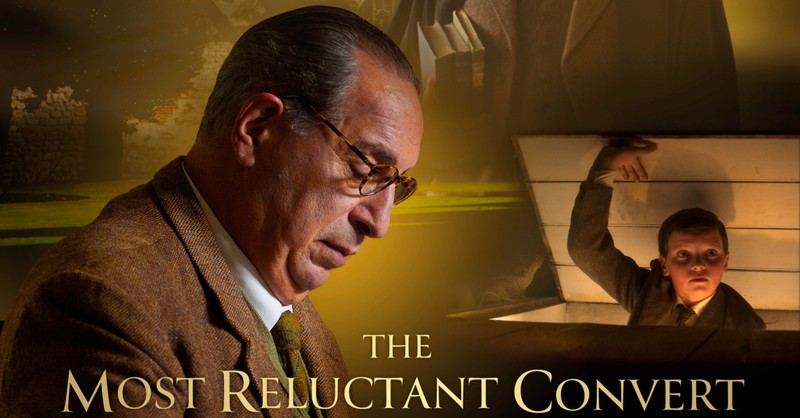 SPECIAL OFFER: Enroll in this free online course on C.S. Lewis today!

Jack is a happy and energetic young boy who spends his days playing outside with his brother, Warnie, and his nights sleeping peacefully inside his parents' spacious home in Belfast, Ireland.
Life – it seems – couldn't be better.
But then his mother dies of cancer. And then his father – a stern man – grows despondent, walking drearily through each day as if life itself is not worth living.
Jack, too, becomes cynical about life. He even swears off all religion, believing the world and the universe together are a "rather regrettable institution."
At 14, he turns his back on Christianity.
In high school and college, he embraces atheism.
He is – as he later says – as "non-moral as a human creature could be."
God, though, has other plans for Jack.
Jack – better known as C.S. Lewis – is the subject of the new film The Most Reluctant Convert, which follows Lewis from his childhood, to his teenage years, to his time at Oxford as a young adult, when he converts to Christianity and becomes a world-famous apologist. (The film's subtitle is "The Untold Story of C.S. Lewis.")
Here are three things you should know about the film:
1. It's Based on a Stage Play
The movie is based on an award-winning stage play starring Max McLean, who – as in the film – plays a middle-aged Lewis who is looking back on his childhood and conversion. But while the stage play stars McLean in a solo role, the film features him alongside numerous actors in what is a combination of narration and drama.
Like Ebenezer Scrooge traveling back in time to see his early life, the middle-aged Lewis (played by McLean) travels back in time to his childhood, teen and young adult years, where he walks the same streets and visits the same houses and classrooms of his younger self – oftentimes mere feet away from the younger Lewis.
It's a brilliant method of filmmaking that is as entertaining as it is educational and inspiring. The movie was directed by Norman Stone, who also helmed The Narnia Code (2009) and C.S. Lewis: Beyond Narnia (2005). Stone won an International Emmy and a BAFTA Award for Shadowlands, the 1986 film about Lewis' relationship with his wife, Joy Davidman.
It was filmed in 18 locations in and around Oxford, England, where Lewis attended and later taught. The fragrance of history nearly teems from the screen.
2. It's Riveting and Excellent
McLean carries much of the film's weight, but he's not the only impressive actor. Nicholas Ralph (All Creatures Great and Small), who plays Lewis as a young adult, and Tom Glenister (Vera, Doc Martin), who plays J.R.R. Tolkien, also stand out. Eddie Ray Martin, a young actor who plays Lewis as a child in his debut theatrical role, is solid, too.
McLean is a well-known actor who is known as much for his rich, baritone voice as his face. He narrated The Listener's Bible – an audio version of Scripture that is widely available on the Internet. (It's so relaxing that I often use it to help my children unwind at night.) He is the founder and artistic director of the Fellowship for Performing Arts, a New York-based company that produces film and theatre from a Christian worldview. He also adapted for the stage The Screwtape Letters, The Great Divorce, Genesis and Mark's Gospel.
It has been said that the 18th-century preacher George Whitefield had such a captivating voice that he could pronounce one word – "Mesopotamia" – and make people weep. Perhaps McLean's voice is the 21st-century version of that.
"This story has a remarkable ability to engage audiences regardless of their religious belief," McLean said. "Lewis applied his formidable and self-deprecating wit to engage audiences about his own trying and painful experiences."
3. It's Apologetic … and Evangelistic
The Most Reluctant Convert is an inspiring tale about an atheist who was consumed by intellect – he believed Christianity was one "mythology among many" – became the greatest defender of the faith of the 21st century.
Lewis was drawn by the Holy Spirit, yes, but God used friends and intellectual giants alike to persuade him – with Lewis kicking and screaming each step of the way.
Doubts about his atheism were sparked when a college friend, Owen Barfield, switched from materialism to theism. Lewis tried talking "sense" into his friend, but to no avail. Lewis was further impacted by such Christian authors as George MacDonald and G. K. Chesterton – men who wrote honestly about the "roughness and density of life" that, Lewis said, secular-minded authors lacked.
Two Christian intellects, J.R.R. Tolkien and Hugo Dyson, helped Lewis clear the final hurdles. At the time, Lewis said he believed in a supernatural being but not the personal God of Christianity. Jesus was a good moral teacher, Lewis argued, yet not the Savior of the world.
Tolkien was having none of it.
"Either this man was and is the Son of God, or else he is a liar, a lunatic or a fraud," Tolkien told Lewis. "But all this patronizing nonsense about him being some great moral teacher, it's not an option to us, nor was it intended to be."
The Most Reluctant Convert is part-biopic, part-apologetics crash course, and part-evangelistic tool. It's the story of how a God-hater was transformed into a God-worshipper. Yes, you may already know much of Lewis' story, but you haven't seen it told like this. The Most Reluctant Convert is one of the best films of the year.
Learn more at CSLewisMovie.com
The Most Reluctant Convert is unrated but should be treated as a PG film. Content warnings: We see Lewis drink in a pub and smoke a pipe. We hear two coarse words (both d--nit). We hear Lewis discuss "sexual temptation" and "lust," although the film contains no sexuality. Lewis also discusses how his hospital roommate had a "furious affair" with the nurse. We hear them laugh but see nothing.
Entertainment rating: 5 out of 5 stars
Family-friendly rating: 4 out of 5 stars.
Photo courtesy: ©A1 Productions
---
Michael Foust has covered the intersection of faith and news for 20 years. His stories have appeared in Baptist Press, Christianity Today, The Christian Post, the Leaf-Chronicle, the Toronto Star and the Knoxville News-Sentinel.