3 Things to Know about Walking with Herb, the New Faith-Based Golf Movie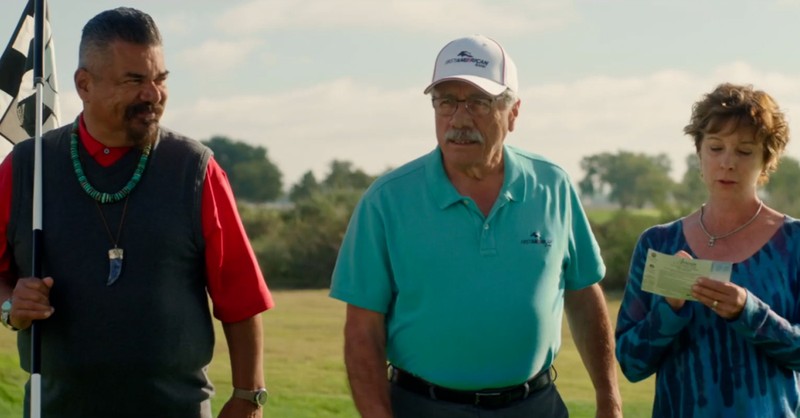 Joe Amable-Amo is an aging banker who is questioning the meaning of life – and the very existence of God.
His son-in-law died. Then his granddaughter died. Joe, it seems, wants nothing to do with the church. In fact, he ridicules the faith of his wife.
But then Joe receives multiple messages from God – in the form of a fax, a dove, and a tiny scroll brought to his office by a small dog.
"Resist the sarcasm, Joe. Rather, behold and believe," one of the messages says.
God gives him a mission. He wants 65-year-old Joe – a former golfer – to get back on the green in order to qualify and win a major professional golf tournament. It sounds ludicrous, yes, until a human messenger from God arrives. And until Joe starts swinging the clubs again.
The new movie, Walking with Herb (PG), follows the story of Joe as he gains worldwide attention for his golf success at an old age. It stars Edward James Olmos as Joe, George Lopez as the messenger, and Billy Boyd as an opposing golfer. It was written by the late Mark Medoff, an Oscar nominee.
Here are three things you should know about the film:
Photo courtesy: ©Rio Road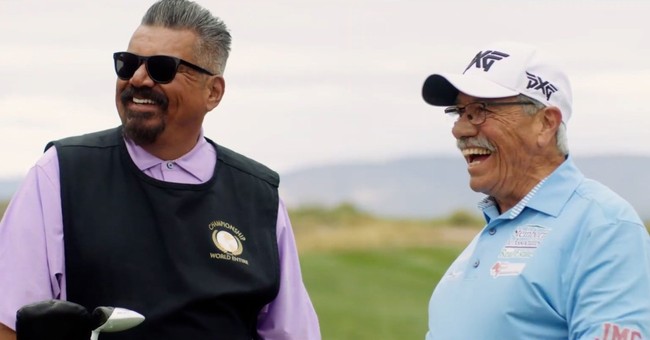 1. It's Based on a Book
Author Joe Bullock wrote the 2016 novel Walking with Herb with the goal of delivering an uplifting, God-centered message to skeptics. It received an impressive list of endorsements, including from former majors champions Bernard Langer, Hal Sutton and Bill Rogers.
"Sometimes God is talking to us and we just have to listen," Sutton said in a book endorsement that reflects a major theme in the film.
Like the movie's protagonist, Bullock was a banker and a former golfer. (He played in college.) Their spouses have the same name, too.
Thankfully, though, Bullock's life has not involved the dark valleys that the main character in the movie experiences.
"[Writer] Mark [Medoff], being the wonderful writer he is, wanted to bring the protagonist from a really dark spot, having lost some members of his family, particularly his granddaughter," Bullock told Crosswalk. "That made it a more powerful, more entertaining, more interesting story."
Photo courtesy: ©Rio Road
2. It's Funny, Quirky and Filled with Faith
Walking with Herb delivers a serious message – God has a purpose for your life – but it does so in a funny, quirky sort of way. Joe receives a fax from God … but remains skeptical. He watches a dove land on a windowsill and wink at him … but believes he's hallucinating. He encounters a hippy, motorcycle-riding messenger from God … but wonders if the person is running a scam.
The messenger, Herb, cites Scripture and other religious figures as he urges Joe to turn back to God. He also gives Joe several golf lessons.
Eventually, Joe changes his tune – especially after he regains his golfing power and precision from yesteryear. As his wife tells him, the test involves more than just golf.
"Maybe it's not about golf, or you," she says. "Maybe it's God challenging people all over the world who have become complacent to be more, to do more, than they ever thought possible, and not take refuge in their personal pain."
Photo courtesy: ©Rio Road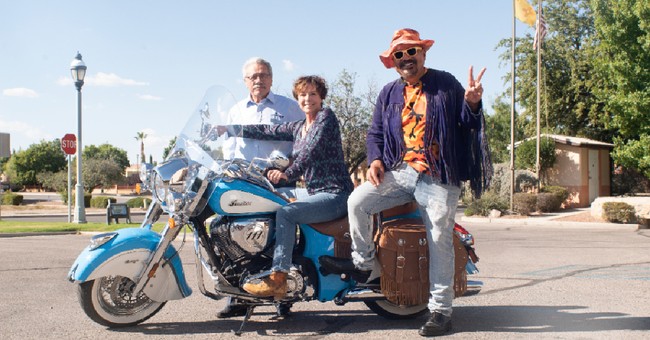 3. It's a Film about Life
Walking with Herb is like a modern-day parable, with elements from the stories of Job, Noah and Thomas.
Joe abandons his faith following a series of tragedies but then accepts a seemingly impossible task from God, knowing he will be questioned and perhaps even ridiculed. At first, his faith is weak, but by the end of the film, it's as big as a mustard seed. (Asked toward the end if he's religious, he says he's a disciple of the "Almighty Lord.")
The film includes lessons about finding purpose amid tragedy, trusting God when the future is cloudy, and caring for others when you're tempted to focus on yourself. It also has positive messages about generosity and adoption.
Bullock told Crosswalk he hopes the film helps boost the faith of skeptics and believers alike.
"I want people to believe in themselves and have faith and know that God is on their side," Bullock said. "... Have faith in yourself [and] faith in God. And if you're doing something worthwhile, help will come from unexpected places."
Walking with Herb is rated PG for some mature thematic elements and brief language. (The movie includes no violence or sexuality and only minor language: h-ll 1; OMG 3; misuse of "Jesus" 1.)
Entertainment rating: 3 out of 5 stars.
Family-friendly rating: 4 out of 5 stars.
Photo courtesy: ©Rio Road
---
Michael Foust has covered the intersection of faith and news for 20 years. His stories have appeared in Baptist Press, Christianity Today, The Christian Post, the Leaf-Chronicle, the Toronto Star and the Knoxville News-Sentinel.