3 Things You Should Know about Gaither: A Legacy in Music, the Documentary about Bill and Gloria Gaither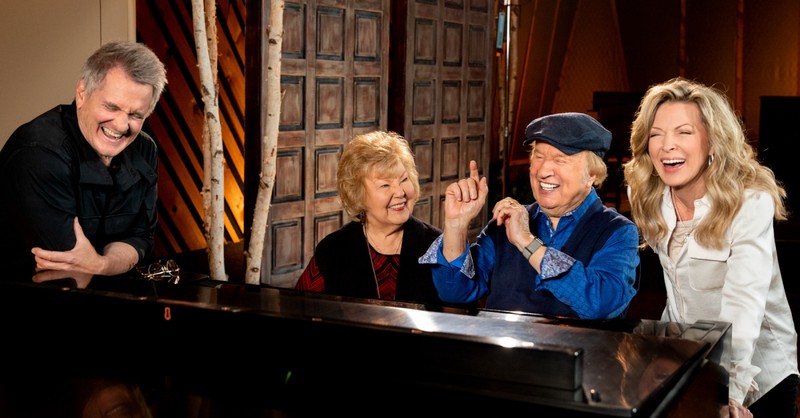 They've written more than 700 songs, won eight Grammys and received more than 40 Gospel Music Association Dove Awards. In 2000, they were even named ASCAP's Christian Songwriters of the Century.
Bill and Gloria Gaithers' music has transformed gospel music and inspired millions around the world.
A new TBN documentary, Gaither: A Legacy in Music, tells the fascinating story of their career, beginning in their home state of Indiana and following them as they became household names. Eventually, they launched the careers of countless others. Mark Lowry narrates it. Matt and Laurie Crouch are the hosts.
Music can transform a culture for the better, he said.
"The little song that you learned in Sunday School was true – we are light. And light will punch holes in the darkness," Bill Gaither told Crosswalk.
Here are three things you should know about the documentary:
1. It's the Story Behind the Songs
Even if you're so young that you've never used a hymnal, you likely have sung a song by Bill and Gloria Gaither. Because He Lives, He Touched Me, It Is Finished, His Eye Is on the Sparrow, The Family of God, The King Is Coming – all were written by the talented husband-and-wife duo. (And several of them are included in modern-day hymnals – right alongside those written by Charles Spurgeon, Charles Wesley and Fanny Crosby.)
In Gaither: A Legacy in Music, the Gaithers reveal the inspiration behind some of their most famous tunes. Gloria wrote the words for most of their songs while Bill composed the music. They wrote Because He Lives, Bill Gaither says in the documentary, "just basically for us and our baby" in the midst of the turbulent 1970s. (The song includes the lyric, "How Sweet To Hold A Newborn Baby.")
"We said, 'Who would bring a child into this world at a time like this?'" he said, referencing his thoughts in the 1970s. "And I think the Lord said to Gloria and me, 'Well, Mary brought Jesus into this world where it was about as turbulent as you can get.'"
When the song was written, Gaither said he thought it was "good" but not great.
Songwriters often want him to evaluate their songs, he said. To that, he responds with a smile, "I'm not even good at evaluating my own."
2. It's a Venture to Alexandria, Indiana
Viewers take a trip to the Gaithers' home in Alexandria, Indiana, where the water tower welcomes you to the "Home of the Gaithers," and the small-town square testifies to Bill Gaither's humble beginnings. He was born half a mile from his current home, yet "we've traveled all over the world," he said.
He shows pictures from his childhood and teen years. (During school, he briefly played basketball.)
As a teenager, Gaither first heard a gospel quartet on a radio station out of Indianapolis – WIBC. At age 12, he got the autographs of members of a WIBC quartet who had traveled to Alexandria. They signed a picture.
"Those guys didn't realize what that signature and that picture meant to me," he said.
As a youngster, he also watched the Statesmen Quartet at the Ryman Auditorium in Nashville, Tenn. One of those quartet members, Jake Hess, later traveled on a 1990s tour with the Gaithers.
The documentary follows his career, from marrying Gloria in 1962 to the growth of the Bill Gaither Trio and then the Gaither Vocal Band. The mega-popular Gaither Homecoming series, he said, began with a simple idea: honoring the "great patriots" of the gospel music era.
Gaither, in the documentary, encouraged the Christian community to embrace new and old music alike.
"The Bible says sing unto the Lord a new song – but at the same time, I think it's arrogance to think we can only connect with God with something that's been created in the last year or two," he said. "And I think for the old folks who are hanging on, 'we can only connect with God through a pipe organ' – I think they need to loosen up a bit."
3. It's a Tribute from Other Artists
Gaither: A Legacy in Music is filled with personal tributes from some of the top artists in Christian music history: Michael W. Smith, Amy Grant, Steven Curtis Chapman, Duanne Allen of the Oak Ridge Boys, Ann Downing, Natalie Grant, the Martins and Babbie Mason, among them.
"I'll never forget as a young songwriter, in January of 1981, getting invited by Bill and Gloria to get on a plane and come to Indiana and go to their house and write songs for three days and stay in their A-frame house," Smith said. "I thought I'd died and gone to heaven."
Gaither, now 86, speaks with the wisdom that comes from experiencing nearly nine decades of life.
"Life is a vapor. It's here today, and it's gone quickly. Most people either live in the past or in the future. Very few people live in the moment today. I thank God for this moment," he said, smiling. "This is just a beautiful moment."
Gaither told Crosswalk he wants his life to be remembered as "a bridge" that "brought people together."
"We've written a lot about unity," he said. "I'm so glad I'm a part of the family of God."
Referencing polarization within society, Gaither said his music has brought together people of different beliefs, including different political ideologies.
"I just think as Christians, we ought to be able to talk to people on all sides. And the Scripture says, 'And if I be lifted up, I will draw all men unto me.' Therefore that makes a wonderful bridge of bringing people who might say, 'I don't think I'd like you' together, even within the body of Christ."
Visit TBN.org.
Entertainment rating: 4 out of 5 stars.
Family-friendly rating: 5 out of 5 stars.
Photo courtesy: ©TBN, used with permission.
---
Michael Foust has covered the intersection of faith and news for 20 years. His stories have appeared in Baptist Press, Christianity Today, The Christian Post, the Leaf-Chronicle, the Toronto Star and the Knoxville News-Sentinel.