Tiny Pooches Deliver in Disney's Beverly Hills Chihuahua
Rebecca Cusey

Crosswalk.com Contributing Writer

2008

1 Oct

COMMENTS

A little dog named Rusco is Hollywood's most unlikely new star.
Filmmakers found Rusco languishing in a shelter, but were drawn to his heart and his energy. They adopted him and made him the star of Beverly Hills Chihuahua, a Disney film about a pampered lapdog, Chloe, and her loyal suitor Papi. The movie opens Friday, October 3, 2008.

The rescued shelter pooch plays Papi, with George Lopez providing his voice. It just goes to show, Lopez said, "How people make it against all odds. One day from being put down, and then the next day you're on every bill board and the star of a movie. It's unbelievable. It's unfortunate that he's a canine and won't really every understand what that means. But I think it's a metaphor for all of us."
And They Called It "Puppy Love"
Papi adores his "corazon," the love of his life, a little, white Chihuahua named Chloe (voiced by Drew Barrymore), who has the great fortune to belong to wealthy, indulgent Vivian (Jamie Lee Curtis). Vivian spares no expense on Chloe. The film opens with the little dog taking a spa day in a resort on Rodeo Drive. Her friend, a pug, basks in a rose petal bath while Chloe tries on couture clothes, complete with hats and bling, and models them for her posh friends. She spends the rest of her hours lounging in a doggy bed by the pool, enjoying filet mignon, and ignoring the advances of Papi. However, Chloe has no idea of the danger in her future. Vivian leaves her in the care of her irresponsible niece Rachel (Piper Perabo), who packs up Chloe's cashmere dresses and booties and carries her off to Mexico.
South of the border, a gang of criminals kidnaps Chloe for their illegal dog fighting ring. Separated from her luxurious world, Chloe begins to realize how vulnerable she is without the protection of her high-class owner. Help comes in the form of a German shepherd named Delgado (voiced by Andy Garcia), whose sad past cannot sink his noble spirit. He helps her escape the criminals and their Doberman, El Diablo (voiced by Edward James Olmos). As Papi and his owner Sam (Manolo Cardona) help Rachel search for Chloe, Delgado leads Chloe through Mexico in a desperate attempt to evade El Diablo and to help Chloe return to her home. Along the way they meet a pack of good-hearted strays, some kind humans, a sassy rat-iguana duo, and the lost tribe of Chihuahuas.
"Rachel and Chloe are both very irresponsible and self-centered and both need to be around people who are more caring of others. And that's what changes them," said Perabo. This growth forms the heart of the movie. In Delgado as well as in people like a poor Mexican woman who pours her a cup of water, Chloe finds Good Samaritans who care for her because it is the right thing to do and not because she is wearing the latest Marc Jacobs doggie coat. She learns to see beyond her own desires and to care for others. The movie has other messages as well, including kindness to animals, the importance of responsibility, and the emptiness of consumer excesses.
Chloe's journey also takes her to the ancient city of Chihuahuas, ruled by Monte (Placido Domingo), where the diminutive dogs have created a canine utopia, complete with a catchy mantra. The wise leader of the ancient breed tells her she is "tiny but mighty" and gives her the kind of "find your bark" pep talk we've come to expect from a Disney film. But it's done with a wink and nod and an endearing zaniness that will have audiences chanting "no mas!" with the little warriors.
They're Tiny But Mighty
Lopez is the owner of three real-life Chihuahuas, one rescued, one bought, and one born to the other two. "Tiny but mighty" neatly summarizes the dogs in Lopez's experience. "They're small but they think they can take anyone on. I've seen my dogs in a dog park where I have to put them in a car because they want to beat up everyone in the park. They're like, 'Let me out there. Let me out there.'"
Working with dogs was a new experience for Piper Perabo. "I didn't realize there would be more than one for each dog. You think there would be as many dogs as there are characters. The dog that played Chloe, Angel, she can't do everything, so there has to be the swimming Chloe, the jumping Chloe, There's five different Chloes, although there's one main one." Manolo Cardona agreed, "You have to be patient, working with dogs, you never know what they're going to do. You have to be aware and you have to work for them. Actually, they're the main characters. We're just there to support them."
The dogs brought their own attitude on set. Lopez described a photo shoot with Rusco, in which they were supposed to be at a spa. "He had his paws in water. He was getting a manicure and we were both sitting there with cucumbers over our eyes, kinda relaxing with cucumbers. After the take, they were looking for the cucumbers," said Lopez, "He ate his cucumbers while they were resetting the camera." Perabo remembered another example of canine mind-set. The crew brought in huge tubes to pump in air conditioning to the set. "Frank, the pug, would climb inside the air conditioning tube," said Perabo, "One day Jamie [Lee Curtis] climbed in with Frank. It was much more comfortable."
A Movie with Heart
The animals delivered pooch panache, and the director delivered an extremely child-friendly flick. The film avoids off-color wise-cracks that so often accompany supposed children's films, not even giving in to the temptation of a pee joke. Although the movie does have a bad guy, the fear factor is dialed way down. When the dogs fight, they're more bark than bite. There is a gentle human romance, but all the kissing is left to the dogs.
For a movie about talking Chihuahuas, the film does an excellent job tugging at viewer's heartstrings. The plight of little lost Chloe, the constancy of Papi, and the faithfulness of Delgado add up to surprising amount of emotion. While it won't win any Oscars, Beverly Hills Chihuahua is a movie with heart that parents can enjoy along with their kids.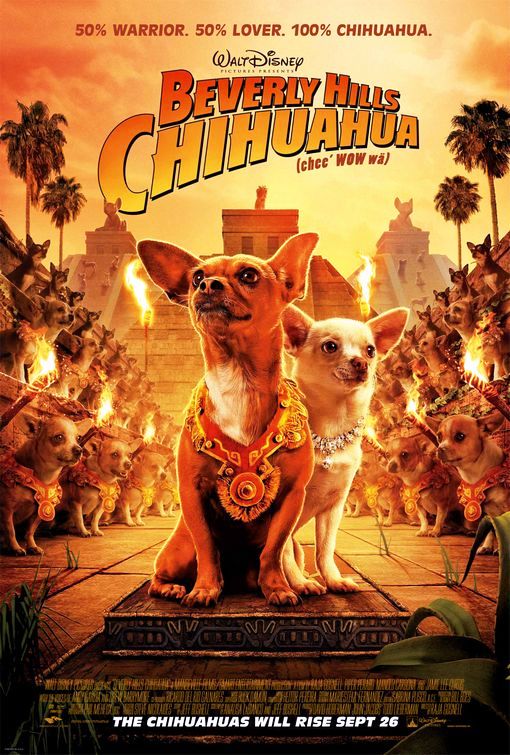 Starring Drew Barrymore, George Lopez, Jamie Lee Curtis and Piper Perabo, Walt Disney Pictures' Beverly Hills Chihuahua releases in theaters nationwide on Friday, October 3, 2008. Click here for more information.