Watch the Trailer for Hilarious New Christian Film: Selfie Dad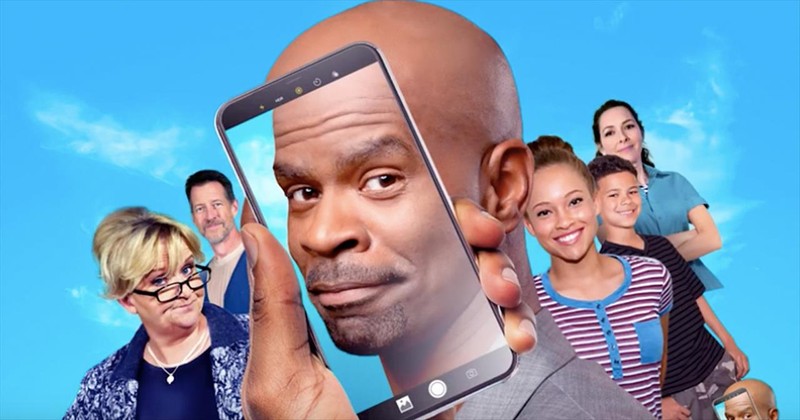 Selfie Dad is hilarious Christian comedian, Michael Jr.'s, newest family movie. Michael Jr. stars as Ben Marcus, a dissatisfied dad going through a midlife crisis. His wife, played by Chonda Pierce, wishes that he was more involved with his family. He is too involved with himself to be there.
Ben currently works as an editor for a reality TV show, but he believes his only shot at real happiness is giving his own career as a comedian a real shot. Learning from his son that you can make a career out of Youtube videos, he tries out posting some standup comedy routines—which fall flat on its face.
It isn't until his son posts his dad's miserable failure at a home improvement project, which goes viral, that he starts to get noticed. As he starts to get endorsements from his Youtube videos and awards, he only gets busier and more self-focused. No matter the success he experiences, it cannot fill his ultimate sense of emptiness.
But, God doesn't just leave him there. God works through the courageous prayers of Ben's wife, as well as Ben's coworker Mickey: "a brash IT guy studying to be a pastor… [he] knows what Ben's life is really missing: God. Will Ben be open to receiving the Word? Will he allow God to enter his heart and change his life for the better forever?"
"Read the Bible. Change your life." is this film's call to action.
Michael Jr. shares "Selfie Dad is a powerful call to dads--and to families--about what the Bible can do to bring true joy to your life. It just happens to come wrapped in a very funny movie about a dad getting it all wrong before he gets it right."
Loaded with lots of laughs and lots of inspiration, this film will be a memorable experience for your whole family. Even Kanye West watched the trailer, and offered one of his hit songs to be featured in the film!
Selfie Dad is available on Premium VOD starting June 19th, 2020. Learn more here.
You may also like: 4 Things to Know about Selfie Dad, the Faith-Based Comedy That's Truly Funny
Kelly-Jayne McGlynn is a former editor at Crosswalk.com. She sees the act of expression, whether through writing or art, as a way to co-create with God and experience him deeper. Check out her handmade earrings on Instagram and her website for more of her thoughts on connecting with God through creative endeavors.
Looking for Wholesome Family Films This Christmas Season? Listen to Our Culture Expert Share Her Top 5 Family-Centered Films - Perfect for Family Movie Night!
The views and opinions expressed in this podcast are those of the speakers and do not necessarily reflect the views or positions of Salem Web Network and Salem Media Group.