"All That Remains" Christine D'Clario Performance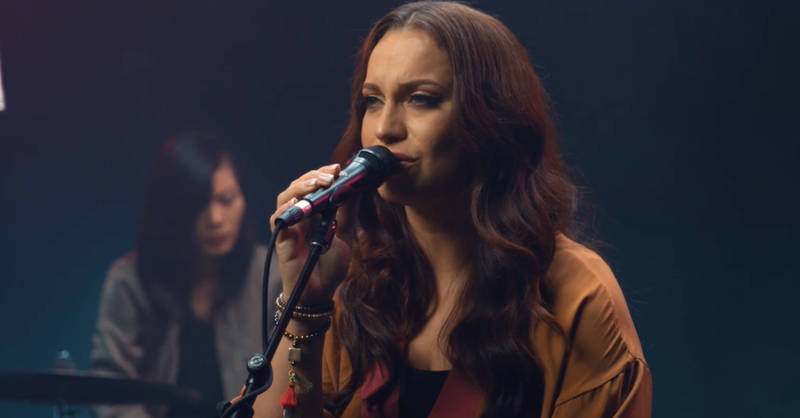 "When it's midnight and it's darkest, there will still be a song
Ringing out despite our weakness, clear and loud within our walls
When we praise out loud, He will shake the ground
Hallelujah, He has overcome, Hallelujah, He has won for us"
What an incredible worship song that reminds us to put our trust in Jesus. We are strong and victorious in Him.
Christine D'Clario's song 'All That Remains' is from her album of the same name, and it was inspired by her personal battle with postpartum depression and anxiety. "We don't have to face our battles alone," shared Christine. "When we confess, we join in with our faith family; and when we sacrifice praise, we invoke God's strength to fight our battles."
After performing this powerful song in the video, Christine also shares a little behind what went into the creation of the song.
"This song is highly prophetic in nature," she says. "I wrote it with Kristene DiMarco. My firstborn was about 4 months old when I went on a writing trip. Met with Kristene, and she was a mother, so we had a lot of talking points, you know, about birth experiences and pregnancies and all that. So, I shared with her my story of going through infertility and having a diagnosis of not being able to have children. And then going through a process of surrender, watching God work through it, heal my body, give me literally a new womb, and then this miracle child that I had just borne was with me."
She continues: "And so, we're talking about the process and how I was still processing through the waiting phase that happens before we get granted any blessing or any miracle we've been asking for. And how it's more important than receiving the fulfillment itself. The journey is more important than the fulfillment. And then we started talking about how it feels to go through a trial and a tribulation and how it could be very daunting to want to lift up your praise in those difficult moments. But how fulfilling it is to do it and just watch God live and dwell in it and work through it."
What a beautiful testimony and what an incredible song! We hope that you enjoyed listening to 'All That Remains' today!
Related articles about postpartum depression and anxiety:
5 Tips for Coping with Postpartum Depression
Do You Struggle with Mom-Anxiety?
Photo credit: ©GodTube