Former Miss America Heads To Hollywood After "Jesus Take The Wheel" Performance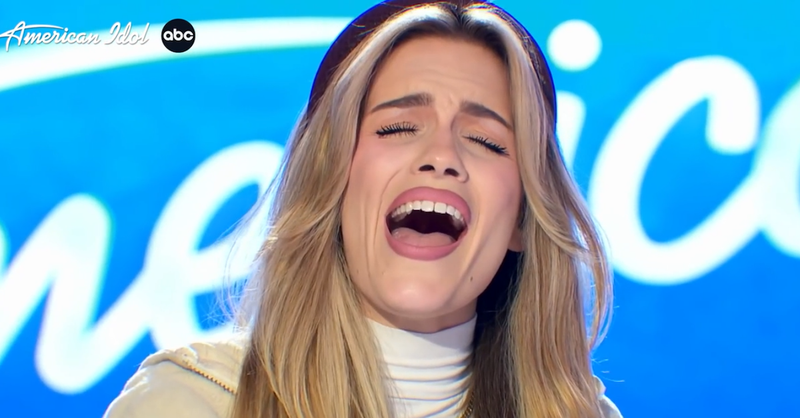 Betty shows her sash that she humorously got dirty from spray tans. Betty says that she sang opera as her talent and she has been singing since the age of three. Her biggest dream is to be the voice of a Disney princess.
She shares her voice impersonations of Belle from Beauty and the Beast, Roz from Monster's Inc, and Ariel from the Little Mermaid.
Betty says that she will be singing, "A Moment Like This" by Kelly Clarkson. As she gets focused, you can tell that this song has meaning to her. She sings with confidence and has a rich voice. Betty sings with joy and she is very into the performance. She has a beautiful vibrato. She has a sweetness to her voice.
Betty is asked if she sings country and she responds that she does. Betty begins to sing, "Jesus take the Wheel" by Carrie Underwood.
When she starts to sing in the country, she shines. The judges smile and tell her she does not sing like a pageant girl but like a singer. Betty says that she sings everything and they encourage her to have a style.
She tells the judges that she wants them to help her find that. She is encouraged that she could be a country singer and be big. The judges approve of her and put the crown on her head for fun.
Betty says that she is surprised and excited to be on this journey. Watching Betty's dream come true is so exciting. We all have dreams that God places in our hearts. Ultimately we can remember that they are for His glory.
"Declare his glory among the nations, his marvelous works among all the peoples!" 1 Chronicles 16:24
Related articles:
The Still Powerful Meaningful of "Jesus Take the Wheel"
Photo credit: ©GodTube