Kenedi Anderson Earns Platinum Ticket To Hollywood With Applause-Worthy Piano Performance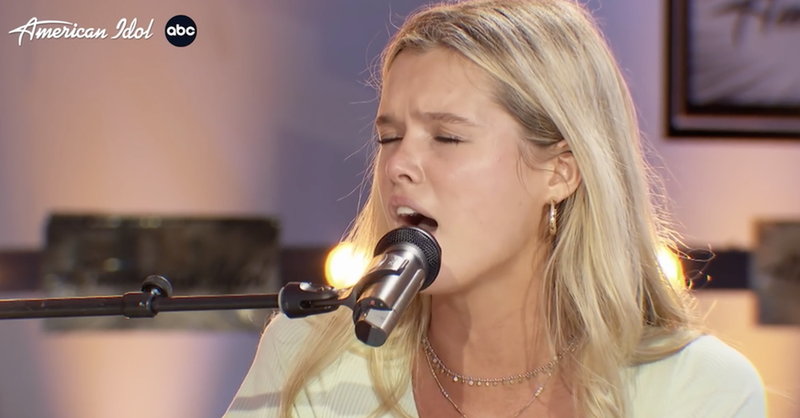 In this spectacular audition, Kenedi shows the judges that her young age of 17 does not matter in the singing competition. As the sweet young woman walks in and shares her story, we learn that Kenedi has traveled a lot due to her dad's job.
She is one of six kids and the moves have been difficult for her to make friends, but her family is close. Kenedi says that everyone in her family is into athletics, but her interest is music. She is seen songwriting at her piano.
As she begins her audition and sits down at the piano, she begins to sing and the judges are in complete shock. She has such a mature and confident voice for such a young person. Her voice is very rich and soulful. She is wowing the judges with every note and their expressions are big. They are all trying to maintain their excitement. After she sings, all of the judges stand in applause. They tell her that she is going to be huge. She tears up.
The judges tell Kenedi that she is the full package and this is the start of her career. They let her know that they believe in her and ask her to bring her mother in. Kenedi's mom comes in and the judges share that they have decided to give her a special ticket that is in every city which is a superstar ticket. She receives the platinum ticket and will get to go to Hollywood and skip a competition round in honor of the show's 20th anniversary.
Just as Kenedi received a platinum ticket unexpectedly, we have received above and beyond what we can ask or think of in Jesus. We might feel young in our faith or inadequate at times, but the Lord Himself has welcomed us into His kingdom.
"Now to him who is able to do immeasurably more than all we ask or imagine, according to his power that is at work within us." Ephesians 3:20
Photo credit: ©GodTube