17 Things You Probably Didn't Know About: MercyMe
Michael Nolan

CCM Magazine

Published

Feb 10, 2004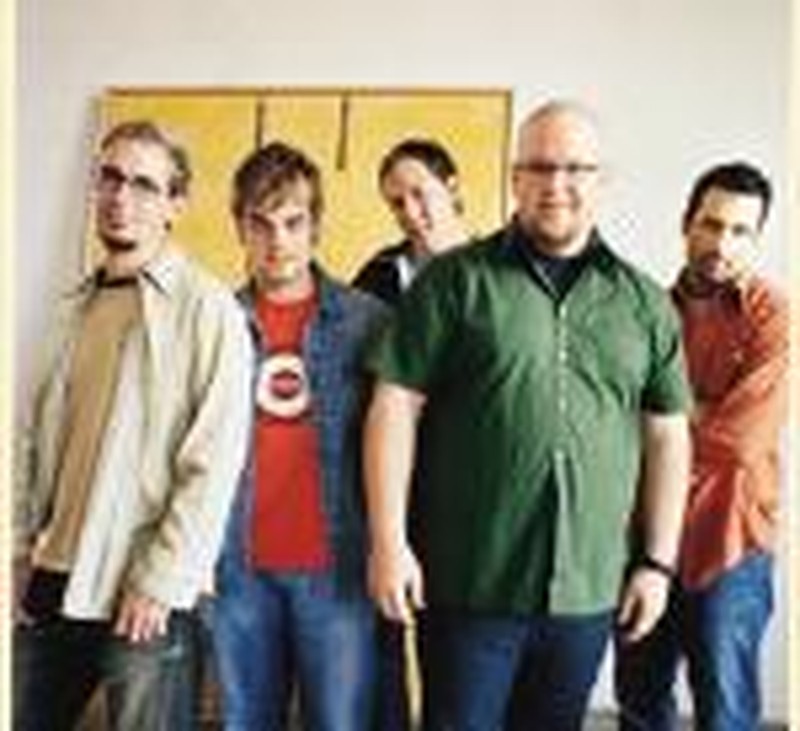 You could call MercyMe the "little band that could." Without changing its mission or the message the band started with in 1994, this rock-edged worship act has won the favor of countless Christian listeners as well as climbed to the pop-chart stratosphere most often reserved for "American Idol" winners these days.
With album sales already topping the 1.5 million mark, the band's music is everywhere, and so are the guys. In fact, Amy Grant will be performing before them when they co-headline 25 dates this month, and the band will hook up this summer for a worship tour with Michael W. Smith. Through the wonder of e-mail and cell phone technology, we sought to explore new realms with Bart Millard (lead vocals), Nathan Cochran (bass), Mike Scheuchzer (guitar), Robby Shaffer (drums), Jim Bryson (keyboards) and Barry Graul (guitar).

17. Rock on, Grandma!
The band's name came from Bart's grandmother during his days as a youth ministry intern at a Florida church. Concerned that he seemed to be home whenever she called, she chided, "Well, mercy me! Get a real job!" As Bart observes, "So here we are with a name that reminds us that one day we will have to get real jobs."
16. A liberating message
After "I Can Only Imagine" aired on a cellblock radio tuned to a soft-rock station, a prison guard wrote the band about its impact. As the guard walked past the cells, he found some of the prisoners on their knees worshiping, some weeping and others just sitting in awe. "When you hear this and realize God is using you more than you could ever think, it's not hard to know you are not in control of your career — God is," offers Robby.
15. Left Behind: not the book series or the movie
When you travel as much as this band does, some things are just bound to be forgotten along the way. Among the MIA: gallons of shampoo and conditioner, microphones, cables, clothes, wallets — and even the monitor guy.
14. Un-spoken for
When he was 18, Bart had a throat operation that kept him from talking for three months.
13. Funny ... these Christians seem almost human
This year MercyMe has popped up on all sorts of radio shows, including the rowdy Fitz radio program in Dallas. The guys entered the interview with a sense of apprehension about how they would be treated. "Come to find out, they were more nervous than we were," recounts Robby. "People on the mainstream circuit treat us like you would a pastor but love it when we turn out to be normal like them."
12. Road rules
If you hit the road with MercyMe, there are a few things you should know: Pick up after yourself, don't touch the thermostats for any reason and always take leftovers out of the fridge. And always remember the tour motto: "If it's funny, it's fair."
11. Glamour-free resumés
Prior to playing, the guys were paying their dues. Barry sold paint and auto parts, Nathan worked at Lowe's, Mike helped people have a "Blockbuster" night in the video rental biz, Jim was a studio engineer, Robby worked at a law firm and Red Lobster, and Bart cleaned out tanks at a sewage treatment plant. We can only imag … no, we can't.
10. And the home of the brave
According to Nathan, two key criteria had to be met for Barry to join the band: He had to like golf and know all the words to the national anthem.
9. Mercyme's everyday wear
Stryper wore black-and-yellow spandex onstage, Amy Grant had that leopard-print jacket, and MercyMe's look is … ? "Pretty much whatever is ironed at the time," offers Bart.
8. Speaking of Amy…
Bart says the band is thrilled that Amy Grant and Bebo Norman will be joining its upcoming tour. "Obviously she could headline her own tour, but she told us she believed in what we were doing and just wanted to be a part of it," he says.
7. Perhaps they were confusing God with a genie?
When rain threatened to cancel a radio station's outdoor event featuring Sugar Ray, SmashMouth, Hilary Duff and MercyMe, the radio folks asked Bart to perform a meteorological miracle since the band "had a hotline to God." Bart laughed, then realized they were serious. He said he would see what he could do but reports that the rain continued.
6. Interesting math
Robby says the last two albums sound "10 times better" than previous albums because they had "36 tracks to record with [on the record], compared to 70 or 80." However, he affirms, "The spirit they were written with and the message that we try to portray has always remained the same."
5. American Music Awards pre-pre-show
The band inadvertently arrived so early at the Shrine Auditorium that the crew was still setting up cameras. "Rather than being complete dorks, we had the driver drive around for about 45 minutes," admits Robby. Adds Nathan: "People looked at us a little funny when we got out of the limo and walked across the street just to go to McDonald's for milkshakes."
4. Picture perfect
While on the red carpet, Jim's wife, Misti, introduced herself to Randy Owens, lead singer of 22-time AMA winners Alabama, by saying they shared a home state. When the Fort Payne Four learned she was with MercyMe, they said they loved "I Can Only Imagine" and asked if they could have their picture taken together.
3. They've got mail
Since their exposure skyrocketed, so has their fan mail. "Before 'Almost There,' we received a ton of mail. Now it's like 20 tons — give or take a ton," estimates Bart.
2. Words to live by
"It's easy to substitute your time on stage or ministering for your personal time with God, [but] it's easier to find time [to be quiet with God] if you're looking for it," Robby observes. Adds Bart, "When your life is to sing and talk about God, you had better find time to actually talk with God."
1. Undone's almost done
The guys are currently putting the finishing touches on their upcoming album, "Undone" (INO), working again with producer Pete Kipley (Plus One, Rebecca St. James), who Mike lauds for "bringing a new level of creativity and a fresh look at the music." Bart suggests the songs lean toward the rock edge of their live performances since "we're already the poster child of AC [adult contemporary]."

© 2004 CCM Magazine.  All rights reserved.  Used with permission.  Click here to subscribe.