A Smashing Good Time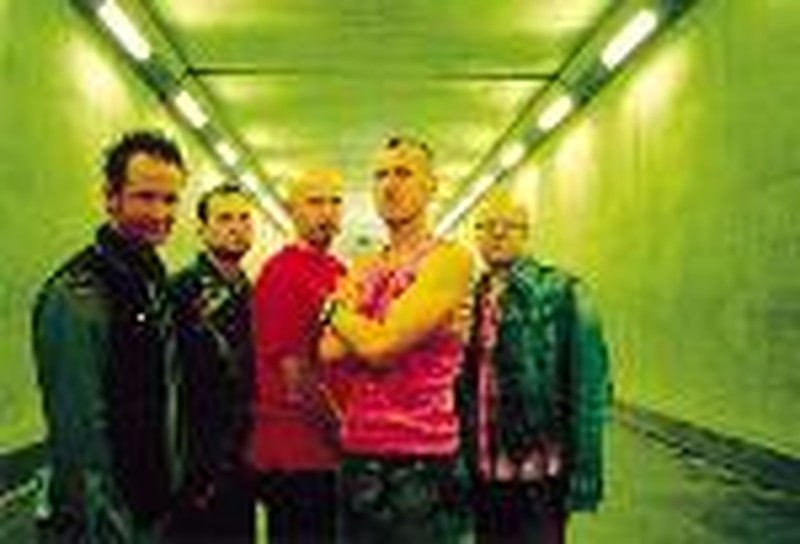 With technology connecting people like never before, there's no doubt the world has become a much smaller place. But even with the World Wide Web bridging the distance between continents, it's sometimes easy for Christians in the United States to forget that the gospel message isn't just for America. This message —fueling the artists who record and perform contemporary Christian music — is a message for the world.
But how could we illustrate that message in the pages of "CCM Magazine"? How could our staff provide a snapshot of the great big world we live in and how it relates to "faith in the spotlight"?
Actually we really didn't have to look far to find perfect spokesmen because the British rockers in Delirious have been communicating the gospel worldwide for the past 10 years. And even though many consider it to be an A-list band, the band has never graced our cover –– until now.
Delirious is adept at making incredible, guitar-driven music that inspires youth groups, Promise Keepers and rock 'n' roll fans who hang out in London's pubs. But regardless of locale, the band's songs don't differentiate between the sacred and secular.
>From huge hits in the Christian music scene like "I Could Sing of Your Love Forever" and "Deeper" that are sung in church services worldwide, to touring alongside rock icons like Bon Jovi and Bryan Adams, the band's mission does not change. And the songs' lyrics suddenly don't become more ambiguous — even when played on pop radio in Britain.
But despite its critical acclaim and commercial success, no one seems to know much more about the band that literally is a family. With four of the five guys actually brothers-in-law, they aren't afraid to tell the truth about each other's strengths and shortcomings — a trait that always makes for a compelling story. Equally interesting was the story's journey as I explored the culture, spiritual climate and music scene in Great Britain –– a trip I certainly won't forget any time soon.
>From my fascination with those bright red British phone booths to my love of Burberry plaid, theater and bands like Blur, Travis, Coldplay and the Beatles, a visit to London has always been at the top of my wish list. But little did I know that my work at "CCM Magazine" would make that dream a reality. With a scream of excitement, a look through all eight of my London travel guides and only two weeks (instead of the usual six) to secure a passport, I was off to jolly  ol' England just before Christmas to begin my investigation of life on the other side of the pond.
A Rough Start
With my flight arriving in London at 9:35 p.m. instead of 9:35 a.m. as originally planned, I spent most of the day in the close quarters of an airplane. But with our own mini TVs, my reading material and snacks served every few hours, six hours whizzed by.
As I looked out the window near the end of my flight, I sat in amazement as I saw millions of lights outlining the castles, bridges and office buildings of London. I was finally here and about to brave my first experience of going through customs and taking the underground to my hotel to begin my British adventure.
Answering "both" when the agent asked me if I was visiting Europe for business or pleasure, he stamped my passport, and I lugged my suitcases to the Heathrow Express. As I boarded the train to Paddington Station, conveniently located three blocks from the Royal Eagle Hotel — my home for the remainder of the week —  I heard my first English-accented voice say, "Mind the gap." Not sure whether she was a fan of the store or referring to a large space between her teeth, I noticed the words printed in front of the train and quickly assumed it meant "watch your step."
People-watching — English Style
Going to bed at 3:30 a.m. and waking up three hours later is never a good idea. But in order to catch the train to meet Delirious, sacrifices had to be made. Little did I know that taking the tube to Victoria where I'd wait for a train to Ford Station to meet the band would provide the best people-watching I'd ever experienced.
Riding the tube is a way of life in Britain, and people — like in New York City or D.C. — don't just wait for their stops. They read. And these business types don't read hard news like "The Wall Street Journal" or "The New York Times"; the majority reads tabloid-sized newspapers like the "Daily Express". Today's top stories? 'Britain Put on Terror Standby: Households to Get Attack Survival Guide' and 'Exclusive: What Really Happens to Stars After TV Soaps.' Other publications are equally intriguing in their range of "news" coverage that usually revolves around the royal family, (usually Prince William,) Victoria "Posh Spice" Beckham and her soccer star husband, David, or the monetary scandal involving British Prime Minister Tony Blair.
While traveling to meet the band, I also got my first taste of the English countryside as we ventured away from the city. With grass greener than any I'd seen in the States and houses that ranged from extremely rundown to divinely decadent with elaborate architecture, the trip to Delirious' town of Arundel was an interesting study in contrasts.
Bonding with a Band at Burger King
After the Delirious interview, several hours of British melodramas (they have the cheesiest but most enjoyable commercials) and a few hours of sleep, I braved the train again (to Guildford this time) and met up with a band of up-and-comers called Sabio. With few options available for an interview locale, the band formerly known as "Fruit" and I chose the oh-so-vibey atmosphere of a nearby Burger King.
Over hot chocolate the guys, their manager and I discussed the British music scene (they've played with Delirious and a lot of acts in the local scene) our favorite bands (we all have an affinity for Coldplay), and the guys' lack of knowledge about America's contemporary Christian music world.
With a sound that's reminiscent of meat-and-potatoes American rock like Tom Petty and relative newcomers like Creed, the lyrics are confessional and don't leave much to the imagination on what they're trying to communicate. (For more details on the band, check out CCMmagazine.com.)
Worship Times Two
After 12 hours of sleep following a fun day of shopping the day before, I hailed one of those cool-looking black cabs and ventured to Watford, a small town north of London, to the Soul Survivor Church where Matt Redman ("The Heart of Worship") and Tim Hughes ("Here I Am to Worship") often lead worship. There's a chill in the air on this damp English day, but the atmosphere changes instantly when I walk into the warehouse where church is held. I'm greeted warmly and invited into the sanctuary for one of the most incredible services I've ever been to. Trying not to play the observer, I can't help being taken by the people's fervency in worshiping God. Unlike church services I've attended at home, there's no people-watching, signs of boredom from the crowd or worshipers on the verge of sleep. Instead, there's loud declarations of praise with lots of hands in the air praising God for His goodness and grace.
Later while talking to a few of the church's members, they tell me that services like this are few and far between in London, as there really aren't many devout, evangelical Christians. Asking what this could be attributed to, I'm told that attending church isn't part of the British culture. Unlike the American way, where it's part of the culture if you attend church, it's because you really want to since many in Britain tend to be skeptical by nature and cynical about faith.
Later that evening, I attended an incredible Christmas carols presentation in an ornate church in the South Kensington district of London. With candlelight, choral presentation and the retelling of the Christmas story, it was a highlight of the trip that put me right in the Christmas spirit.
My Last Day in London
As the old saying goes, "All good things must come to an end." And I still had a lot to fit in the last day. First stop? One double-decker red bus ride to Notting Hill. With the most gorgeous parks, antiques and atmosphere, I spent most of the day wandering around and taking in the view. Although I never found the house with the blue door from the movie that made that area famous (which I later found out was painted red), I picked up a few souvenirs (including my very own "Mind the Gap" keychain) before venturing to Big Ben and a few other touristy locales. While I didn't get to see a big theater production like I hoped, an art museum or the Beatles' Abbey Road tour, my first brush with British life was nothing short of extraordinary and gives me plenty to look forward to when I head back.
But more intriguing than all of the scenery, however, was my introduction to British culture. With a  shadow cast over the city, spiritually speaking, like the gloomy weather that's almost a daily fixture, you won't find Jesus fish on the backs of cars, Christian bookstores or hear dc talk and Jars of Clay on a Christian radio station. But what you will find is a gracious, intriguing group of people who tend to live life with a very tongue-in-cheek approach and a great sense of humor.
Check out CCMmagazine.com for more exclusive Delirious coverage.

Used by permission.  CCM Magazine © 2003  Click here to subscribe.