Amy Grant: Guest Editor of CCM Magazine's Special Issue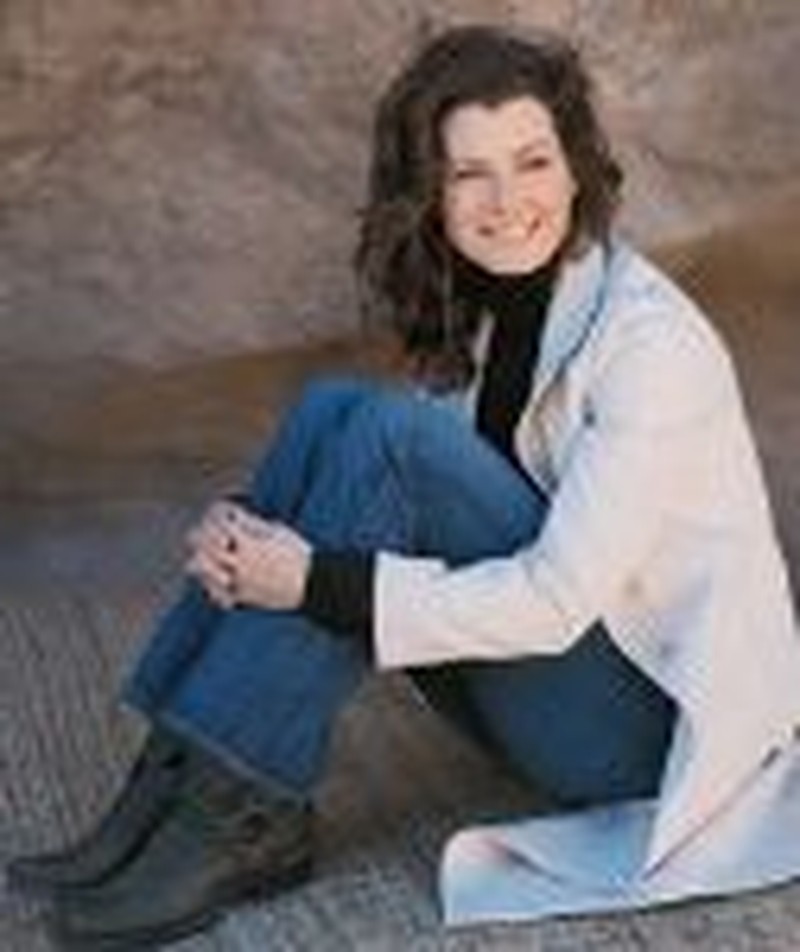 During the weeks we spent creating this special issue of CCM, members of our editorial team enjoyed several planning meetings with Amy Grant, both at our offices and in her home.
To our pleasant surprise, rather than opt out of some of the tasks we wanted her to take on, she requested more and more involvement. On one April day in particular, she not only kept plugging from one meeting to another, she took time out for an extended lunch with our entire Salem Publishing staff. The setting was up-close and personal and filled with all sorts of interesting conversation as Amy fielded our onslaught of random questions, and somehow, managed not to talk even once with her mouth full. We thought you'd enjoy this peek behind the scenes, which includes a sampling of our informal Q&A with Amy.
Q:  Are you currently working on any collaborations with other artists?
Amy:  Nope. I wrote a song with Vince yesterday, and we finished it. We were sitting at lunch with this preacher friend of ours, Mac Hanna, who lives in Atlanta. Mac married a woman named Patty. He actually led her to the Lord on their first date. He took her to the beach. He [recalls], "I don't know what I was thinking. Make out? Share Christ? Make out? Share Christ? I guess I was so taken with her I shared Christ." They have grown children [now] and are grandparents several times.
Mac was telling us that every year he has talked to Patty's brother about Jesus and shared with him. I bet they've been married 30 or 35 years. Mac said, "I'm not trying to be a broken record, but he's my family." We sat down and Mac said, "You're not going to believe it. Patty's brother — I went to visit him, and he said, 'Mac, let's just go fishing.'" So they got out on this fishing boat and were in the middle of a pond and he said, "I'm not sure what it is, but something in my heart feels like it's ready to change. Will you tell me one more time about Jesus?" [Amy looks across the CCM conference room table, seeing others are struck by the turn of events.] Of course, Vince and I are going, "It's a song!" (Laughs)
Patty's brother accepted the Lord after 30 years and how many conversations? So we finished a song yesterday. It starts off, "here comes my old friend the preacher knocking at my back door/ he's been out trying to save all the sinners/ he's been here a thousand times before/ I love his easy conversation/ man, he sure can talk/ always points my need for salvation/ even though he knows I'm stubborn to a fault/ tell me one more time about Jesus." In the second verse he walks the aisle. It was just so much fun to write a song that came from a real place.
Q:  Do you have a dream duet partner that you'd love to record with some day?
Amy:  It used to be James Taylor. I did call him and ask him if he would sing a song with me, and he said, "Yes." I was so excited. I sent him a song. He called me back and said, "I was just hoping we could do a really special song, and this is so average." (Laughs) Of course, I had written it. It was immediately removed from the record. I've gotten to sing with some really neat people.  I don't know.
Q:  Do you have any projects of your own that you're already planning?
Amy:  Well, Radio Shack is going to do a music line like Starbucks does. My old friend Chris Christian — who signed me to my first record deal when I was 15 years old — has been assigned to this music line coming out of Radio Shack. So I'm going to have a Christmas compilation. It will be songs from the three records that I've done and maybe a few other things.
Q:  Where people skills are concerned you have a reputation for being an extremely good listener. If you were going to write a book on the art of listening, what would your primary point be?
Amy:  You have to stop talking to listen. "Listen" and "silent" are the same words — same letters — just rearranged.  Emotionally invest is the best way to listen.
Q:  What do you most enjoy about being "Amy Grant" and what do you least enjoy?
Amy:  I think I have a very unique experience meeting people. Most people's lives  have very strange boundaries. I have personal boundaries, but I meet so many people who come with a really rare kind of vulnerability. Either there's a connect with a song or they. … I talked to a woman the other day. I had met her while I was in Sonora [Calif., for "Three Wishes"]. There are reasons that we connected, but she would have never had access to me. She had made a comment during our conversation. It was a woman who was not going to have her wish granted, but I was so compelled by her. She's probably 15 years older than I am. She told me some circumstances of her life. One of the things she said was, "My husband is getting out of prison, and I just want him to find me beautiful." I could not stop thinking about her. So I got someone to go through the file of all the people who had signed a release form to be on camera. I just said, "Find her form." I brought it home with me, and I called her. I said, "I just want to talk to you. I feel like it's important for you to know how beautiful and how precious you are. It doesn't matter what your face looks like. It doesn't matter what your body looks like." The next thing out of her mouth was, "See, from the time I was five until I was nine I was molested by a relative." See, that [openness from other people] is so normal for me.  I'll meet people. I think it's because of what I do and because of ways that I've been vulnerable about my own life. The barriers just drop. I don't really think about it. I do most things alone like everybody else. You kind of do your [thing] — you have a family, and you live with people. You live your life doing what you need to do.
I was on a choir trip with seven other moms. We had sixth graders that were doing a competitive choir thing. At the beginning, the other women, none of whom I'd ever had lunch with but I knew their kids — we were all friends … at the beginning someone would come up to the table, and they would all take a very protective pose, you know. Like they were my unassigned bodyguards or something. I didn't ask for that, but they did it. I'd get up from the table or talk to somebody. By the end of the week, people would come up to the table, and they would all engage that person. One woman finally said, "It is a freak of nature what people will tell you." Somebody would come up to the table and they'd just get misty-eyed — the person talking and all these women.
I think that's the best thing.  I don't know what the worst thing would be. ... I don't know.  I like to work hard.  I do something I love.
Q:  What's the story behind the bracelet you're wearing?
Amy:  Well, two things … I am doing this Beth Moore Bible study, "Believing God." At the very beginning — the first week of it — I did that Bible study and then flew to Sonora. There's a little girl with whom I'm involved through "Three Wishes," and I went to visit her at her house. And there was all this yarn laying around, and I said, "Hey, I just started this Bible study, and I'm supposed to have a blue tassel on my wrist." She's 10, and I said, "Will you pick out some yarn and include blue?" And she's sitting here with this helmet — she was in a coma for a month — and she braided that and tied it on my arm. So I told her that I would wear it, and it would just remind me to pray for her. And it's also my tassel thing. 

© 2005 CCM Magazine.  All rights reserved.  Used with permission.  Click here to subscribe.