Amy Grant: Oh How the Years Go By
Kristi Henson

CCM Magazine

2006

12 Dec

COMMENTS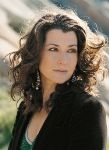 On a warm evening in early summer, not unlike that September night in 1978 when she played her first paid performance, Amy Grant returned to Ft. Worth, Texas, to record her first live CD/DVD project in 25 years, "Time Again … Amy Grant Live" (Word/Curb/WB). Little did she know 28 years prior, as a green 17-year-old singer/songwriter, just what an impact her music would have on the world. …
Amy Grant's got that certain something. You know – that rare, seemingly magical ability to make you feel like you're the only one in the room when she's singing or speaking. Sure, there are thousands of other people around … but she's talking to you!
While this gift of hers does translate to audio recordings, it really works live – and that's no secret. Longtime friend and fan Steven Curtis Chapman recollects, "From the first time I saw Amy perform, I was struck with how a 'superstar' could be so incredibly inviting and disarming. I was inspired by her 'heart' as much as her art. She has the amazing gift of somehow making everyone in the audience feel like she's a lifelong friend."
And it's this singular ability to appeal to the masses on a personal level that's driven Amy Grant's career to groundbreaking heights through the years. Now, 25 million albums, numerous GRAMMY Awards and countless more accolades later, she's released "Time Again … Amy Grant Live." This CD/DVD collection highlights some of Grant's most treasured songs from her 30-year career, including perennial favorites "Baby Baby," "Every Heartbeat," "Lead Me On" and, on the slower side, "El Shaddai."
How were the songs chosen? "I've been touring with this particular band for a year and a half, and we just did the songs that we have been doing," Grant confesses. "And I took two different set lists from the songs we had been doing the past year. That's it. I didn't try to over think anything. I just thought, 'I don't want this to be anything other than what a [typical] night feels like.'"
To add to the comfortable feel of the recording, Grant decked out the stage of Ft. Worth's exquisite Bass Hall with items from home, including her couch and artwork. "I love the outdoors, rustic, but, really, just nature is beautiful to me," she shares. "Ed James, who was the set designer, came to my house and said, 'What do you want to do?' I said that I wanted it to feel like a living room, but I also wanted it to feel like the outdoors. Vince [Gill, Amy's husband] and I had bought a painting in Colorado years ago. So we were standing in the living room, and I said, 'For instance, if we could make the whole stage this painting, that would be fine with me.' And Ed said, 'Why don't we call the artist and see if we can blow it up?' And so it was kind of fun."
And the fun continued when Grant revisited an old classic for the CD – a song she admittedly "hadn't even thought about in a decade." According to Grant, she and her band had quickly formulated a "kind of scrappy, thrown together version" of "In a Little While" for the live show that several Word Records staffers attended. "I don't know how young [the Word guys] were when that song came out 20 years ago," she muses, but, after hearing the rough live version, "they came back and said, 'Would you consider doing a studio version of this – a new kind of updated version?' That's how that came about."
Aside from launching the live project this fall, Grant is also starstruck, having been honored with her own star on the famed "Hollywood Walk of Fame" in September. Looking forward to the event at press time, she reflects, "This is the first time in a long time that I've asked my family, 'Will you please all show up?' And so, my mom and dad, all my sisters, some of my closest childhood friends, my kids, we're all going out there. We're going to have a big dinner the night before and go play on the Santa Monica Pier. And Vince is so funny – he said, 'That walk is so long, I'm just positive it's [Amy's star] going to be in a seedy part of Hollywood.' We just laughed about it. You know, at this point in life where my energy is focused and much more geared to my children, it's fun to look back and be honored for, I assume, the bulk of my work, which was done in the '80s and '90s. Lord willing, I still have a lot of songs to write in the future."
More songs to write, more live performances to give…more memories
to make.
I Will Remember You

Music, whether live or recorded, makes an impression. As Amy Grant herself suggests, "If you are a fan of concerts, it's fun to have a memory of that. I remember the first live concert recording I ever went to was at the Opry House [Nashville, Tenn.] years ago. I must have been in the fifth grade, and John Denver did a recording there. I'll never forget." Such is the stuff that vivid memories are made of, and, through her music, concerts and personal appearances, Grant has made lasting impressions on more than a few listeners. …

It makes perfect sense to me why Amy would release a live DVD, and anyone who has seen her perform live understands that, too. You can spend years admiring her contribution to the history of Christian music, the roads she's paved, the impact she's made, the lives she's inspired ... but, until you see her perform live, you can't really have a full appreciation of her heart and how much of it she pours into her music.
— Nichole Nordeman

Amy Grant wrote some of the first music I was influenced by and that I actually ever heard beyond classical music or hymns at church. In fact, I even sang "I Love You" to [wife] Korey during a show once for our anniversary. Amy's songs truly stand the test of time. As an artist, that's something all of us hope for.
— John Cooper, Skillet

The interesting thing about Amy is she has never been afraid to be herself. I find her so genuine and refreshing. Every time I've ever been around her, she is so real. I remember a time when we were backstage at the Ryman. I remember Amy was set to sing "Lover of My Soul," but she was really sick. Despite not feeling well, Amy still came. There was a girl backstage, standing in the corner. You could tell she felt a little uncomfortable and out of place, and, as soon as Amy noticed her, she walked right over and struck up a conversation. Even not feeling well, she was still so kind and genuine. She is so sweet and true to her nature.
— Cindy Morgan

Amy Grant is one of the greatest artists in the history of ccm. She is "IT"! I grew up listening to her music, and I never thought I would have the opportunity to meet her in person. But, when I did meet her last year, I was so impressed by her nice spirit; and she is a very humble woman. I'm almost jealous of Vince Gill. Baby Baby! Talk about your heart in motion!
—Jason Dunn, Hawk Nelson

I remember the first time I met Amy. I saw her walking up the sidewalk to Brown Bannister's studio, and I was freaking out. I had grown up listening to all her albums, and I really respected all the things she was doing to reach the world with her music. And here she was coming into the studio while we were working on our record! Matt [Fuqua, guitarist] was feeling really sick that day, and, once all the introductions were made, Amy wanted to know what she could do for Matt. She offered to go to the drug store, take him to the doctor, get him some food, basically do whatever she could to help him. That was amazing! Just minutes in the door and she wanted to serve us. That spoke volumes to us about being humble and being a servant no matter how successful in the world's eyes you are.
— Joshua Havens, The Afters


© 2006 CCM Magazine.  All rights reserved.  Used with permission.   Click here to subscribe.