Beautiful 'Hallelujah' Performance from Teen Street Buskers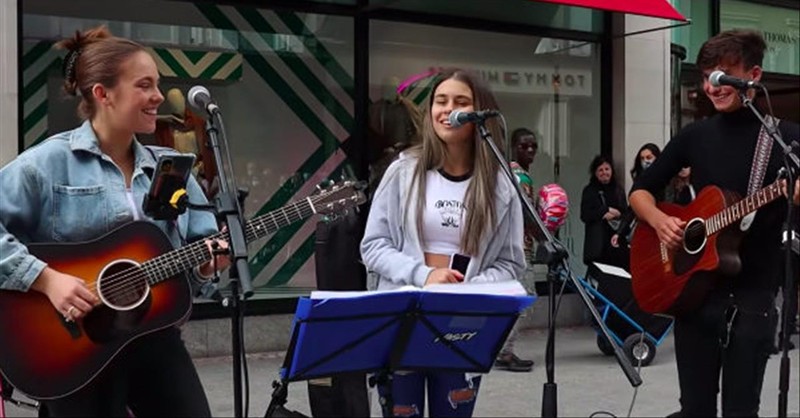 It is truly a gift when a young individual discovers his or her God-given talent. And God-given talent couldn't be more apparent than teen street buskers singing a beautiful rendition of 'Hallelujah'. This song couldn't be more perfect during these trying times.
The song, 'Hallelujah' was originally composed by singer/songwriter Leonard Cohen and released in 1984. He was a musician who was known for soulful, poetic songs that explored the depths of despair, broken love, and politics — all of which are often laced with religious imagery drawn from his Jewish background.
The song's constant refrain takes listeners on a richly structured journey of pain, suffering, and joy mixed with celebration. This song is also rich in Biblical references of the Old Testament, including references to King David and Samson's tragic romances.
"Well I've heard there was a secret chord
That David played and it pleased the Lord"
Between beautifully poetic lyrics, the tragic romance references, and hallowed lamentation, it's no wonder why this song will forever be a classic cover for any band. But it couldn't be more beautifully sung than by the three teen buskers. In fact, the video quickly went viral with over half a million views within days of its release.
One of the teen buskers, Allie Sherlock has almost four million subscribers because of her rich, soulful voice. This song is a perfect pairing for her voice. She is accompanied by Saibh Skelly, Cuan Durkin, performing in the streets of Dublin, Ireland.
Grab a tissue and be prepared to cry over the beauty of the song and jump up and down over how gifted these teens truly are. And don't forget to send it to a friend.
"Praise the Lord! Praise the Lord, O my soul! I will praise the Lord as long as I live; I will sing praises to my God while I have my being. Put not your trust in princes, in a son of man, in whom there is no salvation. When his breath departs, he returns to the earth; on that very day his plans perish. Blessed is he whose help is the God of Jacob, whose hope is in the Lord his God." Psalms 146:1-5