Edison Glass: The Art of Invention
Brian Quincy Newcomb

CCM Magazine

2008

16 Apr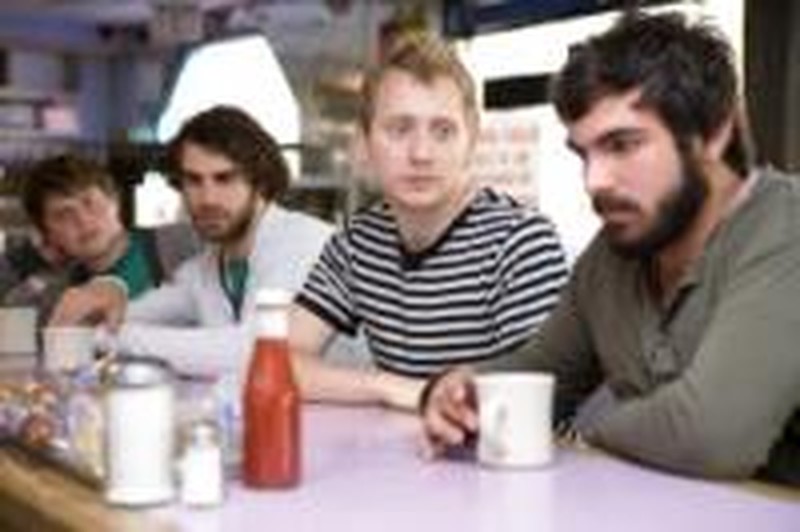 When listening to the new disc from Edison Glass, music fans might be excused if they think of Counting Crows when they get to the line in "Let Go" about performing "Einstein on the Beach." After all, Adam Duritz & Co. do have a song by that name.
But that would be incorrect.
"I think they stole it from Philip Glass," says Edison Glass guitarist James Usher. Of course, Philip—one of the most influential composers of the late 20th century—is also the source of the 'glass' in the last part of this band's nom de rock. Which, Usher admits may sound like a stretch to some. "If you sat down and listened to Philip Glass and our music, you might be hard pressed to see the connection. We've been inspired by how he was a visionary in his field and broke some boundaries. I'm a big fan of GlassWorks and Einstein on the Beach."
Time Is Fiction is the follow-up to the band's 2006 debut on Credential Recordings, A Burn or a Shiver. In the record-when-you-can world of indie-rock, it's not a great surprise that half the new one was recorded before the debut was even released.
The results turned out to be so strong that the band waited to complete a second full-length effort around the earlier sessions.
The result is that Time Is Fiction is "a better record," Usher says. "It's a more focused effort, and overall it has better songwriting."
"I feel we've taken down some of the boundaries," agrees lead singer Josh Silverberg. "We've enabled ourselves to be a little more creative. In the past, we would need to write an up-beat rock song or a real moody song. Now we're more inclined to write music that's what we're feeling and not be so worried about genre. Instead of trying toward a certain style, we're writing whatever happens and letting that be the style."
"I think it's becoming a more natural process," adds Usher. "It's more about getting the music inside of you out, and not so focused on trying to write what we think folks want to listen to."
That goes for the lyrics, too. Edison Glass attempts to write songs that speak of life's raw and significant feelings, yet avoid the clichés that often dominate our polarized culture.
"We definitely do everything we can to create imagery that avoids popular catch phrases and whatnot," states Silverberg. "For us, it's about digging deep to find ways to say what you are feeling without sounding like it's already been said a thousand times before."
"To keep it personal," says Usher, "where we're expressing what we're feeling, it's important we not succumb to language that may not mean the same thing we're trying to say to everyone who might hear it."
But you can speak of spiritual concepts like love, forgiveness and grace. "I think it's really genuine in telling the story of Jean Val Jean," concludes Silverberg, "where I ask myself, What would I be feeling if I were facing that same charge?" [Read Les Miserables.] "When people go through experiences in life, it's just so much more genuine to get in there and feel it, instead of us telling the audience, 'This is what you are feeling,' and then tack on a 'Jesus loves you.'"
Which, we agree, clichés to the contrary. Of course, Jesus does.




© 2008 CCM Magazine. All rights reserved. Used with permission.


**This interview first published on April 16, 2008.

Go and watch Edison Grass music videos at Godtube.com!