Everyday Sunday: Waking to a Dream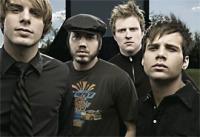 Practically every rock band gets a little excited when they release a new record. Why shouldn't they? With all the time and attention that goes into it, a new album is an addition to the family—it's their baby.
Still, it might be hard to top Everyday Sunday's excitement over last month's release of Wake Up! Wake Up!, the band's animatedly titled first release with new label home Inpop Records.
"This is the album we dreamed of," says front-man Trey Pearson.
Dreamed of? That's a bit stronger than the usual "this is our best album yet," which fans are used to hearing repeatedly from artists.
"We had our dream team on production with producer Ian Eskelin and my favorite mix engineer J.R. McNeely," Pearson continues. "Lyrically, this is the best that I've ever written. As a band, these are the best songs we've written—they're more mature and have catchiness about them. I feel like we finally have an album that brings across who we are as a band and who we are live."
Yes, dreamed of. And a dream record is something to be excited about. So are No. 1 radio singles such as "Wake! Wake Up!" and securing a slot on the main stage at this year's Cornerstone Festival. And it's all coming true after working non-stop for three years to reach this moment.
Everyday Sunday first released Stand Up in 2002 and its follow-up, Anthems for the Imperfect, in 2004 with Flicker Records, collecting a good share of radio acclaim and fan accolades, including being the second runner-up for "Favorite New Artist" in CCM Magazine's 2003 Readers' Choice Awards. The band regrouped through line-up changes and record label switches while keeping a full touring schedule. "We learned to let go and trust God with what we're doing," explains Pearson. "If we didn't put Him at the center of our lives and the center of the band, we weren't going to accomplish what He wanted us to do. We wouldn't have made the album we made."
"I had the pleasure of watching Everyday Sunday's very first showcase in Nashville at GMA Week about six years ago," recalls Sanctus Real drummer and fellow Ohioan Mark Graalman. "It wasn't long after that we were on the 'Festival Con Dios Tour' together. Not very many bands have stuck it out through thick and thin like Everyday Sunday, and I can say with complete confidence that the reason they have is because they have a firm commitment to following Christ and what they believe He's called them to do. They are some of the best guys you'll ever meet—and they're from Ohio! What more can I say?"
Still based in Columbus, Ohio, Pearson, Jesse Counts (guitar), Aaron Eikenberry (guitar), Brandon Eikenberry (bass) and Kevin Cramblet (drums) might be getting a fresh start, but Everyday Sunday is a continuation of its old self. The true excitement for Wake Up! Wake Up! comes down to Everyday Sunday's purpose.
"This is our ministry and opportunity to share the passion in our hearts," says Pearson. "It's where God wants us to be—to show people who God is and to glorify Him in what we do. Hopefully, as we glorify Him, He'll use us to make an impact in people's lives."





© 2007 CCM Magazine. All rights reserved. Used with permission. Click here to try a free issue.