FFH: The Ties That Bind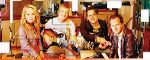 Nashville's The Castle recording studio hearkens back to the Middle Ages with its imposing grey stone structure, sprawling green front lawn and wooded area behind. Coming up the long, winding drive, one almost expects to see armored knights on horseback guarding the entryway. Strangely enough, local legend has it that famous Chicago gangster Al Capone originally built it as a hideout — his half-way point between Chicago and Florida.
Rounding the corner to park your car, however, sets The Castle in a contemporary context. An elaborate alarm system clocks your presence, in place, no doubt, to protect the pricey recording gear used recently by country star Brad Paisley and too many Christian artists to count. Land Rovers and Fords line the perimeter, and a basketball court has now eclipsed the parking lot. Cigarette butts and empty Coke cans are evidence of the hours logged and the music created here.
This Tuesday morning, Essential Records act FFH is gathered to shoot a promo DVD to accompany its new record, "Still the Cross," due out this month. Band leaders/husband-wife duo Jennifer and Jeromy Deibler are bleary-eyed from yesterday's long airplane ride followed by a late night with their 1-year old, Hutch.
However, after a session with the band's stylist, professional hair and makeup in place and trendy rock-star attire on, the two look fresh and ready for their close-ups. In between takes, they take time to chat about their new record. The interesting thing that emerges from speaking with the Deiblers, bassist Brian Smith and guitarist Michael Boggs is not quite what one would expect from the group with seemingly endless energy. While we did discuss the album's 10 tunes (all co-written by band members), the producers (FFH's longtime friend Scott Williamson and Mark Miller) and its sound (catchy pop/rock fans have come to expect from the band), these guys let us in on what really goes into making the band. And it's not your average VH1 special.
Maybe it's because they are all, self-admittedly, exhausted — from babies, touring and recording — that they are bare-it-all honest today. But it's stuff they want us to know. Like, for instance, that while life as a best-selling Christian artist has its perks ("It's allowed me to buy a house," says Boggs.), it's also just another day at work sometimes. And there are days they just don't want to go. After a year of immense change, including new additions to the families and the passing of loved ones, "The only way we would be doing this is because we are supposed to, that we were called to it," Jeromy says.
Making the Band
FFH credits its beginnings nearly 13 years ago, when Jennifer, Jeromy, Smith and former member Steve Croyle began playing together. The band didn't sign its record deal until nearly six years later. Croyle departed shortly thereafter, and Boggs stepped in. And that's when FFH really started taking shape, Jeromy says.
On early, independent records ("Called a Christian," 1996, and "One of These Days," 1998), the band members employed top-notch, technical studio musicians to help round out the sound as they worked to improve their own musical chops. "When we first came to Nashville in 1998 and watched how the whole studio thing worked, it was intimidating. We realized that we couldn't play our songs and make them sound radio-ready. My background was more piano-based; Brian had just picked up the bass. We went from a group of singers to a 'band.'"
The miles logged playing live shows forced FFH to sharpen its act. "Ready to Fly" (2003), its previous album, served as the rehearsal. The band had decided that, for the first time, the core group would play the bulk of the songs; and studio musicians would be used for "ear candy' only," Jeromy says.
"Still the Cross" finds the band confident and assured of its newfound roles. Alongside Miller and Williamson, Jeromy wielded control from behind the producer's console as well. And it actually felt comfortable, he says, since he put in his share of knob-turning as producer on projects by Fervent Records artist Big Daddy Weave and new Fervent artist Palisade. Additionally, the songwriting for "Still the Cross" represents the band as a whole, more so than any other time because more of its members had a hand in writing. Jeromy co-wrote material with Smith and Boggs, partly "from necessity as we were working on so many songs at one time," he says.
The result is a body of work that represents the band on all creative fronts. "I think we've found 'our sound,'" Jeromy says. "Not only are the vocals trademark, but we're really coming into our own. It's like we just hit our stride," he explains.
Laying the Foundation
Functioning as a band, however, means far more than perfecting the musical aspect. Though it's common to hear of band breakups due to "creative differences," it's often the stuff outside of music that serves as the agitator. Throughout history band mates have been notorious for their lifestyles as much as their musical prowess. A shared outlook on life is an important and binding thread for any collective. For this band, the commonality has always been Christ, Jeromy says. "We had the opportunity early on to learn everything that it takes to be a band, aside from the music."
He recalls a series of conversations that took place when Boggs first joined the band. "We talked about how our lifestyles would be different if we weren't in this band. We talked about what FFH was going to leave as a legacy. It's more than just playing and singing. Christian music is not a style of music. It's a lifestyle of people who listen ... and we got all that stuff figured out before we put on this mantle," he explains.
Eschewing drinking alcohol and smoking and cautiously filtering the movies they watch on the tour bus are self-imposed restrictions for these band members. "But it's not to be legalistic," Jeromy explains. "It's just to be safe. It's to make sure we create an atmosphere that's pursuing God."
Boggs interjects: "Some people try to get as close to the line of sin as they can without going overboard. We just want to stay away from that line so as to be holy, pure and blameless as [the apostle] Peter taught."
Foundational for this band has also been the importance of family over the years. Aside from Boggs, all the members, including the touring drummer are related. Thus "keeping us together hasn't been an issue," Jeromy says. "There hasn't ever been a time when we said, 'Let's just bail on this.'"
The last year, however, given the arrival of the Deibler's firstborn, the birth of Smith's second child and a death in Smith's family, among other changes, forced FFH to look hard at its future.
Juggling career and parenthood has proven more difficult than anything they ever anticipated, Jeromy says. "People ask us, 'How do you balance all this?' We tell them flat out, 'We don't!' We're not good at it yet." Jennifer concurs, "Every day I consider quitting. But then I go out on the road, and I say, 'God, You're going to have to reconfirm to me that this is where You want me.' All I want to do is be with my baby," she admits.
Next to parenthood, it's a general maturing process — for all the members of FFH—that's prompted them to such soul searching. All the members span the mid-20s to mid-30s. And they actually welcome adulthood now, with all its responsibilities, they say.
"When you're in your early 20s, most people think, 'Oh, if I could just travel and have fun," Jeromy says, "But something happens in your mid-20s when you start to crave a home church and an inner circle of friends that you can really confide in."
The late 20s hits, the 29-year old Jeromy explains, and the importance of community-building is just magnified. "You're so scared your whole life of becoming an adult; then you get into your 20s, and you start to want to live like an adult. You start to want that normality," he says. "We don't have that."
Though "normal" is still a foreign concept, FFH seems to be inching closer. Smith says all the changes have demonstrated to the group how much more to life there is than FFH. "We're entering a new season," he says optimistically. "We've come back around, and we're enjoying it more than ever now."
Boggs agrees. "Some years are exciting; some are harder — like this past year. But when you consider the course of things and when you see how God is placing things in your life, you realize that He's moving you to this point because He knows what's coming up."
Despite their limited future forecast, all members agree that they've finally come full circle. "In '91, when we were starting, we couldn't have stood up onstage and done it live like we do it now; we wouldn't have been able to," says Jeromy. "It really is 10 percent talent and 90 percent hard work. It's learning how you grow together, play together, pray together and learn about each other."
FFH credits a solid foundation rooted in Christ as the glue that's held them together through the natural flux of life. Boggs explains: "Teaching that there was power in Jesus' blood was an important thing for us at the beginning of our career. We made that statement of faith with our first record, "Power in the Blood." "Still the Cross" is an echo of that. Our mission is to reach as many people for Jesus as quickly as we can ... and that's the reason we still make this music."

© 2004 CCM Magazine.  All rights reserved.  Used with permission.  Click here to subscribe.