Keeping the Faith
Christa Farris

CCM Magazine

2005

17 Jan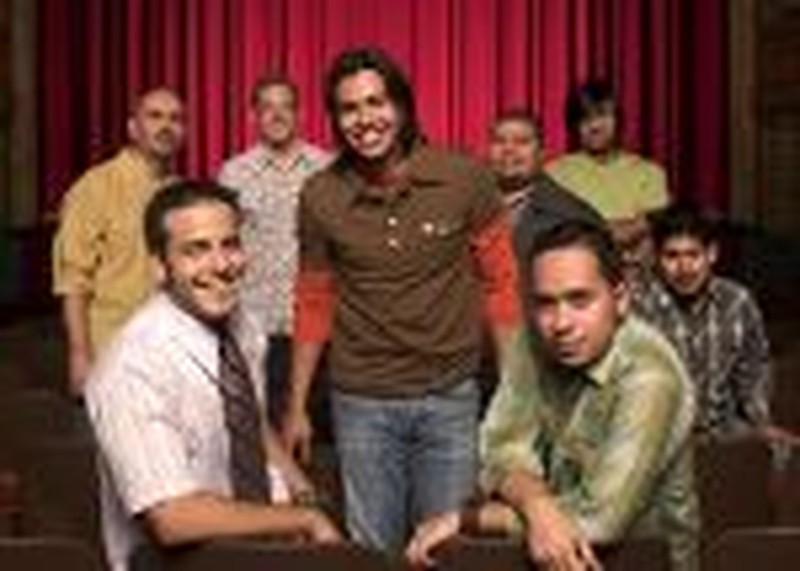 While he certainly has that insatiable charisma to rev up crowds night after night from stage and the kind of magnetic, movie-star smile that probably leads to a few school-girl crushes as a result, Salvador's Nic Gonzales doesn't seem to have the usual, commanding front man persona down. When it comes to his demeanor, he's definitely no Jack White or Mick Jagger. Instead, he's a little more reserved, even a little shy at times — especially when talking about his contributions to the band's long-standing reputation as one of Christian music's most electrifying live acts.
"You know it's one of those things where you do the best that you know how to do and hope that people still keep believing in you," Gonzales says. "The guys make it really easy. It's one of those true privileges in life to be able to have such a great band. I am still honored to be able to do what I do. I am a little more comfortable than I used to be; but at the same time, I'm still humbled by it all."
Now more than two-and-a-half years after Salvador's self-titled major-label debut, the road warriors, who've logged thousands of miles by tour bus from coast to coast, have released four albums (with combined sales of more than 240,000 units), including two studio efforts, a Spanish-language album ("Con Poder," for which the band won a 2004 Dove Award for "Spanish Language Album of the Year") and a live disc. And with this newest release, "So Natural," the band — which includes Gonzales, his cousin Josh on bass, keyboardist Chris Bevins, trumpeter Pablo Gabaldon, guitarist Joel Cavazos, trombonist Jared Solis, percussionist Estaban "Chamo" Lopez and drummer Robert Acuna — set out to do something rather ambitious. Instead of keeping the music spiffed up with lots of studio polish, the band hoped to capture the same frenetic energy of a Salvador live show on songs that addressed more everyday life issues than the more straight-forward praise & worship leanings of albums past.
"When I started writing songs for this record, I wanted to actually bring things to mind concerning the simplicity of living everyday life and how complicated that can be," Nic says. "I love praise & worship music, and I hope that everything I do will be viewed as praise & worship. But there are a couple songs we sing that we felt like were talking to individuals who may be 'down and out' or not feeling loved. I think that we just wanted to talk to the body of Christ a little more this time."
And not only does the CD have more of that live sound the band intended this time around, but there's also more of a distinctive blues and modern rock feel throughout that adds extra layers of flavor to its traditional Latin sound. That brand of musical accessibility particularly shines on Salvador's cover of the Top-40 smash "Heaven" by fellow Texans Los Lonely Boys. "It's such a great song, and the guys who wrote it are just kind of everything that we love about music," Nic says. "Obviously, with them being Hispanic, they play some Texas guitar swing and blues. And I think we were also drawn to cover it because they wrote a song that I believe touched the nation. We started talking about it, and we said, 'Man, we gotta sing that!'"
Now that the song has a home on "So Natural," has Los Lonely Boys had an opportunity to hear it Salvador-style? "Yeah, they have actually," Nic nonchalantly offers. "They were actually in Australia when we e-mailed the MP3. Apparently, they got a really big kick out of it — thought it was the ultimate flattery, I guess. They're just cool guys; if you've ever watched them being interviewed, they're super nice people. Hopefully we can do something together in the future."
Speaking of future plans, Nic still isn't quite sure how the band will proceed with its tour in support of "So Natural" just yet. At press time, the 27-year-old says that what ends up happening is contingent on the success of the project. But what he does know for certain is that the past few years on the road have brought about a lot in the way of maturity, something he sounds as if he wasn't necessarily expecting.
"I think the thing that has affected me most is actually living out on the road together, growing up and trying to do my best to be a responsible man — not a responsible boy or a young man. When we started, obviously, our responsibilities were far less," he asserts. "As we got older they get to becoming a little more and more. But I don't think any of us are feeling the pressures of being old yet. We might be getting there in a couple years; but, at the same time, I'm not tired. I'm not exhausted. I'm not worn out. I'd like to think there's enough rest for the weary."
This more grown-up outlook has even translated to what occupies the band's time on the bus. "We used to play a lot of video games, but now we're more into reading and watching music DVDs," Nic says.
So what's his favorite literary find of late? "I'm reading a book called 'When I Lay My Isaac Down' right now," he comments. "It's a pretty interesting book about a lady and her son, who just murdered someone. It's the unthinkable as a Christian family. And she's just talking about how, when you think everything is so perfect and something freakish happens in your family, you are forced to be able to lean on God again. It's pretty amazing."
When talking about his reading, Nic's laidback tone picks up a little. But a new, more fiery side of the front man is finally revealed toward the end of the interview when he's asked what he'd especially want people to know about his band. In fact, it's almost like talking to a different person, someone with an outspoken posture like tobyMac.
"I think, right now, our biggest deal is that we don't necessarily want to be everybody's favorite band in the whole world. However, I think that the body of Christ needs to see that there are other genres of music out there. For instance, how many Latin bands have there been in Christian music since you or I've been around? Virtually none. Jaci Velasquez was close, but she didn't start singing Latin-style music until after her first couple records," Nic says. "It's almost disappointing to me to see that the body of Christ is not versatile enough to have more Hispanic bands and more gospel bands as part of the Christian music world. As much as I would like to say it's all peachy and perfect, there are great musicians out there, and nobody will ever know because they're Latin or gospel or whatever.
"I want to encourage people to open their minds up a little bit and remember that the body of Christ is versatile. We can all mix and match, but the reality is that we're not mixed and matched. I hope we can somehow build some bridges along with other people. If we come through town and there was, say, a Fred Hammond concert two nights before, I can almost guarantee you that no one from the Fred Hammond concert would come to ours and vice versa. And it's like, 'What is that?' How in the world is that going to work out? I know everyone wishes that their churches were multi-racial and things like that, but I think that's part of our new thing with trying to lift the body up. We want to play all styles because we want people to come that like all styles of music. That would be the thing I'd really love to talk about."

And it looks like he's already off to a great start. …

© 2005 CCM Magazine.  All rights reserved.  Used with permission.  Click here to subscribe.