Leigh Nash: True Blue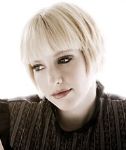 Leigh Nash loves the '70s TV show "Little House on the Prairie."

She has blogged about this affinity as well as jibed listeners to her podcast about the fact that she has missed the show to record for them.
The former Sixpence None the Richer vocalist also loves Leonard Cohen, Peter Cetera, Spanish language love songs and the "old-timey" practice of a singer going town to town to make a case for radio stations playing her music. I've had the chance to witness all of these objects of affection with Nash, and, while none of it (save the door-to-door salesmanship) surprises me, I'm still charmed and taken off guard when they're all thrown in the mix during conversation. But first, some history. …
In the spring of 1998, I sat with Leigh Nash and her then bandmates guitarist/cellist Matt Slocum and drummer Dale Baker in what appeared to be a seldom-used conference room turned storage area at WXEG, Dayton, Ohio's alternative rock station. Sixpence's core was there to, as we called it, "conference rock." I was there as the label representative for Squint Entertainment. We'd assemble a group of station staffers, always intending (hoping really) to see the program director and music director; and the band would whip out acoustic guitar and percussion and play two to three songs, always including the new single "Kiss Me."
Some visits seemed to go well, as in St. Louis, where the alternative station and its sister Hot AC station each put the band on the air for an impromptu interview and performance. Others were not so encouraging, as with a station in Vermont that cancelled our visit without our knowledge. Faces were saved by the gracious actions of a production assistant who was a fan and who conducted a taped interview for the station's archives. A kind gesture, to be sure, but the conference rock team left The Green Mountain State tail between legs.
But Dayton was close to the norm:  the audience was mostly the ad sales team, propelled by the scent of free pizza and an implicit demand by the station manager that the band not play to an empty room while the real decision makers were rounded up. Sixpence must have done at least 50 of these visits in the course of the promotion. It was unglamorous and hardly the stuff of pop-star fantasy, much less the stuff of merely wanting to make music for a living.
Flash forward to a sunny June afternoon in 2006 at the Nash household, where Leigh is about to embark on a whole new round of "conference rock" gigs to support her full-length solo debut, "Blue on Blue" – and, to my surprise, she's looking forward to it. "It's like being a salesman I guess," says Leigh. "And it's the satisfaction of leaving and knowing, 'I just got an add!' It's real old-timey. I like the whole thing from start to finish, when I'm actually involved and going in there. It's like Loretta Lynn in 'Coal Miner's Daughter' when they're going to radio stations and, if they like you and you do a good job, they add the song. It's like a challenge that I find very satisfying, as if, at the end of the day, I had something to do with it. I don't know what it is – I guess it's salesmanship. Maybe I'm a good salesman."
Reflecting on the ubiquitous place that Sixpence's hits "Kiss Me" and "There She Goes" maintain on radio to this day, one must give a nod to Nash's sales prowess. While all of the usual music business machinations were involved, Nash & Company's musical acuity, dogged work ethic and genuine kindness won over scores of music and program directors; and so it is hard not to believe that this new chapter of Nash's musical career will yield some of the same broadcast omnipresence. And that would be fine with Nash, though not for the usual reasons. "I don't want to be worshipped or idolized; I just want to be in your home. Someday, I'd like to be like Chicago and Peter Cetera. I just assume that everybody, like me, wants to turn that stuff up. I want to be that girl – I want to be on the radio in 15 years, 20 years – multiple times. And have people be happy when they hear it."
Nash's "Blue on Blue" album, which hit stores in late summer, offers several chances for radio programmers to take her up on that invitation. (The first comes in the form of lead single "My Idea of Heaven," which is going for adds at press time.) Nash's trademark voice and lilting melodies are tailor-made for life's soundtracks. And the production flourishes of Pierre Marchand (Sarah McLachlan, Rufus Wainwright) offer a work that holds both mass accessibility and off-center surprises that can stand the test of time. While those characteristics are shared with Nash's former band, "Blue on Blue" is a work all her own, a flag planted solidly in her own artistic terra firma.
What's more, after years of record label ups, downs, further downs and dissolutions, the album is being released on her own label, One Son Records, so named to be a totem of sorts for Nash's now 2-year- old son, Henry (and administered through her management company, Nettwerk, and their arrangement with Sony BMG Music). Her own label offers both the greatest flexibility and the most responsibility of her career, something that can both bless and curse the process. "I never in a million years thought that I could be on this side of it and be this proud of what happened [in making this record] and be this excited about it," she says. "I can imagine it working out, and I can imagine it not working out. And, if it doesn't, I'm not sure what's next; but we'll find out. But, having [One Son Records], I can do whatever I want and nobody can say "no." Everything's in God's hands, where I like to leave them. I'm in a position now where I don't know how everything's going to work. I know it's worked so far."
And, while the dissolution of Sixpence in 2004 brought its own set of unanswered questions, Nash offers few to no regrets. "When we, as a band, broke up, I had never felt more free. I think I felt really sad in one sense, but the other 90 percent I felt like I was free. I'd always wanted to spread my wings and see what I could do. And I immediately knew. I knew that I wanted to do a record on my own. I was so excited, and I was already thinking about everything about it."
Asked about the constant insecurity that accompanies the life of a working artist, particularly as a new album cycle begins, Nash communicates a simple, faithful outlook tempered by years of living this reality. "'Say your prayers and do the next thing,' that's my mantra – have you heard that before? Have you read that? My mom always tells me that, but, you know, it just makes perfect sense. I just think we get so ahead of ourselves, and that's where I am right now, saying my prayers and then putting one foot in front of the next. Whatever that is – take a shower, wash your clothes, do the dishes.
"You have to put your money where your mouth is. That's where you're cashing in on that trust that we all say we have. And I think God honors that trust and will catch you when you fall, and, sometimes, He lets you fall. But it's active trust – not passive trust ... I believe that the Word is true and that He's already worked it out, and our job is to be as godly as we can by staying in communion with Him and praying that we're in His will and doing the right thing. And, then, just do the next thing, whether it's doing the laundry or making that phone call."
Nash's simple and humble faith is one that often confounded the evangelical subculture that expressed desire for a more explicit public statement. Yet, anything of the sort would have been out of place for Nash and her bandmates, who let their music and lives do the talking. Still, there were amazing opportunities, such as the band's appearance on "The Late Show with David Letterman" where Nash was invited for some on-air chat time with Dave (a rarity for artists). When asked about the origin of the band's name, Nash gave a simple, charming and straightforward explanation of a passage in C.S. Lewis' fine "Mere Christianity" tome. It was the sort of moment so subtle and tender that it seemed to catch even Letterman off guard. Such are the opportunities of humility and graciousness one finds hard to imagine from more forceful or aggressive communicators.
In a business so filled with outsized egos from even the most modestly successful, Nash's down-to-earth sensibilities are a pure pleasure. "Blue on Blue" is a confident and life-filled album with far-reaching potential. Nash is preparing for her barnstorming radio tour followed by a fall tour with Jars of Clay to take the songs out to audiences old and new. Beyond that lie the hopes of radio domination, more touring and a long career ride of artistic chances and opportunities. Being around Nash brings a sense of both unbounded optimism and well-grounded principles assuring that whatever is in store will be met with the same determination, faith and strength that have accompanied her thus far.


© 2006 CCM Magazine.  All rights reserved.  Used with permission.   Click here to subscribe.