"Life Is Precious" a Fine Tribute Fit for Wes King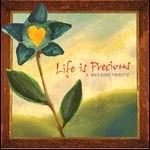 Artist:  Various
Title:  "Life Is Precious"
Label:  Independent
We never know how or when our time here on earth will end. We do know that the life we experience on earth is but a small fraction of eternity and we can safely assume that we should make the most of it since it has been given to us as a gift.
It is our responsibility to allow God to fulfill His purposes through our lives and use every opportunity to glorify Him by the things that we do. Too many times we get distracted from this fundamental truth that we miss out on the limited chances that we have to accomplish something of eternal value with our finite lives.
Not many people have experienced this truth to the extent that Christian music artist  has Wes King come to understand it. After being diagnosed with a severe form of cancer, King underwent a death-defying series of treatments in a fight to survive. While King is well into his recovery process at the time of this review, it has been a long and draining road. Friends, fellow artists, and others influenced by King's music have gotten together and donated their time and efforts to offer tribute and support to the King family with the aptly named release, "Life Is Precious." 
The names range from well known (Phil Keaggy, Derek Webb, Scott Krippayne) to independent (Joanna Martino, Addison Road) and relatively obscure (The Silent, Brother Down), from artists to engineers and producers and the album boasts 27 tracks on two CDs. The result proves what fans of Wes King have known all along: his music and songs speak to all generations and the message presented is as relevant today as it ever was.
Each song takes on new life as it has been given a new treatment and presentation, reminding us that some music can truly be timeless. Ranging from straight rock tracks to softer ballads, from country to folk, the project has quite a range of styles to suit the tastes of most music fans. Some standouts from the project include the opening track, "Excavate" (Downhere), "Salt of the Earth" (Jacob's Well), "Since I Was a Kid" (Goodbye Audio) and "Holy Ghost" (Paul Colman).
Fans of Wes King's music will certainly be interested in hearing this project and finding new musical interpretations of songs they've come to love. The album is also a good chance to discover a few new groups that might be worth checking out. Whatever your interest, "Life is Precious" has a very diverse pool of talent and sounds to enjoy while honoring a respected contemporary Christian music artist who's used his music to honor God. And all the proceeds go directly to help cover the costs of treatment and recovery. Definitely an album worth checking out.

© 2006 CMCentral.com.  All rights reserved.  Used with permission. 

Visit CMCentral.com now and join the single largest online community of Christian music fans on the internet.  CMCentral features  daily music news, exclusive interviews, album reviews, weekly devotions and feature articles written by some of your favorite Christian artists, and much more.  CMCentral is also the home of the most popular Forum for Christian music fans that you'll find anywhere on the Internet.  Come see what all the buzz is about!