Music Critics' Picks 2008
Staff

CCMmagazine.com

2008

17 Dec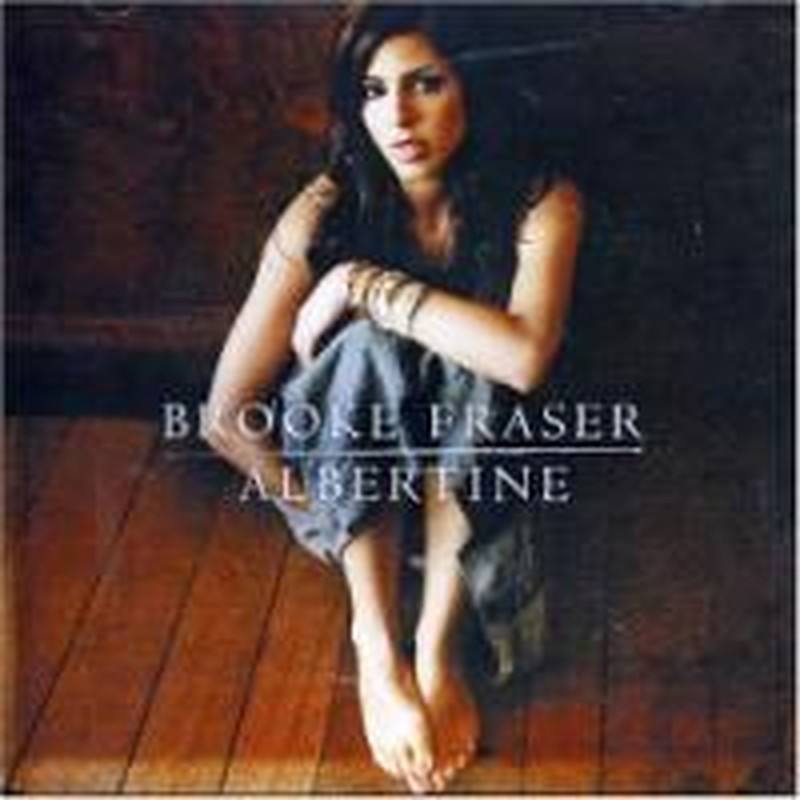 CCMmagazine.com's choices for the best faith-based albums of 2008…
CCM's Album of the Year:
BROOKE FRASER
Albertine
(Wood and Bone)
Highest combined ranking
Appears on 4 of 5 lists
Top 5 on 3 lists

Lindsay Williams, Editor
1. BROOKE FRASER
Albertine
(Wood and Bone)
One of the most stunningly beautiful projects I've ever heard. Brooke Fraser is brilliant.
2. BRANDON HEATH
What If We
(Reunion)
What if we all communicated as honestly as Brandon Heath?
3. THE AFTERS
Never Going Back to OK
(INO)
The perfect blend…poetic, artistic, beautiful and all-out FUN!
4. CHRIS TOMLIN
Hello Love
(sixsteps)
Hello one more excellent batch of Christ-centered anthems.
5. THIRD DAY
Revelation
(Essential)
A defining album for one of Christian music's most beloved bands.
6. TENTH AVENUE NORTH
Over & Underneath
(Reunion)
Painfully raw songwriting. "Love is Here" is an anthem for a new generation.
7. JON FOREMAN
Fall, Winter
Summer, Spring
(Credential)
Strikingly poignant—a new facet of Foreman that's both surprising and extremely satisfying.
8. BEBO NORMAN
Bebo Norman
(BEC)
This could be all about just letting go, or this could be all about just holding on.
9. FRANCESCA BATTISTELLI
My Paper Heart
(Fervent)
Christian music's answer to Sara Bareilles has arrived. Can you say "New Artist of the Year"?
10. SANCTUS REAL
We Need Each Other
(Sparrow)
Six words. Oh. Oh. We. Need. Each. Other.

Andy Argyrakis, Contributing Writer
1. DOWNHERE
Ending Is Beginning
(Centricity)
Another consistently sophisticated offering featuring the perfectly blended vocals of Jason Germain and Marc Martel. Superb mixture of piano-bathed ballads, ethereal swells and melodic masterpieces.
2. KIRK FRANKLIN
The Fight of My Life
(Zomba)
Though technically a late 2007 release, Franklin once again shined this past year with yet another powerhouse project. The gospel/R&B/hip-hop/rocker continues to raise the bar with every album, and this is by far his most diverse disc to date.
3. BROOKE FRASER
Albertine
(Wood & Bone)
Talk about a left of center surprise! This New Zealand superstar's an incredibly vivid storyteller who's just as engaging as she is charming and not afraid to showcase her faith (despite the mainstream nature of this album).
4. DECEMBERADIO
Satisfied
(Slanted)
These rock 'n' rollers are really the only Christian band in history to give classic rock bands like Led Zeppelin, Aerosmith and the Black Crowes a legitimate run for their money. Satisfied also avoids the sophomore slump thanks to a fresh take on its snarling Southern sound.
5. ANBERLIN
New Surrender
(Universal Republic)
Major mainstream breakthrough that's been building since the band's indie success from day one, though this is ironically its most spiritual album to date. Stephen Christian is one of the few who can get as high as The Smiths' lauded Morrissey, while the band weaves between booming ballads, infectious dance and fist-pumping alternative rock.
6. AFTER EDMUND
Hello
(Slanted)
Distortion never sounded so delectable thanks to this disc packed with ethereal knob twirlers, cutting-edge programming, electricity-doused instrumentation, and perhaps most importantly, culturally relevant songwriting.
7. NEWWORLDSON
Salvation Station
(Inpop)
Incredibly eclectic multi-instrumentalists wrapped around production that's crisp but not overcooked. One of the best live bands in Christian music today with the CD also showcasing the band's improvisational abilities.
8. THE MYRIAD
With Arrows With Poise
(Koch)
Given its newfound mainstream platform via MTV, the group balances well along the fine line of reaching out with relevance without watering down its faith roots. A mixture of atmospheric rock, '80s dance/pop and artful dreaminess that never sounds stale or regurgitated
9. JON FOREMAN
Fall, Winter
Summer, Spring
(Credential)
Switchfoot's singer hits four EP home runs. Truly brilliant poetic phrasing and verbiage that's extremely thought-provoking and moving (think Bob Dylan, but with a better range).
10. MARY MARY
The Sound
(Integrity/Columbia)
A fantastically fresh exploration of several genres, expanding the group's soulful R&B formula with a barrage of brass, funky bass lines and hooks galore. Equally suitable for the dance floor or personal moments of prayer.

Grace S. Cartwright, Contributing Writer
1. BROOKE FRASER
Albertine
(Wood and Bone)
Stunning songwriting anchored by soaring vocals and crunchy piano ballads. Watch out United States, Brooke Fraser is here to change your music world.
2. MATT WERTZ
Under Summer Sun
(Universal Republic)
Finally creeping out from the independent shadows… The acoustic release of the year… punchy love songs and sleepy guitar, courtesy of Mr. Wertz.
3. RUSH OF FOOLS
Wonder of the World
(Midas)
The guys from Alabama slam out an album that shows their hit single "Undo" was just the tip of the iceberg. They will also endear fans with new love song/single "Never Far Away." (Everybody say "Awwwwww…").
4. JASON GRAY
Acoustic Storytime
(Centricity)
He may be one of Christian music's best-kept secrets. This album captures the essence of Mr. Gray's live show.
5. LAURA STORY
Great God Who Saves
(INO)
No, Chris Tomlin didn't write "Indescribable"! Laura Story did! And there's more where that came from… This is a must-have for any fan of authentic, singable worship.
6. BRANDON HEATH
What If We
(Reunion)
Do I need to say more? Single "Give Me Your Eyes" speaks for itself.
7. TENTH AVENUE NORTH
Over and Underneath
(Reunion)
Maybe the next Switchfoot (Did I just say that?!). Single "Hold My Heart" will hit listeners with its believable earnestness and simple musicianship.
8. JON FOREMAN
Limbs and Branches
(Credential)
Speaking of the San Diego rockers, I could have cried when I found out that Jon Foreman was releasing his solo EPs. And oh the glee when I discovered select songs were being released on a full-length album!
9. BEBO NORMAN
Bebo Norman
(BEC)
The one artist who can actually sing a song about Britney Spears, pull it off with conviction and panache and make it into a single-of the-year. Go Bebo!
10. SHAWN MCDONALD
Roots
(Sparrow)
Infused with African tinges from his recent trip overseas, acoustic master Shawny Mac pulls out the best album of his career. Innovative, thought-provoking and ministry-minded.

Matt Conner, Contributing Writer
1. PAPER ROUTE
Are We All Forgotten EP
(Low Altitude)
Nashville electro-pop/rock finds a label and creates laptop-driven bliss.
2. JOHN MARK McMILLAN
The Medicine
(independent)
Springsteen-like sophomore release proves emotive rock debut wasn't a fluke.

3. SANDRA McCRACKEN
Red Balloon
(independent)
Easily the most prolific work of this impressive songwriter's career.
4. JOSH GARRELS
Jacaranda
(Small Voice)
Impossible to describe, impossible to avoid. The North Carolina neo-folkster hits his full stride.
5. DELIRIOUS
Kingdom of Comfort
(Sparrow)
Legendary Brits go out on top with challenging anthems.
6. JON FOREMAN
Fall, Winter
Summer, Spring
(Credential)
The Americana beauty of the Switchfoot front man reveals one of today's most talented songwriters in his prime.
7. CHARLIE HALL
The Bright Sadness
(sixsteps)
Alternative art rock gleans year's best worship offering.
8. ANDREW PETERSON
Resurrection Letters, Vol. II
(Centricity)
Easter-centered collection is perfect sequel to Behold the Lamb of God.
9. SEABIRD
'Til We See The Shore
(Credential)
Cincinnati piano pop soars perfectly with this long-awaited release.
10. BROOKE FRASER
Albertine
(Wood and Bone)
Nearly perfect pop album from Hillsong United's female vocalist.

Andrew Greer, Contributing Writer
1. CINDY MORGAN
Beautiful Bird
(independent)
Making the dobro accessible again, 2008's "Songwriter of the Year" releases her finest record yet.
2. CHARLIE HALL
The Bright Sadness
(sixsteps)
For those who question and yet still believe, The Bright Sadness is a work of art.
3. LEELAND
Opposite Way
(Essential)
Leeland = cutting-edge rock with lyrics to sink your teeth into. Not bad for young 'uns.
4. DECEMBERADIO
Satisfied
(Slanted)
With a smoking live show and crazy hot licks, Southern rock never sounded so fine.
5. RANDY TRAVIS
Around the Bend
(Warner Bros.)
This articulate storyteller raises the bar on his own fairytale career. Easily one of his best.
6. FAMILY FORCE 5
Dance or Die
(Tooth & Nail)
Forget the coffin. Catch me under the disco lights with the crunk-rock characters from the family.
7. MARY MARY
The Sound
(Integrity/Columbia)
A little modern day Motown for yo' mama and you. These sisters are on fire!
8. SANDI PATTY
Songs for the Journey
(INO)
Packing out concerts 30 years into the game, this legend's music is still popular. Don't be afraid to crank it up.
9. JONEZETTA
Cruel to be Young
(Tooth & Nail)
This is the road trip album for 2008. Creative and fun; just turn it up and drive.
10. TRAVIS COTTRELL
Ring the Bells
(Word)
If Christmas sounds this good, I'll take it all year long.


© 2008 CCMmagazine.com. All rights reserved. Used with permission.



**This feature first published on December 16, 2008.