One Fine Night at the Roxy: Switchfoot Adds to the Noise?
Dan Ewald

Contributing Writer

2003

1 Mar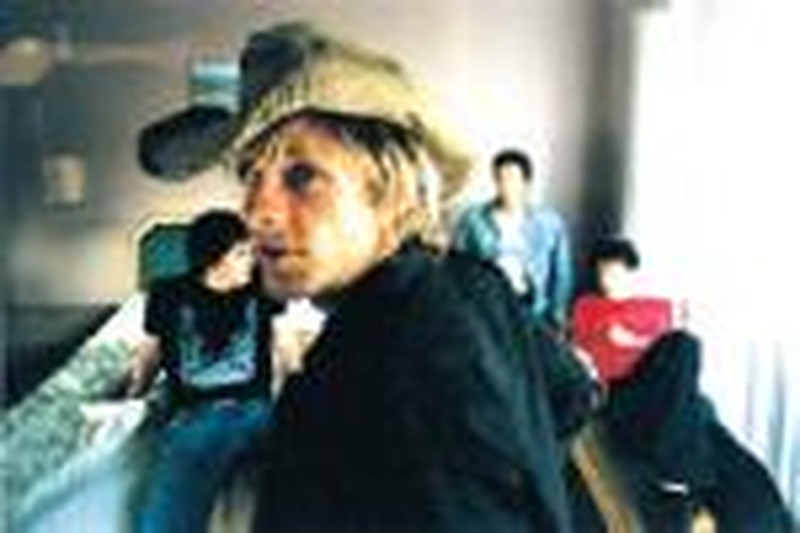 It's an unusual day in sunny L.A., with the light rain bouncing off the cars driving down Sunset.  A few buildings down from the infamous Viper Room, across the street from Tower Records where crowds are getting wet standing in line to meet Kelly Osbourne, this reporter waits at the Red Rock Eatery, where one of the actors from "Beverly Hills 90210" sits intoxicated at the bar, to interview what might be the next big rock act—Switchfoot.  The band is driving upstate from its hometown of San Diego, and the weather is slowing up the traffic.  (Rain in Southern California is considered a hazardous road condition.)
 
Through the open window, one can see a large billboard featuring three fresh-faced rockers.  If you squint, you'll see the band's name is Tonic.  But who knows?  Next year those faces could be siblings Jon and Tim Foreman, friend Chad Butler and new member Jerome Fontamillas, thanks to a newly signed general-market deal with Columbia Records, in addition to its Christian label deal with Sparrow.
"This is definitely a turning point for us,"
Jon says over the phone on the way to the venue, "It's an interesting thing to be seven years down the line and be marketed as a new band.  We're very excited to see what the record label has up its sleeve."
Despite his excitement about new opportunities with Columbia, Jon is proud of the band's slow rise.  And while the rise from Christian music to mainstream success has been attempted (think Susan Ashton) and conquered (think Sixpence None the Richer), what Jon Foreman finds most interesting is the fact that Columbia has embraced what he considers to be the most outspoken album of the band's four-CD career.  The first single being marketed to mainstream radio is an aggressive rock tune called "Meant to Live."  "We were meant to live for so much more/ Have we lost ourselves?/ somewhere we live inside," the chorus challenges.
"It's ironic to me that the world is interested [in hearing] the songs that are the most personal about my faith and where I'm coming from," says the lead singer.
 
An hour before sound check, the members of Switchfoot finally arrive, plopping down to order some burgers and fries.  Tonight's venue will not only be the site of the concert, it will be the "studio" for a live DVD taping.  All four wear sloppy attire, fitting for a band serious about its art.  They quote Paschal and Kierkegard.  They no longer sport the pretty boy-band haircuts of their last album.  And the tousled, I-just-rolled-outta-bed look works for them.
Jon Foreman may look like a rock singer, but he would kill to have a voice of soul.  "I always wished I could sing like Aretha Franklin.  That's what I'm trying to do with my voice.  I'd like [to sing like] a big black woman," he laughs.  In fact, the album's title track, "The Beautiful Letdown," was actually conceived as a gospel tune when he first wrote it.  "That's the way I hear this song," Jon says, "as a big gospel number."
 
Inspiration for Switchfoot's songwriting comes from many things, says Foreman.  "Everything from beauty to pain points to the eternal.  I'm noticing in all of our albums, there's been the idea of coming to terms with a longing that can't be fulfilled in this present tense," Jon claims.  "I think this is universal."
Looking for an example, he turns over his right shoulder and stares out the open window of the restaurant.  We see the sun is starting to peak through the rain clouds, casting a beam of light over the crowd lined up across the street.  Foreman also notices the plethora of entertainment-themed advertisements lining the strip, and then we notice a homeless man sleeping in the garbage at the foot of the billboards.
Taking in the images, Jon reflects, "You have a human being who was created in the image of God, who will spit in the face of the same image, who will kill and murder and steal from that same image."  His band members nod in agreement.  "I think it was Paschal who said, 'If you look at the atrocity of man without also looking at the fact that he was created in the image of a deity, you will be depressed.  If you look at the beautiful aspects of man and forget about the terrible atrocities and what it means to be human, then you have not looked at life realistically.'"  Jon says that Switchfoot is trying to find that balance—to sing about the homeless man and the sun coming through the clouds at the same time.
But that's not the only thing these pseudo- philosophers think and sing about.  "Are we adding to the noise?" is a question you won't likely find Tonic or Blink-182 asking themselves, but this band wrote a song about it.  "If we're adding to the noise, turn off this song, turn off the stereo, video..." goes the lyric.  "We live in a pop culture where we're bombarded with so much that doesn't matter and is irrelevant," says Chad.  "I think we all want to do something that's going to matter.  For me, when I wake up in the morning and go to be Switchfoot, it's wanting to make music that has an eternal value."
Tim jumps in our conversation for the first time.  "The other day a friend of mine  posed an interesting scenario.  He said that quite possibly the most beneficial CD for people to hear right now would be a blank CD-R.  They would be forced to not listen to anything for a whole hour, to actually think about life," he says.  "For a lot of people, we probably are adding to the noise, but I think it's a good question to ask of ourselves."
 
A line of people stands outside The Roxy, an intimate setting where Aerosmith and Smashing Pumpkins occasionally return to remember their roots.  Chad Butler previously attended a concert here, while Jerome Fontamillas has actually played the club with bands Fold Zandura and Mortal.
The crowd tonight is eclectic.  Waiting in line for tickets, a girl with too much bleach in her hair claims to be "a total groupie."
A group of college students says they drove down from Utah to attend this show.
"I haven't actually bought any of their albums, but my sister has," says a preppy guy named Eric.
Andy says he attended a showcase spotlighting the band:  "I think Jon Foreman is the greatest songwriter of his generation," he says.  "I'm looking forward to the new record.  Is there a new vibe to it?"
There is a new vibe to the music, and the crowd seems to love what the band calls "hymns for the 21st century."  There's a lot of jumping up and down during the show—even a raised hand or two during the more worshipful tunes.  Even the big-time record executives seem to be moved by the music of their "new" band, lip-syncing the God-focused lyrics to themselves.
"I mean, how do you express the truth of the gospel in a way that is relevant today?" Jon asks himself.  "That's what I feel like I'm really wanting to learn, you know what I mean?  I feel like the prophets expressed timeless truths:  'There's nothing new under the sun.  God is eternal.  His truth is always going to be the same.'  I'm not calling myself a prophet or anything like that, but I do feel like expressing the timeless truth of who God is in a way that's relevant for today.
"If you look back at what Christ said, it was pretty [earth] shattering the way He would approach every situation.  He was so relevant, so direct.  Didn't pull any punches.  Didn't speak in a language that might not be understood.  He spoke in a way that grabbed people's hearts.
And I believe that's what we should be doing with our music."
 
Used by permission.  CCM Magazine © 2003  Click here to subscribe.