Par for the Course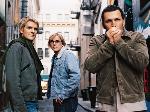 Like most great success stories, Paul Colman Trio's  game got off to a somewhat rocky start (in America anyway). But now, the reigning New Artist of the Year has emerged as Christian music's hottest Aussie import since Newsboys and Rebecca St. James. And the streak shouldn't be over any time soon.…

He may not putt as proficiently as, say, Tiger Woods, but Paul Colman is the mini-golf aficionado this particular Tuesday morning at a scenic par three course just outside of Nashville. He's easy-going with his approach, but this Australian native is also the kind of guy who isn't shy when it comes to a little healthy competition.

In fact, just minutes after we pick up our putters and select a golf ball color of our choice, Colman boldly proclaims he's going to win today's mini-golf tournament. And that's before we've even made it to the first hole.

While some could perceive his claim as a little cocky, neither of his band mates — bassist Grant Norsworthy with his fashionable rock-star attire and quick wit nor the quiet, thoughtful drummer Phil Gaudion — contest this assertion as we tee off. With his charismatic personality, charming sense of humor and penchant for being polite (he even brushes the fallen leaves off the green to avoid any potential pitfalls for his fellow players), Colman is a front man people can't help liking — a quality that's certainly served him well both on and offstage.

A Man with a Plan

Unlike the "American Idol" phenomenon or the boy-band era, where artists became media hype in a matter of weeks, PC3's road to a record deal wasn't exactly an easy one. This less-traveled journey for the group began in 1998 with Colman, a successful solo act at the time with two critically acclaimed projects to his credit. But after one independent solo tour of the United States as well as some shows with Gaudion, Colman decided to forgo his one-man show for a three-piece band that included Gaudion and Norsworthy.

After solidifying the lineup, the band began touring relentlessly, playing for crowds in every kind of venue imaginable, including its first gig for 3,000 people at a Melbourne Zoo. However, lacking a Christian music scene as vibrant and viable as the one in the United States, the PC3 members knew they couldn't play in schools, saloons, hospitals, weddings and smelly zoos forever, although they appreciated every opportunity.

"There are plenty of artists in Australia who have chosen to perform Christian music, and [for them], following Jesus takes the form of singing in high schools, doing low-budget records and living in the bread line," Colman says. "But I think anyone who is ambitious with trying to make music a ministry also wants to make it a career. We got to a point where we could not afford to do this in Australia anymore."

With a devout following in the "land down under," four successful independent projects, a notorious audience rapport during live shows and awards including Artist of the Year on The Rock Across Australia charts, Colman began turning his attention to U.S. turf.

But even with these impressive credentials, breaking into the highly competitive U.S. market wasn't simple. In fact, the former schoolteacher says, laughingly, that meeting with managers, record label execs and booking agents was a grueling process that led to his "persistent widow syndrome," a nod to the parable of the widow and her coin in the Bible.

Colman knocked on several doors in Nashville without many promising answers, even facing rejection six different times from the same record label. But with a hearty dose of divine intervention and the acquisition of an important cell phone number, all of that slowly changed. "I had been coming to Nashville for three or four years trying to get the band signed, trying to get people interested. I laid a lot of groundwork, but I did not realize how much work that would be," Colman recalls.

In the midst of building these Music City relationships, PC3 played a show with Third Day in Australia; and, before long, Colman and Third Day's Mac Powell forged an important friendship. "It was people like Mac who ended up being a catalyst in getting the attention of record company executives and management," Colman confesses. "Once the singer of one of the world's biggest Christian bands and Monroe Jones, one of the most popular producers, start saying, 'Hey, you should take a look at these guys,' it throws a little more weight than the 15 little conversations I'd had. I think Mac was very instrumental in getting us attention and having people think there was something of substance to get behind. I have to say once I got his cell number, I called him about every five days for a year, reminding him of what he'd said."

A Band with a Plan

With Colman's persistence and the aforementioned alliance with Third Day, the two bands became label mates at Essential Records. PC3 joined the Atlanta rockers and Bebo Norman on the "Come Together" tour and recorded its debut "New Map of the World" (Essential). Produced by Monroe Jones (Ginny Owens, Chris Rice, Caedmon's Call), the disc released in May 2002, and the band forged forward on the fast track as the only new artist to garner a GRAMMY nomination in the Best Pop/Contemporary Gospel Album category. While they didn't end up winning the GRAMMY, (Jars of Clay claimed the award for "The Eleventh Hour"), the band did make quite an impression on the infamous red carpet. And it wasn't for bad fashion sense.

"We knew no one would know who we were, but we wanted to make the most of the opportunity of being there. We didn't just want the experience of attending the GRAMMYs," Colman reminisces while Norsworthy and Gaudion nod in agreement.
Aspiring to be a positive representative of what Christian music has to offer, Colman utilized his people skills to "work" the red carpet, landing interviews with every major media outlet. While he's not sure if any of the Q&A's actually aired, he accomplished his goal of making the band's name and Christian music known — even if it was just for one evening.

A couple of months following that memorable night in New York City, PC3 introduced itself again in a speech to a more familiar crowd when the band followed in the recent footsteps of ZOEgirl, Plus One and Ginny Owens and accepted its Dove Award for New Artist of the Year. Telling the audience the experience gave them "goosies," the guys proved that many people saw more in them than a couple of catchy radio hits.

"Winning that award was particularly meaningful to us because it has been so difficult getting to where we are today with starting in Australia," Colman says. "This also reminds us that our music isn't only affecting people, but it also serves as a platform for spreading our message about being reconciled to God and to each other."

Future Plans

With such an eventful past year behind them, one would likely assume the band might take some time off to revel, relax and possibly even reflect on all that's happened. But aside from spending some much-needed family time with spouses and daughters and touring with FFH, Paul Colman Trio has been diligently working on its September release, "One" (Essential), an effort with initial ideas conceived in Australia and completed in producer Brent Milligan's (The Elms, David Crowder Band) home studio. Like PC3's debut, the songs' lyrics continue the dialogue of reconciliation to God and fellow believers.

"We wanted a record that truly captures the band," comments Colman. "We love big melodies and big songs about big topics. As we began to track the music, we really discovered that all the songs are about reconciliation."

While Norsworthy admits the band isn't vying for the title of "The Most Artsy Band Out There," Colman says that One has a "slightly more stripped back sound and, as a result, we hope the music is more transparent." He also hopes the project "shows maturity" in songwriting, musicianship and personal growth. "We want to catch your ear first, your heart second and help create a soundtrack for your journey into the heart of the ministry of reconciliation."

Back at the putt-putt tourney where we've seen Gaudion sink a hole-in-one, Norsworthy flounder between a combination of amazing and unfortunate shots and me land somewhere in the middle, an important discovery is made. Like many of the pursuits Paul Colman has passionately pursued during the past few years, he carefully assessed every situation and made good on his claim to win the game. Whether it was an obstacle like a swinging bat or a spinning windmill blocking the cup at the mini-golf course or Nashville record companies refusing to support his efforts early on, Colman confidently comes out a winner. And one can't help but admire such assurance and determination.

Used by permission.  CCM Magazine © 2003  Click here to subscribe.