Pillar's Day of Reckoning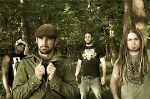 For eight years, Pillar has been honing its no-frills modern rock with relentless touring, aggressive recording and frequent re-invention. The band has, quite literally, seen it all.
After an auspicious debut on the late-'90s rap/core scene, Pillar scored big with its anthemic crossover benchmark album, "Fireproof" (Flicker), with a title track that dominated Christian rock radio, festival stages and youth rooms and earned the band a major-label makeover when MCA re-released the project into the general market. Big league mainstream tours and festivals followed, surrounded by high hopes that Pillar might just be the "next P.O.D."
Though the mainstream hype quieted, the band plowed on. Pillar released an acoustic and partly live EP that completely changed musical gears and, then, followed with 2004's blistering and brilliantly realized "Where Do We Go from Here." More hit singles in the Christian market (and a moderate hit at mainstream radio), the band's best album sales ever (250,000-plus for that album alone), a rabid fan-base and an absolutely frenetic live show all backed up a further distancing of Pillar from its rap-ish roots.
Front man Rob Beckley became a convincing singer, and the band logged hundreds of shows in churches, Christian clubs, bars, schools and festivals. The band released a second EP earlier this year that granted a sneak peek at the album Pillar's been working on for nearly two years – "The Reckoning," which released in the fall.
While certainly disappointed by its failure to really launch in the mainstream, the band never missed a beat. "We're still working our butts off," Beckley insists. "It's just the way the cards fell for us. We're not upset about the past, but that's kind of what this record is about – "The Reckoning," the settling of accounts. We needed to settle that particular score in our life."
When such accounts have been settled, the next step, of course, is moving on. And that's exactly what Pillar is doing. "I'm excited for where Pillar is headed," says one of the band's heroes, P.O.D. front man Sonny Sandoval. "I love the guys and respect how they've built [their career] with real fans."
From the sound of "The Reckoning," by far Pillar's most intense, diverse, mature and confident at-bat, the band members' faith is strong. "We never wanted to be outside of the Christian market," Beckley explains, "And we never wanted to be in it! When we first started, we didn't know it even existed. We used to play all our shows in bars around towns in western Kansas, and, then, we started playing churches, too. And people said we should be a 'Christian band.' I had just become a Christian, so I thought, 'Sure, why not?' From that point on, we never set out to go into the mainstream. Those are just the doors that were opened, and then they shut very quickly."
While the new record certainly sports everything sonically, lyrically and compositionally that the mainstream modern rock world seems to demand, its fate seems both unknown and of little concern to the band. "Collectively, as a band, we just don't care anymore," Beckley states without a hint of someone trying to convince himself of something. "If the mainstream grabs hold of this record and it can touch people's lives, that's awesome. If not, I'm not going to lose any sleep over it. We're a mature band. We've been around long enough to know the game. I'm going to wake up tomorrow and be just as content as I am today, regardless."
The Reckoning
"The Reckoning" represents a new era and approach for the band in several ways. While Pillar's insane touring schedule (2,500 concerts in the last eight years!) required the guys to rush through previous records, they were determined to take their time for their fourth full-length project. "We started writing on this record a long time ago," Beckley says, "pretty much as soon as we released 'Where Do We Go from Here.' The one thing that we did not want to do was just re-write the last record." The band took time to write both on the road and in the studio, with one primary objective at hand:  to break new ground. "We wanted to make sure that there were 10 to 12 tracks that wouldn't have made the last record; they wouldn't have fit."
Another primary objective was to avoid the radio trap at all costs. "We decided not to get stuck in 'radio world' where you just structure a song to fit radio … verse/chorus/verse/chorus/bridge/coda," Beckley explains. "We've always done that, and we just decided to write a record because we like the way it sounds." The result is a collection that offers up the band's heaviest songs to date ("Tragedy," "Crossfire"), right alongside its most poignant ballads ("Angel in Disguise," "Wherever the Wind Blows") and a strangely catchy power-pop song called "Sometimes" that channels Foo Fighters and Cheap Trick convincingly, as well as plenty of solid rock & roll tracks.
Producer Travis Wyrick (P.O.D., Disciple, Superchick), who has worked with the band since day one, ups the sonic ante considerably with rich vocal tones, thundering drums and cone-shattering low-end to present perfectly the band's evolution of sound. Recorded in three main sessions over the course of a year, the band logged more hours writing, arranging, tracking and mixing than on any other Pillar project. "These days," Beckley considers, "people write singles and then write a bunch of crap to fill the record out. You're buying a record for two songs. And everyone wonders why people aren't buying records anymore! In the past, we would treat the singles more importantly than the rest of the record. We didn't on this one." The diversity of sound and vibe was entirely intentional. "There are songs on there that I never, in a million years, would have thought we would have recorded. You can't put this record in and tell me that every song sounds the same."
While at least five of the disc's 13 tracks have serious single potential, Flicker Records has settled on "Everything" as the first salvo. "That song wasn't even a song!" Beckley adds with a laugh. While working on other parts in the studio, guitarist Noah Henson started experimenting with a new lick. Beckley jumped all over it with his own ideas, and, before long, the song was born. Spontaneity, born of hard work and available time, bore impressive fruit. "I didn't even have vocals for it," Beckley remembers. "I wrote that one in the studio, and, now, it's probably the lead single. That's the type of stuff that was happening on this record."
Another of the disc's standout tracks is the melancholy and haunting "Angel in Disguise," a departure from form for the band in that it is a story song, a ballad, and tackles not only the subject of sexual abuse but also of forgiveness and restoration. The first verse recalls the story of a prominent family in the band's old church that was devastated by sexual abuse. "I remember just getting chills thinking that that's so wrong," says Beckley. "It's so weird. How can somebody be so peaceful and loving and fun to be around and then you find out what they've been doing? It almost crushed me."
The song packs an emotional and spiritual punch and is another example of a track that came into being almost by accident. "Kalel was just playing through this little chord change on his bass," Beckley recalls, "and I told Wyrick to record it. Then, Lester started playing this groove to it. I took the little piece that they recorded, and I went in and started messing around with vocals. And they loved it. I wrote all the verses in the studio. Those are things that just happened in the studio, and they became some of the best songs on the record."
In addition to Beckley's greatly improved singing voice and the band's obvious growth musically, another secret weapon has been added to the arsenal. After years as a quartet, the band has grown to include second guitarist Joey "Cinco" Avalos (who earned his nickname from always bidding five on the band's tour bus games of Spades – not from being the fifth member of the band). While Avalos first came on to fill in for Noah after a debilitating knee injury in the fall of 2005, the band kept him on once it heard what a Pillar show sounds like with two guitarists. "It sounds stupid," Beckley says as a compliment. "Now I know why the bands with two guitar players have two guitar players. It sounds huge! It's a whole other wall of sound. The harmonies and second guitar parts were there. It's awesome." Though Avalos did not track on "The Reckoning," his presence has already shaped the band's live show immeasurably.
The Big Prize
"I feel like, this time around," Beckley adds in total seriousness, "more so than any other record we've done, we know what we're fighting for. It's not about us; it's not about our families; it's not about writing the best record or doing music that could be crossed over. We've faced our trials, and we've overcome them. I'm happy to be closer to God than I've ever been! This time around, we know what we're fighting for."
When quoted the question a reporter asked boxer James Braddock in one of Beckley's favorite movies, "Cinderella Man" – "What are you fighting for?" the singer and former U.S. Army soldier responds unequivocally: "We're fighting for everyone out there who doesn't believe. We're out to change hearts – not to force things on anyone, but to make believers know why they believe and to make those who do not believe in Jesus to stop and think."
They have taken that vision to the streets as they launched the "Days of Reckoning Tour" with Dead Poetic, The Showdown and Kids in the Way this past fall.


© 2006 CCM Magazine.  All rights reserved.  Used with permission.   Click here to subscribe.