P.O.D.: Southtown Unbound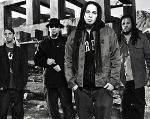 P.O.D. seems open to revisiting previously traveled paths. At least, that's how it appears with the promotion behind the band's new album "Testify" (Atlantic/Word).
For example, "Testify" mirrors 1999's "Fundamental Elements of Southtown" in that both albums were preceded by a limited edition "Warriors" EP and a major tour with Staind. Likewise, P.O.D. recently returned for another New Year's Eve performance in Times Square, something it previously did right after the Sept. 11 tragedies. And once again, the gatekeepers are responding in spades.
Coinciding with "Testify"'s late January release, P.O.D. performed an unprecedented five songs on MTV's "Total Request Live" and made the rounds on other high profile outlets such as "The Tonight Show with Jay Leno," "Last Call with Carson Daly" and DIRECTV's "CD USA." And in addition to securing CCM Magazine's cover story – again – this month, "Testify" landed P.O.D. on the front of Metal Edge, Risen, HM and Drum!, among others.
Once more, P.O.D.'s fans have responded in kind – "Testify" debuted at No. 9 on The Billboard 200 album sales chart and at No. 1 on iTunes' Alternative album download chart in late January. At press time, the album's lead single "Goodbye for Now" had entered the Top 20 of America's Rock radio airplay charts and the Top 25 of Alternative radio according to Radio & Records. The video for the song, meanwhile, had climbed to No. 3 on MTV's "TRL."
Familiar territory? Absolutely. And P.O.D. has historically demonstrated its growth with each new opportunity. But there is one path the band is continually forced to retread. After three indie albums and four major label releases with Atlantic Records, P.O.D. still faces the same scrutiny from both sides of the spiritual fence.
"It's like half the people say we're not Christian enough, and the others say we're too preachy," admits P.O.D. vocalist Sonny Sandoval. "Can't we just be P.O.D. making music, and if you like it, you like it, and if you don't, there are other bands out there for you?"
Despite what's said, Sandoval is not complaining. He's just answering another predictable question about his faith when he'd rather be talking about his new album. The fact is the band's success makes it an easy target. Even though 2003's "Payable on Death" album opened with the faith-filled anthem "Wildfire," the other songs often addressed less spiritual matters. Does this mean the band went multi-platinum and cut back its faith-related content?
"Payable on Death" sold more than a million copies worldwide but didn't come close to matching the massive success of its forerunner "Satellite," which contained more faith-related content and sold more than three million copies in the United States alone. So did that motivate the band to include more spiritual content on its latest, "Testify"? The point is, no matter what the band says or does, there's always a way to spin the facts to criticize it, and so the band finds itself with a new album and the same old set of questions.
"Even now people say, 'Are you guys still a Christian rock band?'" laughs Sandoval. "People need to get more real than that – come up with a better question."
When Sandoval mentions that question's monotony, he's not talking about sharing his faith but, rather, the way in which his faith might be used to influence record sales. "I don't ever want anyone to use my faith to sell records," he continues. "It's not the people. I love all the people who have supported us in the Christian world, and that gratefulness will never change. It's our wish that we encourage other believers, and it's our wish that people might come to know what we know because it's changed our lives. Our faith is real, but I don't want to go up there and convince you what a great Christian I am so you go buy my record."
"But I have no complaints," reflects drummer Noah "Wuv" Bernardo. "Everyone wants to label us, and our band went through a transition where we didn't want to be labeled. But now we're at the point where we don't care. Call us what you like. If you like the music, cool, and if you like the message, straight up – that's dope!"
That said, "Testify" does feature more faith-evident content than recent releases, and, while there are challenges to covering spiritual themes, Wuv also feels it's natural. He continues, "You don't want to say things over and over again until it's flat out cheesy, and you're not taken seriously anymore. But faith in God is repetitive. It is something you have to do every day in your life. It is something that, if you have it, you're going to take it with you until you die. So for us, writing those songs about faith and struggles will never get [old] because it's part of the daily struggle we're always going to have. It's not something that you can do once and then forget about it. Having faith in God is something that you work on every day."
While P.O.D.'s music has long embraced such pertinent themes, for many fans it's the integrity behind the lyrics and the band's artistic fervor that sets P.O.D. apart. Just ask Pillar, the band CCM readers recently voted their "Favorite Hard Music Artist."
"There may never be another band that comes along that has such an epic passion in their music," says Pillar's lead singer Rob Beckley. "P.O.D. is easily one of the biggest influences on musicians in this industry and one of the most looked up to. They have encouraged me to live strong and with no fear in a world that is somewhat intimidating. P.O.D. is for real – great musicians, great passion and great presence. They may never know the impact they have had not only on fans but on the industry – both general market and Christian!"
In the end, it all comes back to who the artists are as people. And the members of P.O.D. choose to live out their faith as they always have. Consider their recent visit with wounded Iraq War vets at a military hospital outside the nation's capital. The USO contacted the band knowing they were going to be in Baltimore, and they quickly set aside the time.
"It was deep," says Sandoval, speaking with a sense of hurt in his voice. "I'm not good with hospitals anyway, but, once we walked in, they took us straight to the head trauma units. I almost couldn't do it, man. The first guy had half his head gone. His wife is sitting there next to him, and he's got pictures up of his kids and how he used to look. Then there was one really young kid who couldn't communicate or even control his own body. His mother was there, and she had a sweater with his picture and scripture verses on it. Right before he went into the service, he got a tattoo on his chest that read 'The Lord Is My Shepherd.' As soon as his mother started to talk about God, he started to shake and get upset. He's got the 'Lord Is My Shepherd' across his chest, yet he's sitting there not knowing if he's going to make it. My heart was just dropping."
Ultimately, the band members expressed their gratitude to all the soldiers and found themselves encouraged as well. The singer continues, "Most of the people we saw were believers. Everyone had their scripture shirts on and Bible verses posted in the room. If anything, I walked out more encouraged because here are these kids whose lives will never be the same, yet they still push on in their faith."
"Goodbye for Now," the lead single from "Testify," was written before the military hospital experience yet addresses similar situations. This mid-tempo rocker offers courage to anyone who feels downtrodden or lost.
Sandoval explains, "'Goodbye for Now' is just a vibe track, one of those hope songs that people can relate to a little bit. It comes from struggling and feeling down and out in whatever walk of life you are in and hoping that tomorrow has a lot more promise. But so many people have taken different directions from it. For example, when I played it for my sisters, they took it from the angle of our mother passing away."
The new album also features guest vocals from Hasidic reggae star Matisyahu, whose own hit song "King Without a Crown" was poised to crack alternative rock radio's Top 10 at press time. This reggae-rock artist, who was in Jerusalem when P.O.D. first inquired about him, joins the group on the upbeat "Roots in Stereo" and the worshipful "Strength of My Life." Also making guest appearances are hip-hop legends the Boo-Yaa T.R.I.B.E. and Sick Jacken from the L.A. rap duo The Psycho Realm.
Still, the most notable appearance comes behind the soundboard. After recording its previous three albums with Howard Benson (Hoobastank), P.O.D. worked with veteran producer Glen Ballard (Alanis Morissette, Dave Matthews Band) on "Testify."
"I think we just wanted to try something different," admits Sandoval about the producer change. "There were some scheduling issues. But at that time we had done three records, and we are always trying to learn different things. We started with one of Rick Rubin's main engineers and got some really amazing sounds, but, once we got to the vocals, we realized that we were just duplicating a lot of the early demo work we had done. That's when we started working with Glen, and he was like, 'Man, we've just got to color all of this in.' We worked with him at his studio/home for a month and a half, and it was a cool experience."
Looking back, P.O.D. – which also features bassist Traa Daniels and guitarist Jason Truby – formed 14 years ago in the San Diego suburb of San Ysidro, not far from the U.S./Mexico border. The band, whose name is short for "Payable on Death," self-released "Snuff the Punk", "Brown" and "Live at Tomfest" before finally signing with Atlantic Records. The group then broke big during the nü-metal craze, scoring huge radio hits with "Southtown" and "Rock the Party (Off the Hook)." However, when "Satellite" came out on Sept. 11, 2001, the band's emerging hit "Alive" took on new meaning and became a positive anthem for people of all faiths.
"The fact that the album came out on 9/11 and that the tragedy hit really woke up a lot of hearts and minds," remarks Sandoval. "People were like, 'I want music that makes me think about stuff and helps me take my mind off of the tragedy.' I feel very fortunate to be a part of that song, and it is still one of my favorites. The sad part is that the U.S. had such a bond and brotherhood at the time, and, now that 9/11 is said and done with, everyone's back to the grind and back to their grudges."
"Satellite" also produced the hits "Boom" and "Youth of the Nation," the latter about a local high school shooting. With the departure of Marcos Curiel in '03, the band had little time to gel with replacement guitarist Jason Truby, yet its self-titled follow-up still produced the Top 20 rock hit "Will You." P.O.D. toured heavily with groups such as Linkin Park, which gave Truby a chance to settle into his new role before recording "Testify." In recent years, the band also contributed music to "The Passion of the Christ:  Songs", Santana's "Shaman" and the "XXX: State of the Union", "Matrix Reloaded" and "Little Nicky" soundtracks.
Despite all the success, Wuv still emphasizes the importance of humility. He remarks, "We always want to take the attitude 'Thanks for having us' because it's always going to be that exciting for me. When it isn't, it'll be time for us to stop. In the meantime, there's still music inside of P.O.D., and we still have stuff to say. We got the blessing from our families to keep playing music, so there's no reason to stop."


© 2006 CCM Magazine.  All rights reserved.  Used with permission.   Click here to subscribe.