Emerging Voices of Jesus Culture
Amy Hauck

Contributing Writer

2012

13 Aug

COMMENTS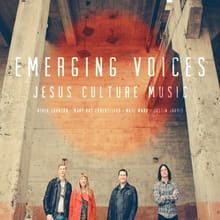 Artist: Jesus Culture
Album: Emerging Voices
Label: Kingsway
This is one of the many reasons I love the Jesus Culture movement: they are not afraid to forsake the familiar for something new and fresh. Emerging Voices is the latest from this group of passionate worshipers, and features four new leaders that have not spent much time in the spotlight. Jesus Culture director Banning Leibscher explains their musical mission in terms of using songs to awaken a spiritually sleeping generation. As their youth pastor, he watched young new worship leaders like Kim Walker-Smith and Chris Quilala emerge as their hearts stirred and earnestly desired to see God move in their generation. Leibscher and company are now empowering a new wave of talent and it is a key feature of their heart for reaching the world with the gospel: it should never stop with them.
Meet Derek Johnson, Mary Kat Ehrenzeller, Nate Ward, and Justin Jarvis. All are worship leaders at their respective churches. Each of them carry on the torch of a fearless generation that sings to awaken, to refresh, and reconcile hearts to their first love. Each of the ten original songs was recorded live in Redding, CA – a decision that really lends itself to the participatory nature of this album. In their own way, each leader prompts, beckons, and urges worshipers to push past distraction and immerse themselves in the presence of God.
This project is certainly not wanting for talent as each artist brings a unique vocal flavor to the table. In fact, if you visit the Jesus Culture website, you can see bios, quirky facts, and a video of each of them sharing the vision and heart behind what they do. It makes me love this project even more. As they are personal with you, it reminds me of how God is personal with us. The very nature of worship is personal. So, maybe I was wrong. Even though Jesus Culture is willing to try new things, there is still a delicious familiarity about their work. As listeners, we are still facing the same multifaceted intrigue of a God that deserves our praise, yet still desires relationship with us. Emerging Voices delights by highlighting this contrast with creativity, honesty, and a fervor that is sure to awaken many.
*This Review First Published 8/13/2012