Experimentation Pays Off on Owl City's Latest
Christa Banister

Crosswalk.com Contributing Writer

2011

15 Jun

COMMENTS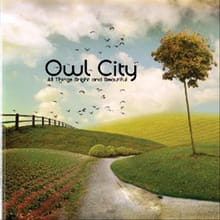 Artist: Owl City
Title: All Things Bright and Beautiful
Label: Universal Republic
Back when MySpace was still the king of social networking, it didn't take long for all the cool kids to fall in love with the whimsical sounds of Owl City, the brainchild of Minnesota native Adam Young.
Like many unsigned artists at the time, Young jumped on the bandwagon in hopes of introducing his electronic-tinged music (think Postal Service meets a mellower Relient K) to the masses.
Unlike so many artists who simply got lost in cyberspace, all of Young's hard work (in his parents' basement, natch) paid off in a big way when tracks like "Strawberry Avalanche" and "Hot Air Balloon" began racking up some serious traffic. And when your numbers are climbing as fast as Young's were, well, Owl City wasn't bound to be underground for long.
Eventually signing with Universal, Owl City's popularity only grew with the band's debut, Ocean Eyes. While the title may not immediately ring a bell, the album's breakout single "Fireflies" sure will. While it certainly didn't sound like anything else on the radio in 2009, its sheer catchiness couldn't help but win you over.
As any artist worth his/her salt knows, however, one big song is never enough to hold the attention of our perpetually A-D-D world. Fortunately, for Owl City, Young has many more memorable melodies in his arsenal with All Things Bright and Beautiful.
While it may have been tempting to simply fashion a "Fireflies 2.0," Young and his cohorts never resort to such lame tactics. Instead, the band draws from an even wider spectrum of its musical influences, namely A Tribe Called Quest and Boards of Canada, to create something far more intriguing.
Whether it's the insatiable dance beats of fan favorite "Galaxies" or the hip-hop infused strains of "Honey and the Bee," Owl City's experimental spirit definitely delivers something new and exciting for your ears.
Equally rewarding is Young's decidedly personal approach to songwriting. Whether he's talking about faith, the ups and downs of love or simply pondering what's beyond the clouds, Young never settles for lines that simply rhyme. Instead, he's painting vivid snapshots of humanity that are bound to stick with you for a good long while. And considering he's doing all that with a catchy soundtrack to boot, Owl City certainly has all it needs to avoid the dreaded one-hit-wonder label.

Check out the latest Owl City music videos at Godtube.com!