Get In, I'm Driving Offers a Hopeful Ride
Ed Cardinal

Crosswalk.com Contributing Writer

2011

14 Sep

COMMENTS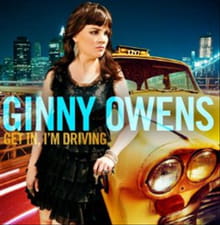 Artist: Ginny Owens
Title: Get In, I'm Driving
Label: Soul Stride Records
What a clear reminder of the music industry's funk to realize award-winning singer/songwriter Ginny Owens hasn't released a new studio album in half a decade. The piano-based adult contemporary artist behind enduring hits like "If You Want Me To" and "Free" has surely been missed, and you've got to love her sense of humor; not many blind artists would name a record Get In, I'm Driving.

The fun, urban-flavored title track clarifies that phrase is one Ginny has heard from God over the past five years during which she lived in New York City for a while, then helped her mother through a cancer battle, and later moved back to Nashville. Her time away from the spotlight has also driven her sound toward a more adventurous mixture of R&B, bright pop, and smoky jazz.

Not unlike a Sade project, the beats really bump on "Mystery of Grace" and "Lay It Down," core spiritual songs that maintain an air of sophistication thanks to Ginny's calming voice. On the other hand, she channels the perkiest McCartney-esque hooks of 1970s radio for the uplifting "Before You Fly" and relationally decisive "Better Off."

Owens is always an inspiring writer, and some of the causes she supports shine through on the sweet ballad "Joined at the Heart" (an adoption tune that's great for any baby celebration) and bold standout "Daughter of Destiny." In the latter, which has a fine Dave Matthews Band groove to it, she gives girls everywhere an empowering statement: "I am beautiful, exceptional, and powerful because love lives inside of me."

Talented at the keys, there's a Tori Amos vibe on the relaxing "Rain" that carries through to her mellowed out version of Stevie Wonder's "Higher Ground." Ginny only recently began to study his back catalog—unexpected considering their shared vision impairment and same instrument of choice—but what she has done with the socially-conscious classic is really special.

Like something from a romantic comedy or Norah Jones' Come Away with Me, the jazzy "Better that Way" closes Get In, I'm Driving on a universally appealing note, further testament to a stated goal from Owens that she is living well: "My dream has always been to be versatile enough musically to play a club on Saturday night and a church on Sunday morning," she says. "People in both places love music and are desperate for hope."

Come along for this hopeful ride.