On the Run A Breakout Success
Glenn McCarty

Crosswalk.com Contributing Writer

2012

9 Jul

COMMENTS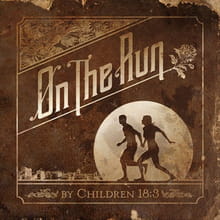 Artist: Children 18:3
Album: On the Run
Label: Tooth & Nail
After two albums trying to find separation from the glut of small-time Christian punk bands, Minnesota trio Children 18:3 seeks to break out in a big way with On the Run, a mature and enjoyably diverse punk album that raises the bar on the band's previous work. If anything, the band's relentless tour schedule of the past two years has pulled together siblings David, Seth, and Lee Marie Hostetter, giving On the Run a cohesion and lyrical sophistication to match the raw energy of the band's sound, which can be compared to Blink-182.
From the thudding bass of album opener and lead single "Moment to Moment," the band whips through 12 tracks that fly by, exhibiting a range of styles and attitudes that blend snarl, cheek, and reflection."Bandits" takes a sing-along chorus marching through a series of tempo changes before arriving at a frenetic finish. "Nowhere to Run" bites a bit harder, with raging rhythm guitars and a full-throated chorus. "Holding On" feels like classic Green Day number, delivered in a Billie Joe Armstrong-nasal whine over a crunching stop/start beat.
Sister Lee Marie takes lead vocal on the end-of-summer anthem "We'll Never Say Goodbye." Despite the familiar sentiment expressed on the chorus, the urgency and execution is notable. And "All in Your Head" is cut from the "let's-get-it-started" meta mold (that is, singing a song about doing a live show) with a wink and a nod, thanks to clever lyrics ("All those bad things/that they told you about rock and roll/may be true, but not this evening/So cut the ribbon, light the match, pull the trigger, hit the ceiling.")
Veteran rock producer Travis Wyrick (Pillar, Disciple) seems to have garnered the best from the group, exploring new arrangements without sacrificing the core sound. The hooks on On the Run won't be poppy enough to satisfy fans of lighter punk fare. But the crunching, smart fare here will be sure to win new fans, whether on rock radio, or at one of the band's ubiquitous live appearances. It's one of the year's most poised and self-assured rock releases.
*This Review First Published 7/9/2012