Open Your Doors Invites Listeners to Rest
Lindsay Williams

Crosswalk.com Contributing Writer

2012

28 Jun

COMMENTS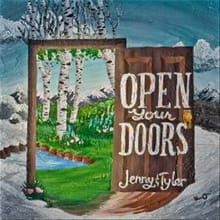 Artist: Jenny & Tyler
Title: Open Your Doors
Label: Independent
A beautiful album of rest and respite . . .
Husband/wife duo Jenny & Tyler create a virtual place of rest on their latest full-length album, Open Your Doors. Produced by Mitch Dane (Jars of Clay, Bebo Norman), the duo's artistic endeavors are clearly evident from the first strain of Jenny's lilting voice to the hand-drawn album packaging.
After meeting in college, the two began leading worship together and have been creating unique music ever since. It's obvious they complement each other well. The songs found on Open Your Doors were written after a busy season in the couple's life when they were longing for physical and spiritual rest. The result is a collection that mirrors their feelings and provides a safe haven of respite for the listener.
"Little Balloon," an abstract little tune, begins the album, showcasing Jenny & Tyler's intertwined harmonies à la The Civil Wars. Lyrically, the song is about trusting in the One who holds everything so that striving ceases and all work is laid to rest. "Abide," the second track, holds a similar message, solidifying the theme of the record. It's from the lyrics of this cut that the title was culled: "Open up your doors, oh my heart and soul/ Open up your doors, let the King come in."
The lyrical depth expressed throughout the album is both thoughtful and mysterious. It's simple, yet also contains a bit of ceremony oftentimes lost in our modern music. And the instrumentation, while intentionally sparse, also employs everything from mandolin to xylophone.
Hers is a sincere, sweet vocal not unlike Sara Groves. His is a rough baritone often reminiscent of Mat Kearney. As they trade leads and then link their voices, Jenny & Tyler consistently explore not only the theme of rest, but everything that resting requires: a deep dependence on grace, an appreciation of beauty and strong relational bonds. "Skyline Hill" finds Jenny musing on the things—big and small—that form the beauty in her own life; while, in contrast, "When Darkness Falls" is a theological tug-of-war between belief and unbelief.
Tyler's gravelly voice takes the reigns on "Fear Thou Not," a track escalating to a full-on Mumford & Sons sing-along. "You Keep Loving Me" allows Jenny's pretty voice to shine. Recorded outside in a local Nashville park, you can hear birds chirping in the background, making for one of the project's most unique selections. And then there's the triumphant "See the Conqueror," an old hymn from 1862 set to a brand-new melody.
Two cuts are entirely instrumental. "Lament" bears the full weight of its name with heartrending nuances; Dane faintly plays whiskey bottles, and Jenny sings operatically in the background. "Selah" ends the album with a pretty piano part and a tidy resolution.
Open Your Doors is a charming album full of eccentric artistry and lovely harmonies. Jenny & Tyler give expression to every feeling life brings—joy, sorrow, and the like—yet they compel listeners to stay open to hope, standing on tip-toe with expectation of what's to come.