Wake Up Hints at Canopy Red's Potential
Lindsay Williams

Crosswalk.com Contributing Writer

2012

26 Jun

COMMENTS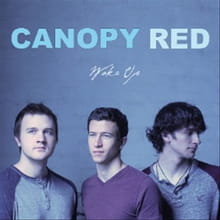 Artist: Canopy Red
Title: Wake Up
Label: Independent
Canopy Red delivers its first full-length album in line with mainstream pop/rock ...
In the vein of The Afters, Relient K, Hawk Nelson or The Fray, Tallahassee, Fla., trio Canopy Red delivers a healthy dose of straightforward pop/rock anthems on their debut full-length album, Wake Up, following their 2009 EP on Creative Soul Records. Produced by Rusty Varenkamp (Tenth Avenue North, Sanctus Real), the album is a wake-up call to make life count and live for something bigger.
The record begins with up-tempo opener "Wasting Time" and melds well into track two, "Disguise," a call to live boldly and unashamed. Although other songs such as the cohesive "Sink or Swim," the frenetic "Paralyzed" and the hyper title track all follow through with a successful pop/rock formula, it's hard to distinguish one track from the next when listening to the collection from front to back. However, the clever song titles and solid lyrics expose unexpected maturity and definite opportunity for growth. Interestingly enough, it's on the mid-tempo songs and ballads where Canopy Red reveals its latent potential.
"Forever," "Won't Let Go" and "If You're Not with Me" are true gems in an otherwise colorless assembly of pop/rock tunes. Reverent and poetic, "Forever" could easily compete when stacked against any current modern praise and worship. "Won't Let Go" comes as a surprise in the midst of the other upbeat tracks, displaying an emotive facet of the band; while the pleasant pop strains of "If You're Not with Me" exhibit a sensitive side to these young men. "I don't feel able if I'm not by Your feet," the lyrics boast.
Canopy Red skillfully balances vulnerability with the scene's musical expectations. Their songs are respectable, both musically and lyrically. They aren't trying too hard to be gimmicky, artistic or overtly stylish; and that's commendable in a day and age when most bands are competing to be "the next big thing" in an overcrowded space.
Oftentimes, their lyrics remain neutral, leading the listener to ruminate on a variety of relationships, but the delivery is affecting enough that even the impartial lyrics point to the Divine. Final song "What I'm Waiting For" hearkens back to the band's vulnerabilities in songwriting revealing vast potential. They hit the mark with their prayerful closing lyrics: "I can't ignore the truth of what's in store/It's what I'm waiting for … I want to be the mirror of Your heart/So let my image reflect who You are."
Canopy Red is sincere, and the 10 tracks on Wake Up are pleasant and enjoyable. It's an album that leaves the listener wondering what the band's next album might sound like because of the immeasurable untapped potential that doesn't seem to have been fully unearthed yet.