Intelligent Praise Makes Homemade Worship
Ed Cardinal

Crosswalk.com Contributing Writer

2012

12 Jan

COMMENTS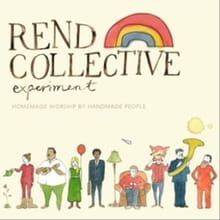 Artist: Rend Collective Experiment
Title: Homemade Worship by Handmade People
Label: Kingsway

Northern Ireland's humble Rend Collective Experiment could be very loosely characterized as Hillsong or Passion on Prozac; the poppy praise outfit uses a happy rainbow in its logo and crafts a more playful worship sound marked by trumpets and xylophones before modern rock edginess.

Comparable in folksy tone to Mumford & Sons and Fleet Foxes, and rising up just as the kindred spirited David Crowder Band winds down, Rend's Homemade Worship by Handmade People couldn't be better timed or more commendable to someone seeking brightly produced, intelligent new praise and worship music in 2012.

The introduction to opener "Praise Like Fireworks" is a telling example of the Collective's lighthearted creativity. For the first few seconds, RCE runs the chorus through some sonic filter that makes it sound like a cheesy televangelism theme song before the band sincerely pounds through the main track with the catchy pop vigor of post-punk acts like New Order and James.

"You Are My Vision" is an early highlight—a well-done translation of "Be Thou My Vision" charged up with a fresh group-vocal hook, subtle African and country influences, and a campfire circle of acoustic guitars and percussion instruments. "Build Your Kingdom Here" takes a similar approach while softly singing: "We are your church. We pray revive this earth."

As laid back as this Experiment can be, Homemade has its fair share of epic anthems. "The Cost" deserves to be sung in an arena full of people excited by the promises of God. "Second Chance" soars just as high at the wonder of Divine power and grace: "My future hangs on this. You made preciousness from dust. Please don't stop creating me."

Even an initially stripped-back selection like the seven-minute "Desert Soul" exchanges its early dry-bones structure of banjo and bass guitar for an eruption of brass plated rock worship. As on other cuts, the message here is reverent and revelatory: "I love you Lord, but I want to love You more . . . only You can satisfy."

Amidst all of this deep spiritual content, Rend Collective Experiment is also simply a cool band that never sounds like it's trying too hard to be culturally relevant; the alternative influences in tunes like "True Intimacy" and "Keep Me Near" don't feel like forced nods to Imogen Heap and Death Cab for Cutie, for example. So get this one into your hands and take it home, people.
Watch great Rend Collective Experiment music videos at Godtube.com.