Jessa Anderson Debuts with Not Myself Anymore
Lindsay Williams

Crosswalk.com Contributing Writer

2011

26 May

COMMENTS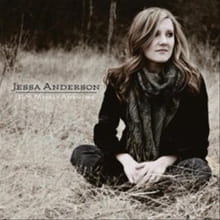 Artist: Jessa Anderson
Title: Not Myself Anymore
Label: BEC Recordings
BEC's Jessa Anderson follows in footsteps of Owens, Nordeman and Plumb ...
If you hit play on newcomerJessa Anderson's new release and close your eyes, you can almost visualize Ginny Owens sitting at a piano, crooning the emotive lyrics unveiled on Not Myself Anymore. The new singer/songwriter's voice and the way she builds a lyric are both reminiscent of Owens, yet also recall the lyrical poignancy of Nichole Nordeman and the vocal similarities of Plumb. However, Anderson is a fresh voice worthy of her own, unique contribution to the music world.
On her major label debut, Anderson explores relationships, both human and divine. While the majority of her lyrics are just ambiguous enough to incline the listener to draw his or her own conclusions about the basis of the song, the sincerity of the delivery leaves no doubt that Anderson writes at the crossroads where life and faith intersect. By far, the album highlight is the first track and Anderson's debut single, "Not What I Thought." Melodically, the song is progressive; while lyrically, it speaks to the surprise we experience when we encounter who God really is in contrast to who we expected Him to be.
Equally significant is the high energy "I Won't Break," a declaration of standing firm on the foundation of your beliefs, filled with clever, authentic phrases and a heavy pop beat: "I gather miles and put them up on display/Pretend I'm shiny, new and tell the world I've changed…"
While there are several emotion-filled ballads that showcase her clever lyrics and sleek vocals, songs like the sunny "Everybody Has These Days" provide a glimpse of Anderson's girl-next-door quality and her ability to instantly relate authentically about real life with heart-on-your-sleeve lyrics like, "I'm feeling alone and I'm feeling like sort of a mess…No one ever mistook me for beauty and grace/You know I'm really more the clumsy type, always making mistakes…"
The title track carries double meaning. Although the lyrics depict a broken past relationship, the title also carries the weight of the transition of Anderson's personal journey from indie artist to full-time label artist. Incidentally, with the exception of a few minor tweaks, Not Myself Anymore is essentially Anderson's latest independent project repackaged, a testament to her attention to detail and raw talent.
A strong female contender hasn't emerged from Anderson's label since Adie Camp released her solo debut. And while both Jeremy Camp and Bebo Norman continue to give the label integrity and credibility, BEC Recordings would do well to sign more female artists like newcomer Jessa Anderson.