Lavik Brings Warmth to Christmas
Ed Cardinal

Crosswalk.com Contributing Writer

2011

29 Nov

COMMENTS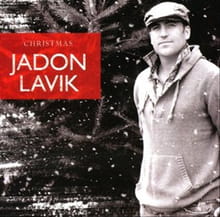 Artist: Jadon Lavik
Title: Christmas
Label: BEC Recordings
At a time when the holidays are increasingly associated with chaotic day-after or even, God help us, evening-of Thanksgiving shopping stampedes, one can hope that an album as simple and soothing as Jadon Lavik's Christmas might put the universe back into balance. Without leaning too heavily on tradition, the acoustic pop artist and Southern California-based worship leader sings traditional songs in the same winning style of favorites like Jack Johnson and James Taylor, creating an especially warm, easy listen.
Whatever Jadon may lack in name recognition he makes up for in execution; opener "Have Yourself a Merry Little Christmas" is mellow and masterful, a Michael Bublé meets John Mayer mix of jazz and balladry. "Little Drummer Boy" tastefully adds organ and brass to the duly percussive, Dave Matthews Band-influenced selection. On "I'll Be Home for Christmas" he does more with less—his pleasingly straightforward voice and a lone piano setting the appropriate tone of romance and nostalgia.
The charm of that sparse approach also works on "Joy to the World" (with a loose rhythm section and bluesy guitar licks) and in the Hawaiian breeziness of "Mele Kalikimaka" where a ukulele is all it takes to effectively fill the track with the right emotion.
Christmas includes one Lavik original, the worshipful "Hallelujah the Lord Has Come," which stands as a testament to his own gift of craftsmanship and fits well among these classics. He also brings originality to the folksy "Go Tell It on the Mountain," giving it a strong new melody, and retools the "fa-la-la-la-la" hook of "O Come All Ye Faithful."
"Silent Night" gets a refreshing twist—intertwining trumpet and saxophone solos over a shuffling pop arrangement—while "Christmas Time Is Here" is brightened beyond its snowy Peanuts roots with a sunny female harmony added to the mix.
Not overlooking stereotypes altogether, Jadon Lavik closes the set with an all-out electrified, jingle-bell-driven version of "Walking in a Winter Wonderland" that escalates into perfectly fun power pop by the time we're in the meadow building a snowman.
So face unafraid any plans you may have made to check out this Christmas, and don't even worry about hanging on to the gift receipt. It's a keeper.

Listen on Spotify while you read.
Check out Jadon Lavik music videos at Godtube.com!