Maclean Gets Our Attention on Debut
Glenn McCarty

Crosswalk.com Contributing Writer

2011

26 Jul

COMMENTS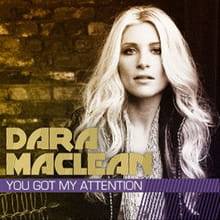 Artist: Dara Maclean
Title: You Got My Attention
Label: Fervent
The first few bars of "Suitcases," the lead single from Texas singer/songwriter Dara Maclean's debut album You Got My Attention, are filled with promise. Maclean has a big sassy voice with soul sensibilities, kind of an Avalon-meets-Joss Stone vibe, and with a solo piano backing, she croons, "How can you move, when they're weighing you down?"
The effect is ear-catching. But gradually, this fresh, stripped-down beginning slips away, and the chorus takes the song in a much different direction, a poppy, fast-forward version of the drifting, yearning opening. "Suitcases" is a sure-fire hit, which in its let-go-of-the-past message and rapid-fire chorus reminds of Natasha Bedingfield's "Unwritten," and is already in the top 20 on the singles charts. But one can't help shake the feeling that an opportunity for something more authentic and individualistic was missed.
Such is the case often on Attention. Maclean's voice is the star, but it isn't given enough room to shine. Too often, producer Ian Eskelin clutters the accompaniment, washing out some of the neat instrumentation that would prove a suitable complement to Maclean's personable delivery. The title track flirts with Motown, but can't quite seal the deal, resulting in a radio-friendly sound that doesn't quite maximize Maclean's potential. For an illustration, check out Maclean's "Cannery Row Sessions" videos on YouTube. They hint at her promise, with sparser arrangements which allow her throaty firecracker of a voice to really pop.
Attention does contain some shining moments, among them "Unreachable," which feels like another future hit, and "Free," with a chunky, programmed beat bouncing into a guitar-soaked chorus. "Yours Forever" showcases Maclean's powerful voice, as she sounds like Avalon's Janna Long on the anthemic chorus, "Thank you for finding me when you did. You changed my life, now I believe that love is all that I'll ever need."
It would seem in spots on Attention that in an effort to appeal to the masses, a certain degree of individuality has been sacrificed. But these critiques should not be overstated. On You Got My Attention, Dara Maclean gets our attention, presenting herself as a female vocalist to watch. She's got the chops to take her place alongside the Francesca Battistellis and Natalie Grants of the world.

Watch the latest Dara Maclean music videos on her official Godtube.com artist page!