Message the Main Focus on Vineyard's Stand
Kevan Breitinger

CMCentral.com

2007

26 Jul

COMMENTS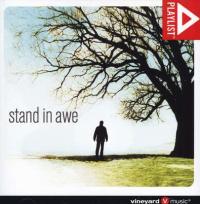 Artist: Various
Title: Stand in Awe
Label: Vineyard Music
The Vineyard Playlist series highlights the best new songs emerging from the Vineyard worship movement; from what I can tell Stand in Awe is the second offering. (It's oddly challenging to find any detailed information about Vineyard music, as you will see later).
The disc serves up eleven worship tracks, most of them true to the familiar Vineyard vein: very vertically oriented, lyrically articulate, and somewhat broad musically, which is to say they direct your attention more to the message than the music. It can be somewhat disconcerting to attempt to review a sincere worship project for that very reason. A good worship leader really does not want to be noticed, but would prefer for his message, or the One he is worshipping, to get your attention. But I'm sure Chris Tomlin or Israel Houghton would say the same; they do not seek the spotlight, but the striking quality of their worship music cannot fail to draw heat.
Vineyard music is always very congregation-friendly, written to be sung on Sunday morning with a minimum of effort and maximum sincerity. So by its very nature, it sort of defies evaluation.
Nevertheless, for your own information, let's move on to actually reviewing Stand in Awe, all caveats aside. Opening well with "Alleluia (More Than Worthy)," a pop-rock track with a slight country twang, the album moves into the thick guitars and heavy strings of "Saving Grace." None of the tracks are identified by artist, either on the disc itself or anywhere online, presumably to put the focus on the Object of the worship, rather than the worship itself. But neither of the first tracks warrant much conversation anyway, until the first measures of the third track, when the epic strains of the title track begin to drastically alter your impression of Stand in Awe . Its similarity to Delirious? is immediately apparent, Jeremy Riddle's vocals even eerily Martin Smith-like (yes, I did dig up the artist info online finally for this track). Its spare arrangements, majestic lyrics and full choir add to the track's significant emotive powers, pinning your attention on the heavens relentlessly.
In fact, this is a strength of the album, throughout all of half dozen contributing artists: without fail they exhibit great focus on the Subject of their worship songs, and inspire you to do the same, a sign of great worship leaders. The worship leaders listed, without indicating their particular tracks, are Jeremy Riddle, Sheri Carr, Steve Jones, Jan L'Ecuyer, Charlie Hines, and Tony Sanchez.
The tracks that I found to be of particular interest are as follows. I believe it is Jeremy Riddle again behind another favorite track, the atmospheric "God of All Glory." He creates a swirling kaleidoscope of sound between the sterling guitar work and programming touches, serving as a perfect platform for his gritty vocals, another standout track.
"As It Is in Heaven" has a bit of a '60s edge to it, the hushed vocals coming through a haze of nuanced guitars, including what sounds like a very quiet 12-string. The track goes out on a passionate bed of free-flowing worship, very nice. The organically acoustic "Throne of Grace" covers the kindness of God through its sincere vocals, and I also enjoyed the airy bridge of the delicate "Christ Is Exalted." The project goes out on a sunny note with pop rocker "Our God Is Good," leaving you with a few questions but also some things to consider about true worship.



© 2007 CMCentral.com. All rights reserved. Used with permission.



Visit CMCentral.com now and join the single largest online community of Christian music fans on the internet. CMCentral features daily music news, exclusive interviews, album reviews, weekly devotions and feature articles written by some of your favorite Christian artists, and much more. CMCentral is also the home of the most popular Forum for Christian music fans that you'll find anywhere on the Internet. Come see what all the buzz is about!