My Soul Sings a Fitting Farewell for Delirious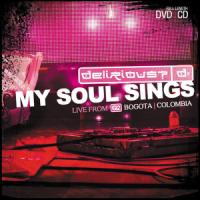 Artist: Delirious
Title: My Soul Sings CD/DVD
Label: Sparrow Records
Delirious legacy energetically encapsulated in farewell CD/DVD …
After 15 years in the national arena, Delirious will perform its final show as a band later this year. But before shutting down, the gold-selling quintet releases My Soul Sings, a live CD/DVD highlighting the band's best material from a half-dozen albums and years of worldwide touring.
Recorded in front of 12,000 screaming (literally!) fans in Columbia, South America, Delirious sweats through 14 tracks (16 for the DVD) of raw passion and sparkling energy. Having traveled to 25-plus countries in 2008 alone and consistently playing for over 1 million people each year, it is safe to say Delirious' cutting edge lies on the stage.
For that very reason, My Soul Sings remains a "live" record, refusing to lose itself in heavy post-production, allowing the true character of this band to shine and once again proving the heart and soul of this band is live performance.
And while admittedly a "live" CD often reeks of re-worked material for demanding label release schedules or to flimsily satisfy fans while the band takes a break, My Soul Sings more than fills a gap. Including bigger-than-life performances of mega-modern worship choruses "Rain Down" and "Majesty," as well as the international radio favorite "Deeper" and concert classic "History Maker," the disc is a golden musical treasure.
"All God's Children" is made especially captivating by the addition of a children's choir, lifting the already anthemic refrain to new levels. In fact, throughout the entire performance, front man Martin Smith's simple translations and the inclusion of a Spanish communicator add to the beauty and testify to the guys' worldwide impact.
My Soul Sings may very well be the last new recording Delirious will ever release. These discs powerfully commemorate all that we have come to love about this band, propelling this package—along with the band—into the annals of Christian music history.
© 2009 CMCentral.com. All rights reserved. Used with permission.




Visit CMCentral.com now and join the single largest online community of Christian music fans on the internet. CMCentral features daily music news, exclusive interviews, album reviews, weekly devotions and feature articles written by some of your favorite Christian artists, and much more. CMCentral is also the home of the most popular Forum for Christian music fans that you'll find anywhere on the Internet. Come see what all the buzz is about!

**This review first published on April 3, 2009.

Check out Delirious music videos at Godtube.com!