Enjoy the Sound of The Midsummer Station
Glenn McCarty

Crosswalk.com Contributing Writer

2012

27 Aug

COMMENTS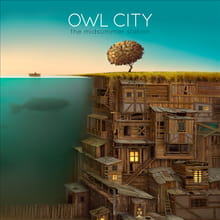 Artist: Owl City
Album: The Midsummer Station
Label: Universal Republic
Here's to the pop songwriters. It's high time we admitted the massively difficult task they've undertaken: painstaking craftsmanship that will result in a song that sounds like it was written in five minutes. Talk about a tough racket to break into. But Owl City – the moniker of writer and multi-instrumentalist Adam Young – has made a living crafting these sorts of relentlessly hooky pop tunes, including the quadruple-platinum "Fireflies." Young deserves props for many things – writing his own material, providing much of the instrumentation, and managing to remain true to his Christian faith in the materialistic pop landscape.
The Midsummer Station, Owl City'sfourth studio album, is a mixed bag, at times reaching great heights, but other times settling for trite lyrics and sub-par songs. Midsummer has Young's earnest, boyish vocals and knack for inventive arrangements. But what's missing is the crucial ingredient for pop success – melody. Strip away the pulsing beats, and the hooks are pretty bland. When Owl City hits its stride, as on album opener "Dreams and Disasters," it's a shimmering, chugging pop gem. So are "Speed of Love" and "Embers." Even "Good Times," with vocals by Carly Rae Jepsen, manages to overcome the standard party-down subject matter and become a true head-bobbing club hit, almost as hooky as Jepsen's "Call Me Maybe."
But the memorable moments don't come often enough on Midsummer. Young generally aims for overused inspirational messages of hope, as on "Gold": "Shout out to all the dreams you'll chase/Shout out to all the hearts you'll break/Nothing's gonna stop you now." That's not much to sink your teeth into. More glaring is the lyrical repetitiveness. Half the tracks on the album contain references to stars or the sun. And the less said about the whole premise of "Coming After You," the better, since the song involves Young making siren noises that are strangely reminiscent of Ralph Wiggum's memorable valentine on The Simpsons.
Young has said he's efforting to step outside of the one-man-show approach of his earlier work, but this doesn't really change the sound too much on Midsummer. There's a collaboration with Blink-182's Mark Hoppus, and multiple tracks with several co-writers, but the sound is essentially the same. So while Midsummer isn't a rousing success, it's winning enough in spots, and combined with a couple of knockout singles, the album will likely keep Owl City's star rising.
*This Review First Published 8/27/2012