Significance Seen in Invisible Empires
Lindsay Williams

Crosswalk.com Contributing Writer

2011

25 Oct

COMMENTS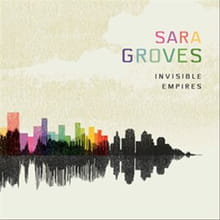 Artist: Sara Groves
Title: Invisible Empires
Label: Fair Trade Services
Sara Groves' tenth release is as charming as the songstress . . .
From the first delicate piano intro of Invisible Empires, fans are immediately swept into the beautiful, quirky, compassionate world of Sara Groves. It's easy to get lost in her saccharine vocals. Groves makes you want to live better, to love better with every sweet turn of phrase.
The very theme of the record's title points us in a direction of pouring into the stuff of life that holds significance versus spending our days building castles made of sand. Produced by Steve Hindalong (Leeland, Sixpence None The Richer), the album is bursting forth with pretty piano pop, filled with sure beats and swelling strings.
The album begins with perfection. "Miracle" encompasses everything we love about Sara Groves, ushering listeners in with the purest of piano melodies and captivating remarks. Her trademark prose continues on through "Obsolete," the lyrics from which Groves derives the album's title. "Open My Hands" follows with truth of surrendering to God's best: "I will open my hands, will open my heart/ I will show up and play the smallest part/ I am nodding my head an emphatic yes/ To all that You have for me."
The peculiar "Scientists in Japan" finds Groves grappling with bioethics. It's musically interesting, transporting the listener into a laboratory of sorts, through the use of squeaky bells, whistles and other unique production elements. "Eyes on the Prize," written for her longtime friends at International Justice Mission, is another fascinating track. The song opens with "The Gospel Plow," an old hymn adapted during the Civil Rights Movement, and moves into a pop song celebrating the "jubilee" when a child of God is set free.
Other selections find Groves musing on rekindling wonder ("Precious Again"), faith devoid of love ("Without Love") and an honest yearning to know the mystery of Christ beginning with the raw admission of being guilty of counterfeit Christianity ("Mystery"). On the closing opus, co-written with fellow sojourner Jill Phillips, Groves gives voice to wives and mothers just like her, who feel caught up and overwhelmed with the frenetic pace of life and the unrealistic expectations placed on them. "I'm finite, I come to an end/ I'm finite, I cannot pretend," she sings.
Groves can be described with anything but pretense. After ten albums, the prolific songstress continues to amaze with the depth of her wisdom. Sara Groves is an old soul and a beautiful poet. Invisible Empires is a contemplative guidebook for life. Groves is a sage far too often underrated.
Watch Sara Groves music videos at Godtube.com.

Listen on Spotify while you read.