St. James Plays It Safe on I Will Praise You
Lindsay Williams

Crosswalk.com Contributing Writer

2011

5 Apr

COMMENTS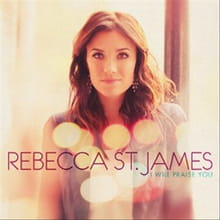 Artist: Rebecca St. James
Title: I Will Praise You
Label: Beach Street Records/Reunion Records
Another worship release leaves fans longing for more original St. James …
After six years away from the recording studio to focus on acting, writing and advocacy, Rebecca St. James returns to the music scene in the middle of a new season. She's now a maturing actress living in L.A. She recently got engaged, and she has a new record label courtesy of Provident Label Group.
Fans have been eagerly anticipating a new studio album from St. James since 2005's If I Had One Chance to Tell You Something (ForeFront). One would think that all of the new experiences St. James has encountered over the past few years would provide vast blueprints for original ideas and songs of growth. However, with I Will Praise You, St. James is making fans wait for music that bears a more directly personal reflection of the songstress in favor of an album of worship. (Though the cover art does remind us how strikingly beautiful she is inside and out.)
Instead, I Will Praise You finds St. James mixing some modern worship covers ("You Never Let Go," "You Hold Me Now") with some original worship fare. Produced by Mark A. Miller (Casting Crowns), the album is solid pop through and through. The title track has a chic beat à la Katy Perry's "Hot and Cold" (albeit with squeaky clean lyrics), but finds the usual on-target vocalist struggling to spit out all the words to keep pace with the song. Up-beat single "Shine Your Glory Down," co-written with Jason Ingram, also contains a more electronic feel, proven popular with St. James' previous work. On slower songs, her esteemed voice caters to the opposite end of the spectrum as lush vocals channel admired vocalist and fellow Aussie Michelle Tumes.

The last track, "You Make Everything Beautiful," is a buried jewel in a sea of predictable worship offerings with a twinkling little piano intro. The song is really the only one among the collection that most adequately encapsulates St. James' current season of opportunities and fulfilled dreams.
Although the album may be full of vertically-slanted praise, the lyrics do reiterate St. James' unwavering commitment to her faith and Christian values. Perhaps "You Still Amaze Me" sums it up best: "Your grace is amazing to me/Your love is still such a wonder/Your cross is still bringing me to my knees/Oh, God, You still amaze me." Here's hoping that new, more creative work will quickly follow this safe worship release. St. James is too talented and wise beyond her years to not share her personal journey and the things she's learning with others.
Check out the Rebecca St. James music videos at Godtube.com.