Stephanie Smith Spins Life Lessons into Gold on Debut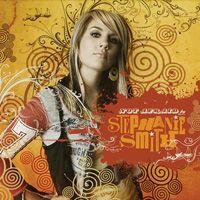 Artist: Stephanie Smith
Title: Not Afraid
Label: Gotee Records
New Gotee artist Stephanie Smith has a story to tell, and she tells it well through the 12 rocking tracks of her debut Not Afraid. Directed toward her target audience of teenagers, and especially hurting teenagers, her edgy pop-rock tracks overflow with messages of empowerment and affirmation.
Opening strong, moments of electronic whomping foretell an edgy momentum, fully realized in "Superstar." Smith's fierce vocals lay out restorative encouragement to those uncertain of their own worth. She has already made her way through this terrain, working through the abandonment of her father to a place of healing forgiveness, and this theme shines richly through Not Afraid. The soaring melody line of "Beauty" reminds us to find true peace within.

But it's not all ministry. Smith is a rock chick at heart, obvious through the thick guitars and crisp rhythms of the catchy title track, a break-up song that reminds us of what relationships are really important. She is exuberant on the bouncy "Get Up," nicely enhanced by scratchy nuances and buoyant guitars, and she slams her way through "Renew Me" and the energetic "Love Out Loud." And she is nothing short of ferocious on "Over It," a pounding goodbye to an ex.
My favorite track is the beautifully mixed and radio-ready "Waiting," her fierce vocals soaring over a glimmering bridge, glorying in the steadfast care of God. Thickly orchestrated worship track "You Alone" juxtaposes dense strings against Smith's edgy vocals to great effect. Producer and co-writer Jamie Moore's thoughtful touches indicate a potent collaboration, but the stellar closer is all Smith.
Piano ballad "First Words," overflowing with honest vulnerability, tells of her heart-breaking encounter with her sorely missed father at the age of 14, in aching sincerity. This timely track alone is worth the price of admission, advocating the healing power of forgiveness, sure to touch a chord in the hearts of many hurting teenagers in the same sorrowful position. Stephanie Smith spins hard life lessons into helpful gold on Not Afraid, predicted to both entertain and help many young listeners.




© 2008 CMCentral.com. All rights reserved. Used with permission.




Visit CMCentral.com now and join the single largest online community of Christian music fans on the internet. CMCentral features daily music news, exclusive interviews, album reviews, weekly devotions and feature articles written by some of your favorite Christian artists, and much more. CMCentral is also the home of the most popular Forum for Christian music fans that you'll find anywhere on the Internet. Come see what all the buzz is about!

**This review first published on May 7, 2008.